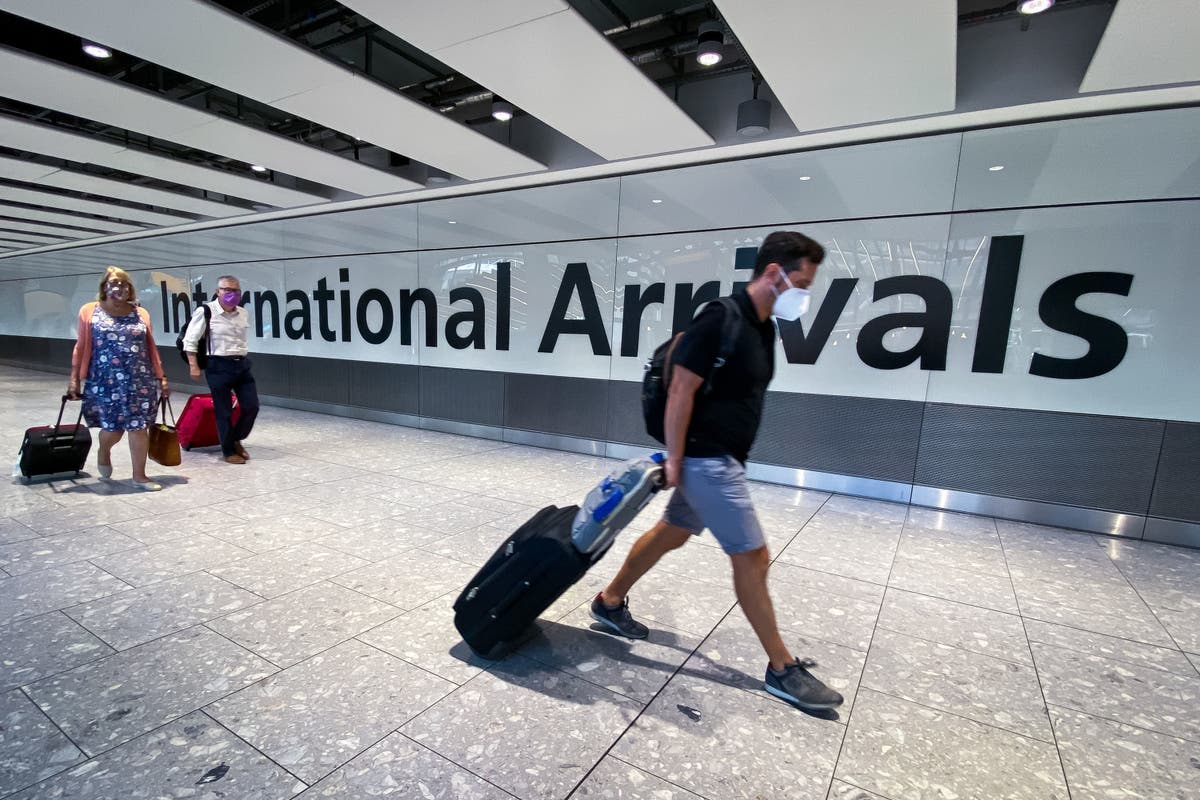 Up to a quarter of people arriving in the UK from countries requiring self-isolation at home are not contactable by authorities, Priti Patel has admitted in a letter to MPs.
Provoking claims the government's quarantine rules "have too many gaps", the cabinet minister set out in correspondence with the Home Affairs Committee that only 75 per cent of travellers had been "successfully contacted" in the week to 1 March.
Under the government's restrictions, those arriving in the UK from areas not on the "red list" are not required to quarantine in government designated hotels, but must fill out a passenger locator form and self-isolate at home for a period of 10 days.
Ms Patel's letter — dated 24 March — but only published by the Home Affairs Committee on Tuesday, said a sample of eligible people arriving at the border were contacted by the Isolation Assurance and Compliance (IAC).
"To date there has been a high level of compliance and the vast majority of people contacted have confirmed they will self-isolate for 10 days on arrival to the UK," the home secretary said.
"Of the 75,807 people who were potentially eligible to be contacted by the IAC for the week ending 1 March, approximately 75 per cent were successfully contacted and deemed to be compliant and no further action was taken."
A further 13 per cent were not contactable for a number of reasons, Ms Patel added, including "sectoral exemptions", because they were residents of Scotland or Wales, or they were among a "small number of passengers" who provided insufficient information on the passenger locator form. A breakdown was not included in the letter.
"For the remainder, where the IAC has concerns that the contact is not self-isolating or cannot be reached, they refer these cases of concern to the Border Force Criminal Justice Unit," the home secretary added.
Ms Patel said that of recorded outcomes by police during compliance visits "up to 85%" were deemed to be following the rules or had been successfully encouraged to do so. In cases where someone is refusing to comply, they could be hit with a fine, issued a summons or arrested.
But she acknowledged there were occasions where there is no answer or the individual "is not known by those residing at the property" and in those cases the police are likely to look at other available evidence or make additional visits.
Yvette Cooper, the Labour MP and chair of the Home Affairs Committee, said the letter "raises real concerns about the significant gaps in the way border Covid measures are being implemented".
"The letter is confirmation that a quarter of international arrivals who aren't going into mandatory quarantine are not contactable when they go home to self-isolate.
"It is also an astonishing admission that in thousands of cases where home isolation rules are being broken, no further enforcement action is taking place.
"We already knew from the police that they took no further enforcement action if someone was not at home when the checks took place or didn't live at the address they had given even though that would be a clear breach of the regulations."
As the government moved to place India on the "red list" following a spike in infections in the country, Ms Cooper went on: "Given there is likely to be a big increase in people returning from India over the next few days where Covid cases including from a new variant have been increasing, these gaps in testing, public transport and home checks are particularly concerning.
"We are a year on from the start of this crisis and it is inexplicable that basic border measures are still not robust. We all want the vaccine rollout to succeed and the roadmap out of lockdown to stay on track, so we need a practical and robust approach to prevent new variants spreading. The government must learn lessons and not make the same mistakes at the border all over again".