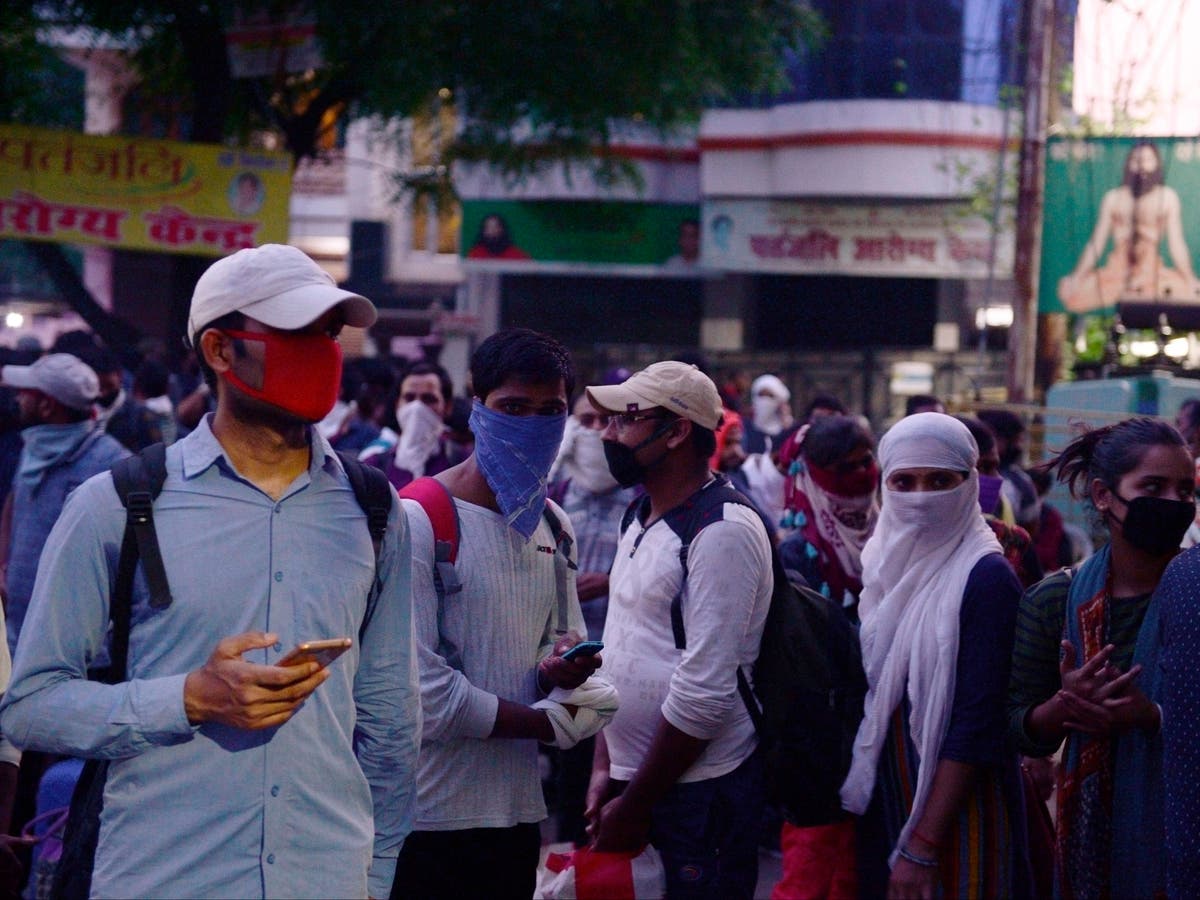 Scientists have called for caution and calm over the coronavirus variant first detected in India, with some theorising that it may not be as problematic as other mutated forms of the virus.
Known as B1617, the variant is currently being investigated by health officials in the UK, where a total of 77 cases have been detected to date.
It is not yet known if B1617 is more dangerous or better able to escape immunity triggered by vaccination or natural infection, but it contains a total of 13 mutations – two of which have been found in other concerning variants.
Nonetheless, this does not mean B1617 will share the same overall characteristics as these other variants, which have developed their own unique combination of mutations, scientists say.
B1617 has begun to emerge in more sequenced samples within India amid a huge surge in nationwide cases that has overwhelmed health services in the country.
However, it's unclear to what extent the variant is driving this wave, with waning immunity levels, increased contact within communities and other variants thought to be partly responsible.
"Clearly this variant has increased in frequency in India around the time of their very large and tragic recent wave but I don't think we yet know how much B1617 is driving that spread versus its spread coincidentally happening at the same time," said Dr Jeffrey Barrett, director of the Covid-19 genomics initiative at the Wellcome Sanger Institute.
"It is certainly possible that there is a cause and effect relationship but there have only been about 1000 sequences published from India out of about 4 million cases in this wave so far.
"Also, we did see some sequences of this B1617 variant late last year so if it is driving the wave in India it has taken several months to get to this point which would suggest it's probably less transmissible than the Kent B117 variant."
The variant was first noted internationally in October and first identified in Britain on 22 February.
In response to India's rising cases, the UK government has said those travelling from the country to Britain must now quarantine at a hotel for 10 days, in a bid to stop any further importation of B1617.
According to Professor Sharon Peacock, director of the UK's genomics surveillance network, cases of the variant detected in the UK have risen in the last three weeks.
"Even though this is at or less than 1 per cent of the genomes sequenced in the UK overall, the upward trend in cases warrants action whilst ongoing uncertainties over the level of threat posed by this variant are evaluated," she said.
Public Health England indicated on Sunday that a few cases are linked to community transmission – but the vast majority of cases have been identified in people who travelled to the UK.
Officials are now further assessing B1617 to determine whether it should be identified as a "variant of concern" – a classification that is shared by the South African, Kent and Manaus variants.
"This variant has a couple of mutations that are among those that we think are important that should be watched carefully, but they're actually probably not at the very kind of top tier of mutations, for example in the B117 – or Kent variant – or the South African variant, that generate the most concern," Dr Barrett said.
Professor Sir Mark Walport, former chief scientific adviser to the government, told the BBC that the decision to put India on the red list may have come a bit late.
"These decisions are almost inevitably taken a bit too late in truth, he said, adding that "what we need to do is get the population vaccinated and also get booster vaccines prepared that will be able to deal with these new variants".
Giridhara Babu, a professor of epidemiology at the Public Health Foundation of India, said there was "no evidence" to suggest B1617 was more deadly than other variants in circulation in the country.


UK news in pictures
Show all 50
"The details regarding infectiousness and virulence are under investigation," he told The Independent. "Not just this variant, we cannot rule out the role of a few homegrown and the known imported variants in different parts of the country.
"Given that some parts of cities had crossed thresholds for population immunity, the uncontrolled surge seems to be a combination of the spread of newer contagious variants and potential reinfections due to waning immunity."
Guatam Menon, a professor of physics and biology at Ashoka University, said that "anecdotally there seems to be a larger proportion of asymptomatic infections" compared to the first wave, as well as more patients presenting themselves to hospital with non-standard symptoms.
"The overall age of those with the disease seems to be younger than earlier," he told The Independent. "While the health system in a number of states is showing signs of being overwhelmed, this may just be an offshoot of the very rapid rate at which cases have increased."
Whether B1617 is "largely equivalent in behaviour" to the UK, South African and Manaus variants is "yet to be established", he added.