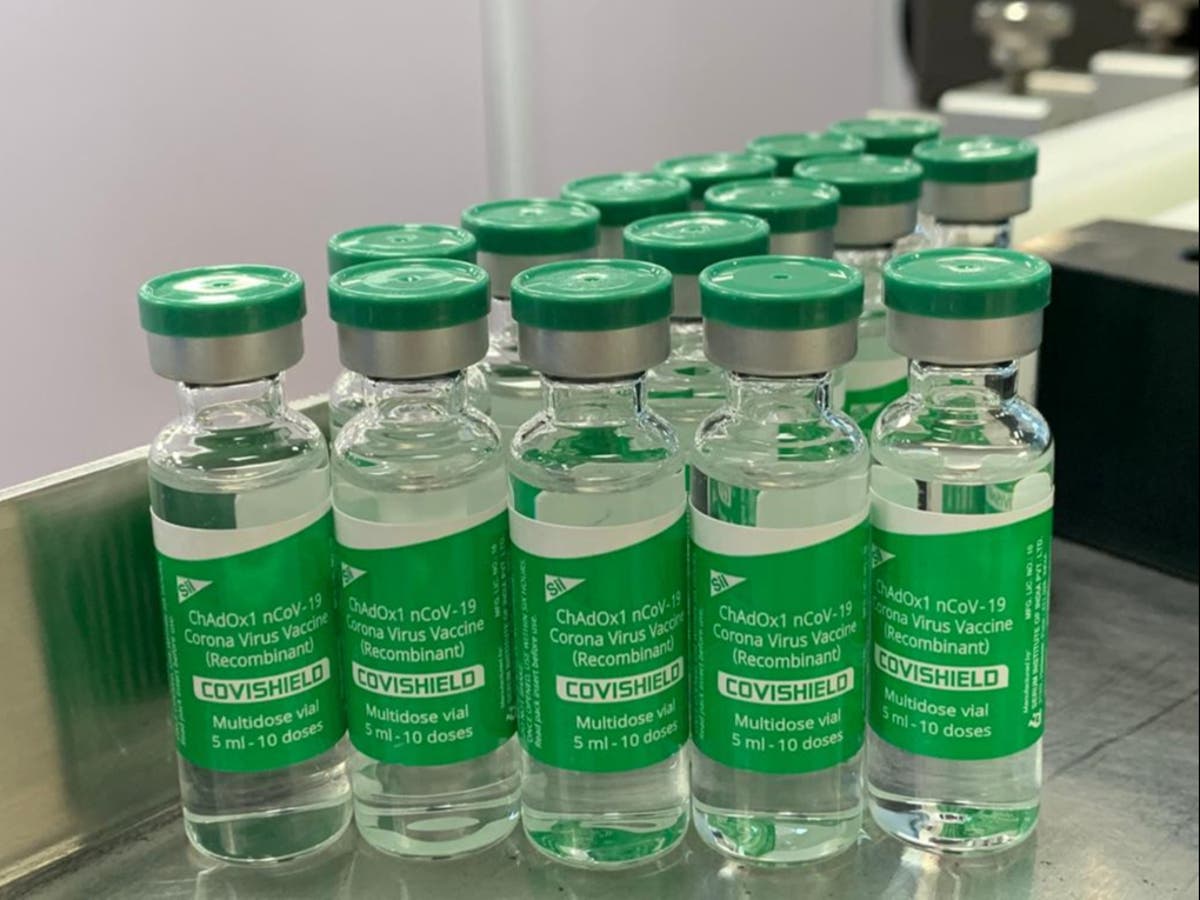 The Serum Institute of India (SII), deemed the world's largest vaccine manufacturer, has been served a legal notice from Oxford–AstraZeneca for not being able to meet its delivery target with Indian government putting on hold vaccine exports as Covid-19 cases surge in the country.
The CEO of SII, the Indian company entrusted by Oxford–AstraZeneca to manufacture and provide cheap coronavirus jabs for most of the developing and underdeveloped countries, said the company is under legal pressure as the UK-based pharma giant has served it a legal notice.
"AstraZeneca has sent us a legal notice (for delays in supplying the vaccine) and the Indian government is also aware of that," Adar Poonawalla, CEO of SII, told Business Standard.
A company spokesperson refused to comment on the specifics of the legal notice, but The Independent understands that the process to resolve the issue is ongoing.
The Indian government earlier put a temporary hold on all major exports of SII, a decision that is affecting 190 countries.
Read more:
Mr Poonawalla said earlier that his company has been asked to "prioritise Indian supplies" as the country is hitting a record number of new coronavirus cases daily. However, he said that SII "first claim" deal with the Indian government is putting him under pressure with his commitment to other countries.
While speaking to NDTV news channels, he said that SII's production capacity to manufacture the Oxford-AstraZeneca vaccine — labelled Covishield in India — is "very stressed, to put it frankly," amid soaring cases in the country.
India recorded over 100,000 cases in a single day for the first time on Monday, with New Delhi and other cities imposing new curbs on movement and public gatherings in response to the spike.
"The globe needs this vaccine and we are prioritising the needs of India at the moment and we are still short of being able to supply… to every Indian that needs it," Mr Poonawalla told  NDTV.
SII was part of a deal with AstraZeneca and Gavi the vaccine alliance, to manufacture the Covid-19 vaccine on a mass scale and had pledged to provide 1 billion jabs to lower and middle-income countries outside India in 2021.
"Serum Institute is the only company tipping the balance in favour of poor countries because we are the only one giving it [the vaccine] to the poorer countries," Mr Poonawalla had told The Independent in an interview in February. "The other manufacturers are too expensive."
His company has been providing the jabs to the Indian government at a subsidised rate of Rs 150 (£1.4), significantly less than what it charges for exports. He said his company is not making any notable profit due to the cheaper rates in order to reinvest to expand his capacity.
Now, Mr Poonawalla says SII has sought Rs 30bn (almost £290m) as a grant from the government to scale up the production of the vaccine by June in order to meet its commitments. He says if he doesn't get the desired help from the government he will approach banks for a loan.
According to Mr Poonawalla, his budget for mass production and expansion was hit with the government's plan to halt exports.
"This was never budgeted or planned initially because we were supposed to export and get the funding from export countries but now that that is not happening, we have to find other innovative ways to build our capacity," he told Business Standard.
Mr Poonawalla said SII, which is currently producing over 60 million doses every month and is aiming to scale it up to 100 million, has so far delivered around 100 million doses to the Indian government and exported 60 million to other countries, including 5 million to the UK.
This article was amended on 20 April 2021. It previously said that Rs 3,000 crores (Rs 30bn) equated to almost £3bn, but it is actually around £290m at current exchange rates.