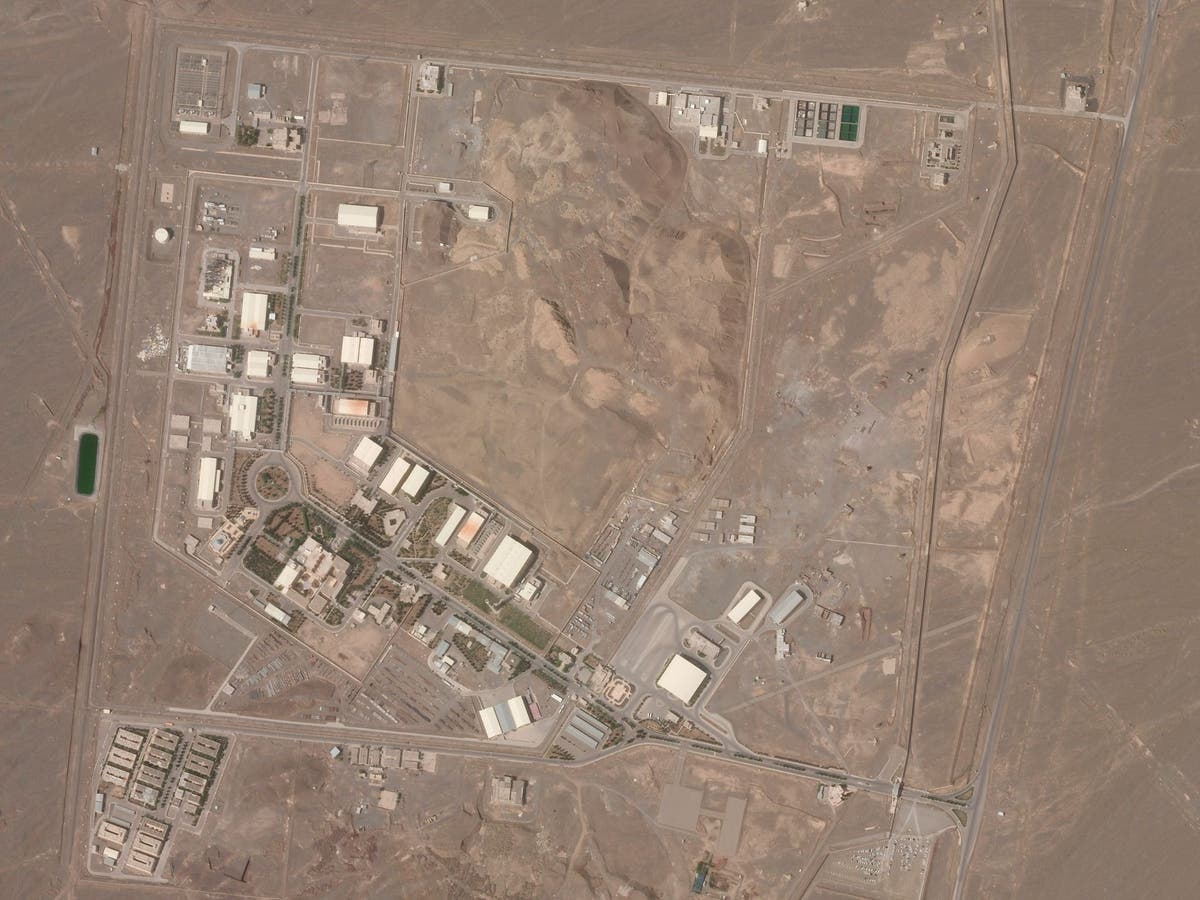 A highly sensitive Iranian nuclear technology site was hit with a power outage a day after it was heralded by the president and other senior officials as part of an annual commemoration of the nation's atomic technology achievements.
A senior Iranian lawmaker said he suspected "sabotage and infiltration" caused Sunday's power outage at the Ahmadi Roshan enrichment facility near the central city of Natanz just hours after scientists began feeding uranium gas into new centrifuges, but provided no technical explanation or details.
Iranian atomic energy spokesman Behrouz Kamalvandi said the incident caused no human injuries or leaks of radioactive material. But he did not disclose whether any of the highly sensitive devices inside the Natanz facility were damaged.
The incident came hours after Iran concluded celebrations marking its annual nuclear day, when officials celebrate the country's atomic technology achievements.
Iran's president and other officials unveiled what they described as 133 new achievements in the field of nuclear physics, including centrifuges which once perfected can more efficiently and quickly purify uranium and produce fissile material that can be used to power an electricity plant or, if highly concentrated, build an atomic bomb.
During the ceremonies, state television aired a video clip of Iranian singers dressed as scientists performing a patriotic song amid what appeared to be cascades of nuclear centrifuges.
"This incident happening on the anniversary of National Nuclear Technology Day and during the process of Iran's efforts to force the westerners to lift the sanctions is very suspicious," Malek Shariati-Niasar, a politician who serves as spokesman for the Iranian parliament's energy committee, wrote in a Tweet.
Iran and the US are struggling to resurrect a 2015 nuclear deal that placed limits on Iran's nuclear programme in exchange for relief from international sanctions. Former president Donald Trump abandoned the deal in 2018 and tightened sanctions, prompting Iran to breach limits that the nuclear pact imposed on its programme.
President Joe Biden wants to return to the deal. Americans along with Iranian diplomats and officials from other nuclear deal signatories including the United Kingdom, Germany, France, Russia and China launched talks in Vienna last week that are to resume on Wednesday.
Israeli prime minister Benjamin Netanyahu vehemently opposes the deal and has sought to lobby Washington not to resume diplomatic negotiations with Iran.
The 100,000 square-meter enrichment facility at Natanz, built eight meters below the surface to withstand possible airstrikes, was struck in 2010 by the infamous Stuxnet virus, a piece of malicious computer code that reportedly damaged hundreds of Iranian centrifuges and slowed Iran's nuclear technology programme.
In 2020, a mysterious explosion hit a workshop in Natanz where centrifuges are assembled, prompting Iran to begin building another one deep within a nearby mountain.
Both the 2010 and 2020 incidents were attributed to Israeli intelligence, with possible US collaboration. Israel was also suspected of being behind the assassination last year of Iranian military scientist Mohsen Fakhrizadeh, who is regarded as the father of Iran's nuclear programme.
The Jerusalem Post on Sunday, citing no sources, alleged the latest incident at Natanz was not an accident but a cyberattack and that "the damage is much graver than what Iran is presenting to the public."
Mr Kamalvandi said Iranian officials were investigating the incident on Sunday, which he said appeared related to the electrical distribution network at the uranium enrichment section at Natanz.
Iran, a signatory to the Nuclear Non-Proliferation treaty, has been locked in a dispute with much of the world since the early 2000s, when western officials alleged it had a clandestine nuclear programme. Iran says its nuclear technology pursuits are for peaceful civilian purposes only. But most non-proliferation specialists and intelligence analysts assess that Iran is advancing its nuclear programme to give itself the option to pursue a bomb if it ever chooses to do so.