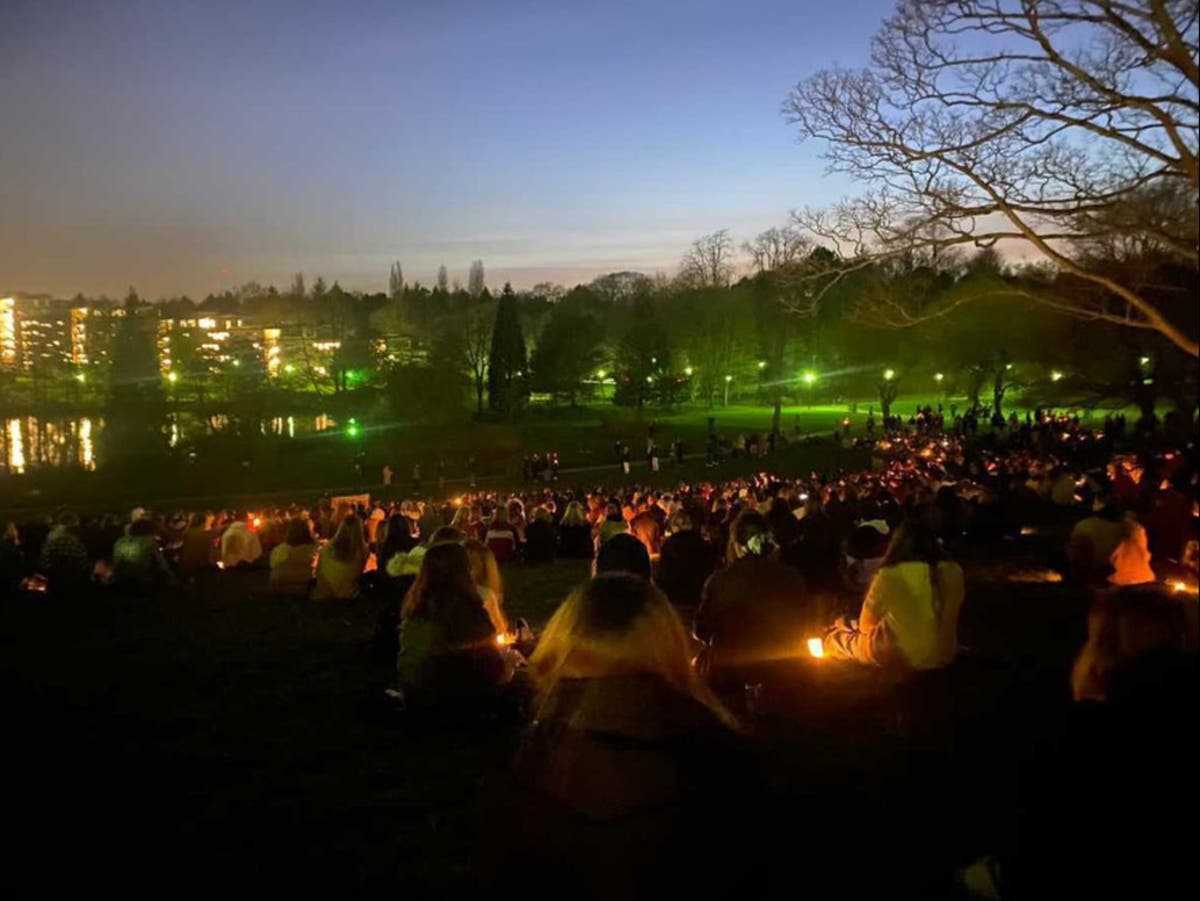 Students have been "scared" and "hesitant" to report sexual assaults that happened outside of coronavirus regulations, according to campaigners.
They have called on universities to actively reassure and inform students that they would not be disciplined for any Covid-19 breaches that come to light when reporting assaults.
It comes as thousands of testimonies of sexual harassment and violence in education or committed by school pupils and university students have been shared on the website Everyone's Invited.
Students have also been protesting for more support for victims and safety measures on campus following the murder of Sarah Everard, who disappeared while walking home in London earlier this month.
The reporting of assaults has been complicated by the pandemic this year, campaigners against sexual harassment and violence on campus have told The Independent.
Read more:
Molly Kenyon, at the University of Birmingham, set up a campaign group following the conversation around women's safety sparked by Everard's murder.
Students have been approaching her group, nervous about raising assaults that happened at a party or in a friend's flat.
"With Covid, we've had people saying that they were too scared to report because they were worried that they would get in trouble for being another person's flat," she told The Independent.
Reclaim Campus UoB – which aims to tackle sexual harassment on campus and the surrounding areas – has received "many messages" on social media from students unsure about what they can do, the first-year student says.
Ms Kenyon said she approached the university, who told her students reporting assault would not be disciplined for any Covid-19 breaches, meaning she could go back and "reassure" these students.
Alice Orlik from the University of Exeter said she had also seen a hesitancy to report assaults amid the pandemic.
"What's difficult about this year is people don't think that they can report it," she told The Independent. "Perhaps they were somewhere shouldn't be because of Covid restrictions."
The first-year student, who is part of the Sit Down N Shut Up protest group against sexual assault at university, said students have spoken to her personally about these fears.
"People have said to me, 'I'm a bit scared to report, I wasn't social distancing, I wasn't in the right place. It is my fault'."
She toldThe Independent some women feel campus patrols "have been more interested in fining people than stopping the sexual assaults that are happening".
A university spokesperson said this claim is "unjustified".
Ms Orlik said she would like to see the university "make it very clear that it's okay for people to come forward and the university will take it seriously" in cases where a Covid-19 breach did occur.
Universities across the UK have introduced disciplinary measures for students breaking coronavirus rules.
Students have been warned they could face fines for flouting regulations – and even be excluded in the most extreme cases.
Some universities – including Durham and Keele – have made it clear in online guidance that students will not face disciplinary action for breaching social distancing or other coronavirus restrictions around the time of the reported incident.
Read more:
But at the University of Cambridge, student Antonia Harrison, who set up the Loud and Clear campaign group against sexual harassment and assault, said students were "unclear" about their college's rules around reporting assaults that happened outside of coronavirus rules.
It comes after one Cambridge college was forced to apologise over initial guidelines last year, which warned students they could face disciplinary action for Covid-19 breaches that came to light in a report of sexual assault, student newspaper Varsity reported.
Ms Harrison said students have felt "hesitant" and "a lot of fear" over reporting assaults that happened outside of Covid-19 rules, and are "very uncertain" over what would happen.
"I don't know many people who would be comfortable reporting if that particular set of circumstances arose," the second-year student told The Independent.
Read more:
Ms Harrison said she would like a university-wide rule promising immunity to encourage victims to speak up, rather than leaving it up to individual colleges, and said "active reassurance" that victims would go unpunished "would definitely help."
A University of Cambridge spokesperson said: "Behaviour that amounts to harassment or sexual misconduct is not tolerated within the University of Cambridge community.
"Our 'Breaking the Silence' webpage provides any student or staff member who has been affected by harassment or sexual misconduct with information on how to access the support and reporting options available inside and outside of the university."
An Exeter University spokesperson said: "We have made it clear to all members of our community that we have zero tolerance for sexual harassment, abuse or assault, and that criminal or disciplinary proceedings will be brought against those who commit these offences."
A spokesperson for the University of Birmingham said: "Our key concern is that we comprehensively support students regardless of where the alleged assault took place."
Earlier this month, the university said it was "continuing to invest in enhanced CCTV coverage across the campus, safer walking routes, personal safety campaigns" and working with students "to tackle sexual harassment and violence".
A Universities UK spokesperson said: "Universities have a duty of care to support anyone who has experienced unwanted behaviour from another person, and will approach all incidents with sensitivity and discretion."
They added: "We urge any student or staff member who has experienced harassment or assault to seek immediate support from their university."