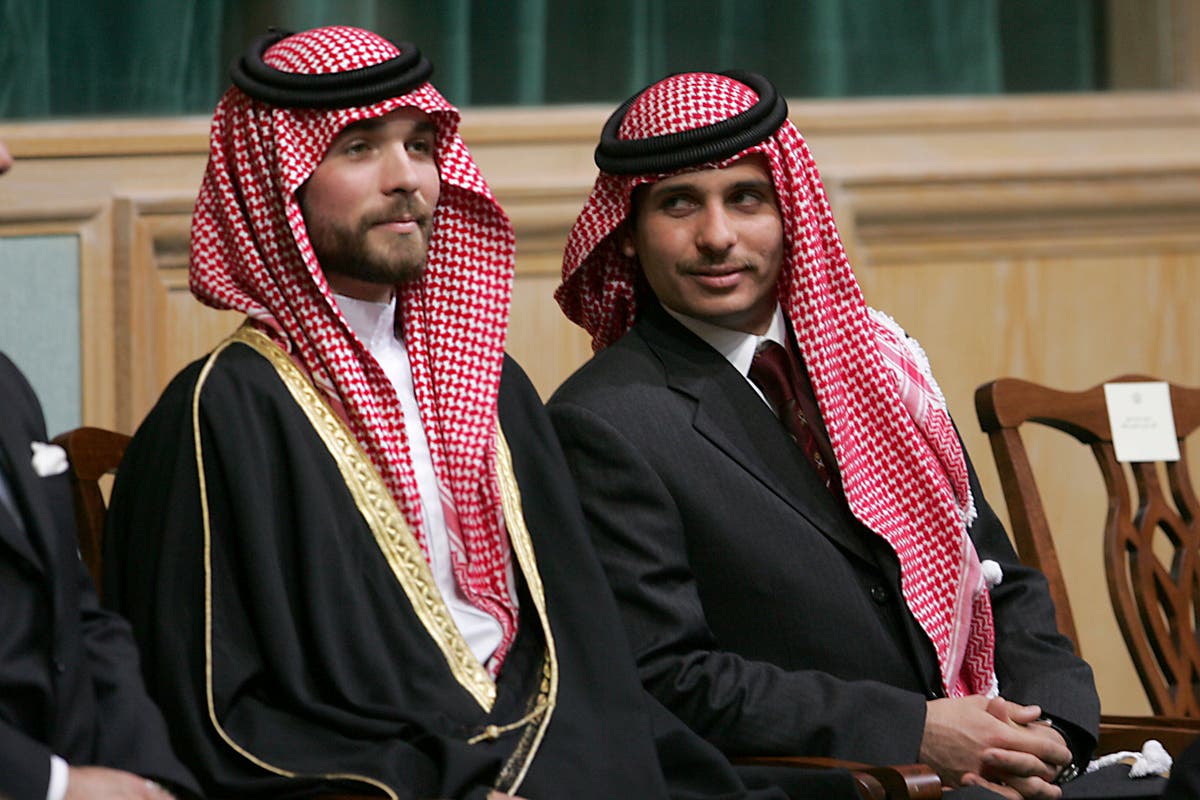 The Jordanian monarchy has arrested more than 20 officials and kept Prince Hamzah bin Hussein, half-brother of King Abdullah, under house arrest after accusing him of a "malicious plot" to destabilise the kingdom.
Authorities on Sunday alleged the plan was backed by outside actors. But officials have so far dodged questions about which foreign countries or entities might have been behind the alleged coup attempt, citing only a tenuous connection to an Israeli contractor who offered Prince Hamzah's family members a plane ride out of the country for their safety.
Within diplomatic and academic circles, there has been little doubt about what countries might have wanted to topple King Abdullah and replace him with Prince Hamzah, who was next in line for the monarchy until he was replaced by the king's son in 2004.
But many are also sceptical about the grainy and incomplete picture offered up in Amman.
Jordan, a nation of 10 million nestled in the heart of some of the region's worst armed conflicts, has remained relatively stable for decades. It has this way despite absorbing several waves of war refugees from Israel and the Palestinian territories, Iraq and most recently Syria. A strong ally of the United States and the United Kingdom, it has sought to stay out of the region's squabbles, attempting to maintain diplomatic ties to all.
Read more:
However, hostility has for years been brewing against Jordan by the alliance led by Saudi Arabia's Crown Prince Mohammed bin Salman and his United Arab Emirates counterpart Mohammed bin Zayed. The tensions included a major dispute over relations with Qatar, disagreements over the backing of Syrian rebel groups, and friction over the deployment of Emirati-procured weapons through Jordan to Libyan strongman Khalifa Haftar.
Those tensions have eased somewhat in recent months as Saudi Arabia dialled down its hostility toward Qatar. During his last visit to Saudi Arabia in March, King Abdullah was a guest of Prince Mohammed, also known by the initials MbS. And both Saudi Arabia and the UAE were among the first to voice support for King Abdullah after the alleged plot was disclosed on Saturday.
"Relations have been up, and down but nothing has risen to the level of a coup attempt or conspiracy plot," said Osama al-Sharif, an Amman-based journalist.
Jordan and the Gulf States have been at odds over various issues for years. During the Syrian uprising against Bashar al-Assad, Jordan became miffed at the UAE for pulling its support from certain rebel groups at key moments, leaving Amman out in a lurch, said one analyst.
More recently, Jordan has been left exposed, accused of violating a United Nations arms trafficking embargo by serving as a transit point for Emirati weapons shipments to Libya.
Anger in Jordan peaked in 2017 over the blockade of Qatar imposed by Saudi Arabia and UAE. Jordan downgraded relations with Doha but kept cordial ties, and resumed a full diplomatic embrace in 2019. Over the years, the oil-rich Gulf states have slashed subsidies to impoverished Jordan, and Amman further rankled them by turning to Qatar for support while maintaining strong ties with Turkey.
"Neither Saudi Arabia nor the Emirates need Jordan any more and they cut nearly all the financial help," said one Amman-based analyst.
Jordan's prominent role as a broker between the Gulf Arab states and Israel have faded as the UAE has established its own lines of communication to spies and diplomats in Jerusalem and Tel Aviv.
Under the administration of Donald Trump, Jordan became further isolated from its longtime pro-Western allies as the president's son-in-law Jared Kushner embarked on a mission to forge peace deals between the Gulf States and Israel.
"The bone of contention was the Kushner-MbS direct contact and ended up sidelining Jordan and ended up with the peace treaties being signed between the UAE, Bahrain and Israel," said Mr Sharif. "It is no secret that Kushner was no friend of Jordan. He gave up on getting Jordan into a peace deal."
Citing unnamed Jordanian sources, the Israeli newspaper Yediot Ahronot reported Monday that Saudi Arabia and "one of the Gulf emirates" that were involved or at least aware of what it described as a "coup attempt."
Among those arrested in the alleged conspiracy are the former powerful Royal Courts minister, Bassem Awadallah, and former Jordanian envoy to Riyadh, Sharif Hassan bin Zaid, both of whom are considered close to Saudi Arabia.
At a press conference on Sunday, foreign minister Ayman Safadi described a foreign-linked scheme by Mr Awadallah "to destabilise" the country in coordination with Prince Hamzah on "his next steps and moves".
"This coincided with recent intensive activities of His Highness Prince Hamzah to communicate with popular figures with the aim of inciting them and pushing them to move in activities that might harm national security," he said.
No Jordanian officials have accused Saudi Arabia or any other Arab country of complicity in the conspiracy. Officials have only offered up the name of an Israeli businessman who they insist is a Mossad operative. He told Axios he is a security contractor whose firm has trained Iraqi forces in Jordan under a deal with the US and offered the use of his plane to Prince Hamzah's wife to get her family to safety.
Few in Jordan believe that Prince Hamzah, who was accused of listening in on meetings of Jordanian tribal leaders complaining about the management of King Abdullah, would collaborate with figures such as Mr Awadallah, a former Royal Courts minister, and Mr Bin Zayed, who are considered among the architects of the neo-liberal economic policies despised by the traditionalist Jordanian tribes, who are pillars of the security establishment and the monarchy.
"It would be totally unlikely for Prince Hamzah to be in cahoots with a guy like Awadallah," said Mr Sharif.
In his videotaped statements, Prince Hamzah could be heard voicing the same types of criticisms that have been made by ordinary Jordanians frustrated by a weakening economy, perceived rising income inequality and a long hard year of some of the toughest coronavirus restrictions in the world.
"I am not the person responsible for the breakdown in governance, the corruption and for the incompetence that has been prevalent in our governing structure for the last 15 to 20 years and has been getting worse," he said in one of several statements he managed to post online.
"It has reached a point where no-one is able to speak or express an opinion on anything without being bullied, arrested, harassed and threatened," he said.
Such sentiments, whether made publicly or shared privately, must have unnerved the king, who has already stripped Prince Hamzah and his other siblings and half-siblings of their military titles in possible fear of a coup.
"Prince Hamzah he has become a sort of gadfly, voicing dismay at the government and the king." said one Amman insider. "Tying him to this plot was an attempt to discredit the prince to weaken his place in the country."