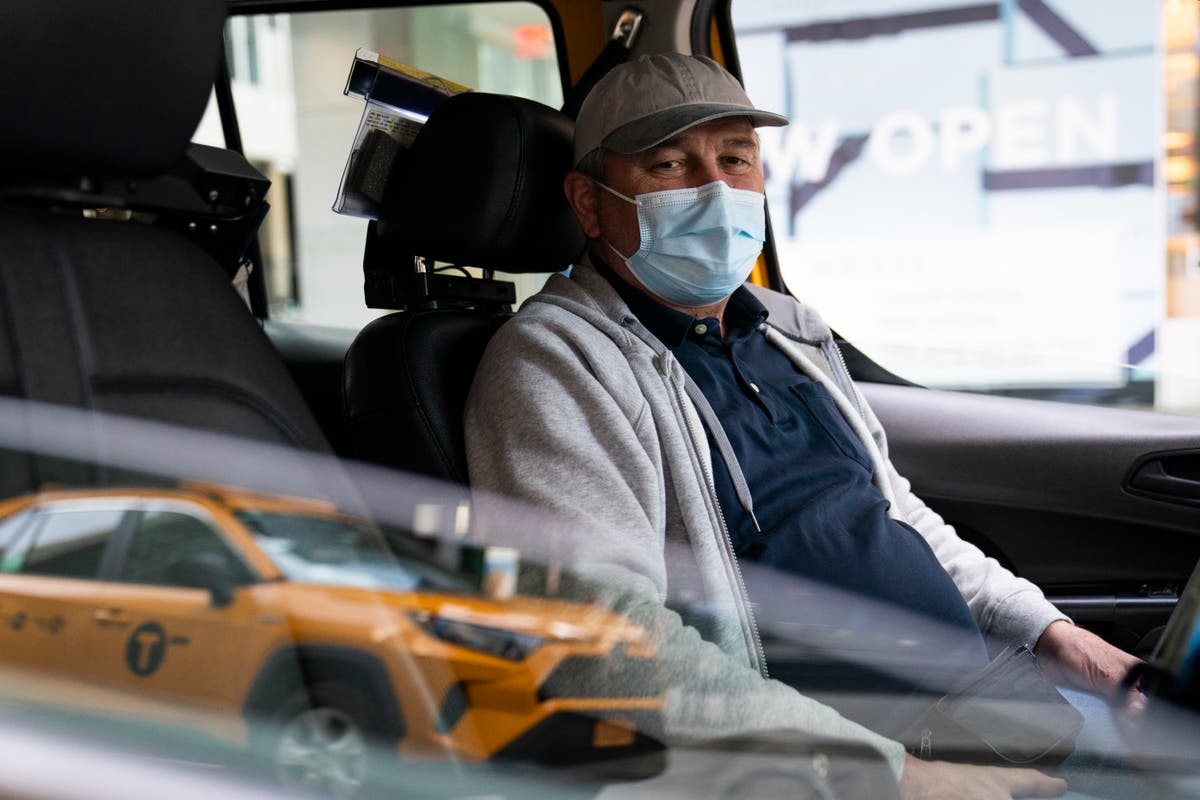 Here are the AP's latest coverage plans, top stories and promotable content. All times EDT. For up-to-the minute information on AP's coverage, visit Coverage Plan at https://newsroom.ap.org.
_____________
TOP STORIES
_____________
VIRUS OUTBREAK-NEW YORK'S FIGHT — A year ago, The Associated Press told the story of a day in the life of a stricken New York City through the eyes of people on the front lines and in quarantine as they faced a crisis that had turned the United States' most populous city into its most lethal hotspot. The AP recently returned to those New Yorkers to look at a full year of living through the pandemic in a city that has regrouped but not fully recovered. By The Associated Press. SENT: 2,470 words, photos, video.
MYANMAR-BORDERLANDS — The Myanmar military's lethal crackdown on protesters in large central cities has received much of the attention since the coup two months ago. But far away in the borderlands, millions of people from Myanmar's myriad ethnic groups face increasing uncertainty and waning security as longstanding conflicts between the military and minority guerrilla armies flare anew. The situation was thrust to the forefront when the military launched deadly airstrikes against ethnic Karen guerrillas along the eastern border, displacing thousands of people. Several of the rebel armies have threatened to join forces if the killing of civilians doesn't stop, highlighting a warning from a U.N. special envoy that Myanmar faces the possibility of civil war. By Victoria Milko. SENT: 1,050 words, photos.
CAPITOL LOCKDOWN — The U.S. Capitol Police are struggling. One officer was killed and another injured when a driver slammed into a barricade Friday afternoon. The attack comes after officers were overrun and injured when a violent mob of Trump supporters overran the Capitol on Jan. 6, breaking through insufficient barriers and pushing their way to within steps of lawmakers. One officer died and another killed himself. By Nomaan Merchant, Eric Tucker, and Mary Clare Jalonick. SENT: 1,040 words, photos.
GEORGE FLOYD-OFFICER TRIAL — The trial of a former Minneapolis police officer in George Floyd's death is expected to turn toward the officer's training on Monday after a first week that was dominated by emotional testimony from eyewitnesses and devastating video of Floyd's arrest. Derek Chauvin 45, is charged with murder and manslaughter in the May 25 death of Floyd. Chauvin, who is white, is accused of pinning his knee on the 46-year-old Black man's neck for 9 minutes, 29 seconds as Floyd lay face-down in handcuffs outside of a corner market. By Amy Forliti, Steve Karnowski and Tammy Webber. SENT: 610 words, photos.
FLORIDA-WASTEWATER RESERVOIR LEAK — Florida Gov. Ron DeSantis says crews are working to prevent the collapse of a large wastewater pond in the Tampa Bay area while evacuating the area to avoid a "catastrophic flood." Manatee County officials say the latest models show that a breach at the old phosphate plant reservoir has the potential to gush out 340 million gallons of water in a matter of minutes, risking a 20-foot-high (about 6.1-meter-high) wall of water. By Chris O'Meara and Adriana Gomez Licon. SENT: 750 words, photos.
NCAA CHAMPIONSHIP — Haley Jones scored 17 points and Stanford beat Arizona 54-53, giving the Cardinal and coach Tara VanDerveer their first national championship in 29 years. By AP Basketball Writer Doug Feinberg. SENT: 1,060 words, photos.
_____________________________
WHAT WE'RE TALKING ABOUT
______________________________
PEOPLE-DMX — Prayer vigil planned for stricken rapper DMX. SENT: 400 words, photo.
SEPT-11-MUSEUM-CHAPLAIN — Sept. 11 Museum acquires prayer bench used by Rev. Mychal Judge. SENT: 510 words, photos.
VIRUS-OUTBREAK-ITALY-BALLROOM-DANCING-PHOTO-GALLERY — Italy ballroom dancers twirl through lockdown. SENT: 390 words, photos.
________________________________
MORE ON THE VIRUS OUTBREAK
________________________________
BANGLADESH-LOCKDOWN — Bangladesh began enforcing a weeklong nationwide lockdown, shutting shopping malls and transportation as authorities try to stop a surge in coronavirus infections and deaths. SENT: 260 words. With VIRUS-OUTBREAK-INDIA — India reported its biggest single-day spike in coronavirus cases since the pandemic began and is reporting new infections faster than anywhere else in the world. SENT: 430 words, photo.
POLAND-VIRUS-HOSPITAL — Polish hospitals struggled over the Easter weekend with a massive number of people infected with COVID-19 following a huge surge in infections across Central and Eastern Europe in recent weeks. Tougher new pandemic restrictions were ordered in Poland for a two-week period surrounding Easter in order to slow down the infection rate. The country hit new records of over 35,000 daily infections on two recent days, and deaths have been in the hundreds each day. SENT: 470 words, photos.
__________________________
WASHINGTON & POLITICS
__________________________
CONGRESS-INFRASTRUCTURE — Republicans in Congress are making the politically brazen bet that it's more advantageous to oppose President Joe Biden's ambitious rebuild America agenda than to lend support. They vow to fight the costly $2.3 trillion undertaking for roads, bridges and other infrastructure investments. SENT: 1,090 words, photos.
VOTING RESTRICTIONS-DONATIONS — When executives from Coca-Cola and Delta Airlines spoke out against Georgia's new voting law as unduly restrictive last week, it seemed to signal a new activism springing from corporate America. But if leaders of the nation's most prominent companies are going to reject lawmakers who support restrictive voting measures, they will have to abruptly reverse course. SENT: 1,060 words, photo.
BIDEN-BUTTIGIEG — Two months into his job, Transportation Secretary Pete Buttigieg is forging a fresh path for his Cabinet role and in his life that could bridge gaps with Republicans when it comes to President Joe Biden's agenda. He has a crucial role in selling the administration's $2.3 trillion infrastructure and climate proposal. SENT: 1,510 words, photos. An abridged version of 950 words is available.
________________________
INTERNATIONAL
________________________
ASIA STORM — Rescuers were hampered by damaged bridges and roads and a lack of heavy equipment Monday after torrential rains caused multiple disasters on remote eastern Indonesian islands. At least 55 people have died and more than 40 are missing in Indonesia, and the tropical cyclone causing the damage is expected to continue affecting Indonesia and East Timor for days and later Australia. SENT: 630 words, photos.
ISRAEL-POLITICS — Israeli Prime Minister Benjamin Netanyahu is back in court for his corruption trial as the country's political parties were set to weigh in on whether he should form the next government after a closely divided election or step down. SENT: 550 words, photo.
BULGARIA-ELECTION —The center-right GERB party led by Bulgaria's longtime prime minister has appeared the likely winner of parliamentary elections, with several exit polls pointing to it finishing first in a fractured political landscape. SENT: 470 words, photos.
MALAYSIA-CORRUPTION — A Malaysian court began hearing an appeal by ex-Prime Minister Najib Razak to overturn his conviction and 12-year jail sentence linked to the massive looting of the 1MDB state investment fund that brought down his government in 2018. SENT: 300 words, photo.
KOSOVO-NEW-PRESIDENT — Lawmakers in Kosovo have elected and swore in a new president for a five-year term, the Balkan nation's second female leader in the post-war period. SENT: 270 words, photos.
____________
NATIONAL
____________
ST.-LOUIS-JAIL-DISTURBANCE — Inmates broke windows, set a fire and threw debris to the ground late Sunday at a St. Louis jail that has been plagued by uprisings in recent months. SENT: 210 words.
_____________________________
ARTS/ENTERTAINMENT
_____________________________
SCREEN-ACTOR-GUILD-AWARDS — The starry cast of Aaron Sorkin's 1960s courtroom drama "The Trial of the Chicago 7" took the top prize at a virtual, pre-taped Screen Actors Guild Awards that saw Netflix snag Hollywood actors' highest honor for the first time. By AP Film Writer Jake Coyle. SENT: 980 words, photos.
___________________
SPORTS
___________________
ANGELS-OHTANI-HITS-&-PITCHES — Shohei Ohtani both hit the hardest homer and threw the hardest pitch by a starter in the majors this season in an extraordinary two-way performance for the Los Angeles Angels. Ohtani is just the third pitcher over the last 45 seasons to hit for himself in a game with the designated hitter available. By AP Sports Writer Greg Beacham. SENT: 790 words, photos.
___________________
HOW TO REACH US
___________________
At the Nerve Center, Kim Tong-hyung can be reached at 800-845-8450 (ext. 1600). For photos, (ext. 1900). For graphics and interactives, ext. 7636. Expanded AP content can be obtained from http://newsroom.ap.org. For access to AP Newsroom and other technical issues, contact apcustomersupport(at)ap.org or call 877-836-9477.