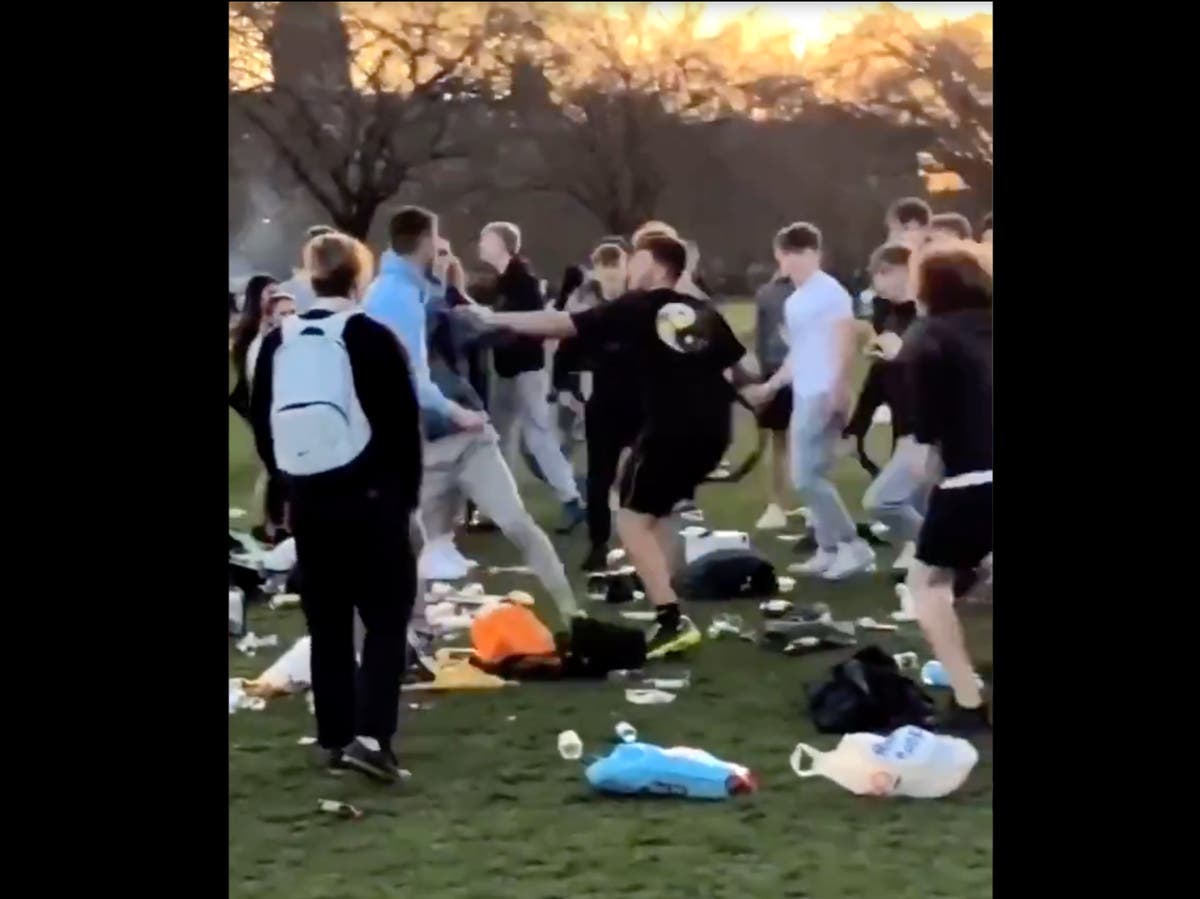 Police have hit out at politicians for "offloading predictable problems" onto law enforcement after an officer was hospitalised with a facial injury while responding to mass brawls at an Edinburgh park.
As warm weather coupled with the end of stay-at-home orders in Scotland drew thousands of people to the Meadows on Saturday, footage showed groups of young men fighting in various brawls.
One youngster appeared to be hit from behind with a glass bottle, leaving a gash on his neck, as police officers rushed to contain the violence, tackling several individuals to the ground.
Police Scotland said on Sunday that three people had so far been charged in connection with anti-social behaviour and a serious assault, and said officers were searching for others involved in various incidents.
"We are aware of the extent of the disorder seen in The Meadows this weekend and we absolutely condemn this," said Chief Inspector Sarah Taylor, of Edinburgh Police Division.
Read more:
"Officers were called to a number of incidents over the course of the day and responded quickly and professionally in the face of some blatant anti-social behaviour. Hundreds of people were moved on or dispersed from the area."
In particular, the force is appealing for information and witnesses concerning attacks on two boys aged 22 and 17 years old, at around 7:30pm and 6:40pm respectively.
The chair of the Scottish Police Federation, which represents 98 per cent of the country's officers, turned his ire on politicians, claiming such problems had been "predictable" amid growing public hostility towards health restrictions.
"Police officers didn't write these health regulations but for the last year we have been asked to enforce them for the protection of all," David Hamilton said. "Public hostilities towards the restrictions were foreseeable and have been growing for some time.
"They have increasingly culminated with some in our society taking out their anger and frustrations on police officers.
"Yesterday in Edinburgh, one of our members was hospitalised with a facial injury, and countless other unvaccinated officers were put at risk, for simply doing their jobs to keep others safe.
"It is simply not good enough that politicians have offloaded these predictable problems onto police officers, especially when they have failed in their responsibility to protect and support those of whom they have asked so much."
Edinburgh South MP Ian Murray said police, the council and retailers should come up with an action plan to deal with trouble on the Meadows – a major green space just south of Edinburgh's historic old town area –and the mess left behind from large gatherings.
The park drew headlines last June when Rebus author Ian Rankin, a local resident, reacted angrily to similar scenes of rubbish and violence and labelled the area, which borders a Unesco world heritage site, "Pee in the Park" – a play on the now-defunct Scottish festival, T in the Park.
Community activists later used the detritus left behind to write out Scotland's Covid-19 death toll – then 2,842 – to "burn into people's minds" the link between large gatherings and deaths from the disease.
Volunteers and council workers were thanked on social media for their efforts in cleaning up the rubbish left again this week.


A year of Covid-19 in UK
Show all 34
Saturday's incidents came after Scotland's chief medical officer warned that people coming together in large groups risked a resurgence in coronavirus cases.
On Thursday, he said progress in suppressing the virus had been "fragile".
Police Scotland said there would be a continued police presence at the Meadows over Easter and in the coming weekends, "as a minimum".
"We've been working with the council and are committed to tackling these issues together, both in the immediate future and long-term," said Ch Insp Taylor. "There will be zero tolerance."
The Scottish Government has been contacted for comment.
Additional reporting by PA