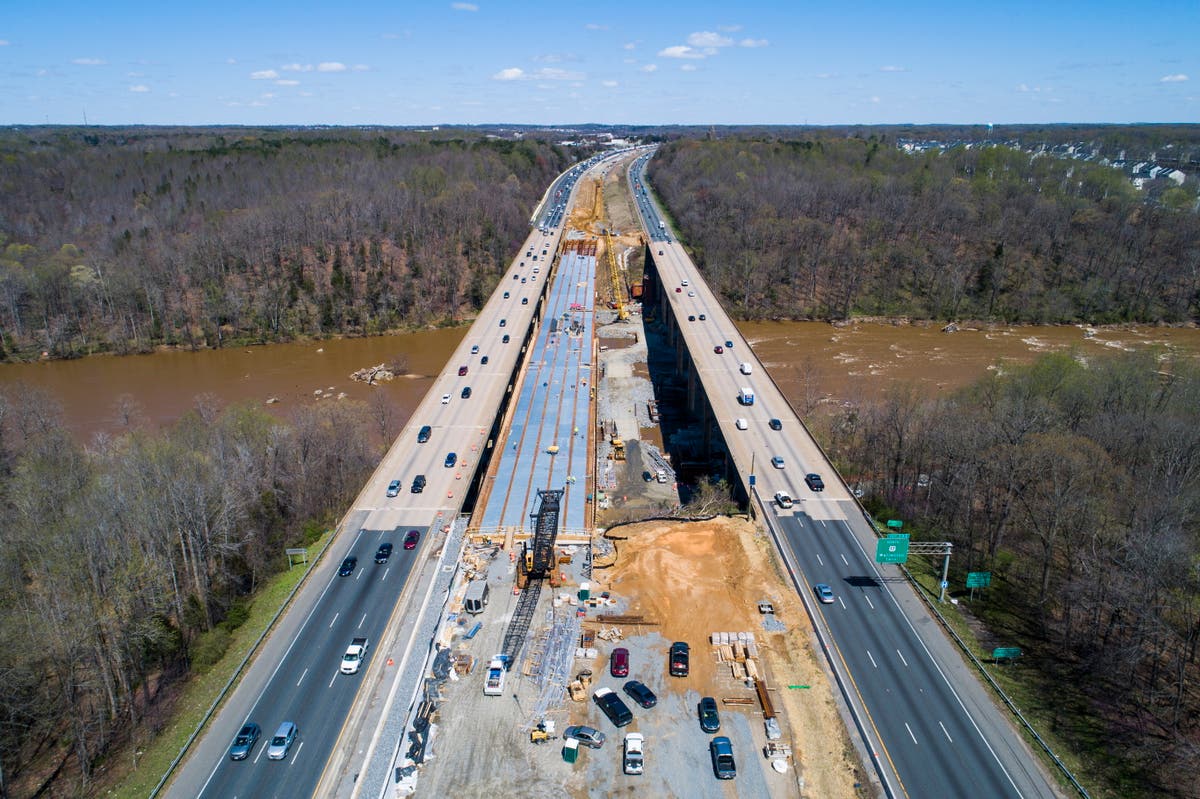 As lawmakers prepare to debate Joe Biden's massive infrastructure proposal that will touch on nearly every aspect of American life, Bernie Sanders is leading members of Congress to ensure the $2 trillion plan also supports the nation's "human infrastructure".
The president's pitch aims to modernise the nation's ageing water systems and expand internet access, repair crumbling roads and bridges, incentivise manufacturing projects to remain in the US, and revive schools and care facilities.
It also would address his long-term sustainability goals in the face of the climate crisis, as well as lingering racial and socioeconomic disparities exacerbated by the coronavirus pandemic and Republican tax cuts.
Senator Sanders, the progressive Independent from Vermont and now chair of the influential Senate Budget Committee, told CNN that Mr Biden has pitched a "serious proposal" to address the nation's multiple crises, "but many of us see a crisis in human infrastructure".
He said he will argue for more funding to address the climate crisis, childcare, healthcare and prescription drug pricing, and student debt.
Read more:
"What the president is proposing is bipartisan," he said, pointing to nationwide support among Republican and Democratic state and local officials for federal funding for infrastructure projects in their backyards.
"Unfortunately, Republicans in Congress who are moving very far to the right, who are not only ignoring what the American people want to see done, they are often ignoring what people in their own party want to be done," Senator Sanders said.
The proposal has once again revived debate among reporters whether Mr Biden – whose $1.9 trillion American Rescue Plan was signed into law without any Republican votes – is moving ahead on a "bipartisan" basis, despite persistent GOP objections to the White House agenda.
Asked whether Mr Biden's latest proposal will have bipartisan support in Congress, Energy Secretary Jennifer Granholm told CNN that a majority of Americans, from both parties, already approve the measures inside it.
"So the president is very concertedly reaching out to Republicans to say, 'Come to the table. If you don't like a component of it, tell us … what you want to see'," she said, adding that federal funding for roads and bridges, broadband internet expansion and US manufacturing supply chains "are all things that Republicans have introduced bills on".
Transportation Secretary Pete Buttigieg, who appeared on both NBC's Meet the Press and ABC's This Week to promote Mr Biden's proposal, said that the US is "still coasting on infrastructure choices that were made in the 1950".
"Now's our chance to make infrastructure choices for the future that are going to serve us well in the 2030s and onto the middle of the century when we will be judged for whether we meet this moment here in the 2020s," he said.
To pay for the plan, Mr Biden wants to raise the corporate tax rate to 28 per cent. He also would raise taxes on households that earn more than $400,000 a year.
Donald Trump's trickle-down Tax Cuts and Jobs Act in 2017, passed before the pandemic during a healthy economy, cut the maximum corporate federal income tax rate from 35 per cent to 21 per cent.
"We're just asking corporations to pay their fair share at a rate, by the way, that would be lower than it's been for most of my life," Mr Buttigieg said. "If other folks on the Hill have an idea how to pay for it, we're going to be interested to hear those ideas. But there is a clear vision for paying for this bill."
In his own proposal, Senator Sanders wants to increase the corporate tax rate to 35 per cent.
GOP Senator Roger Wicker told NBC that "I'm all for looking at ways to pay for it" but said 28 per cent "is going to cut" jobs.
Asked by CNN's Jake Tapper whether he had a pitch for paying for the bill, Mississippi Governor Tate Reeves, a Republican, pointed to "pro-business" and "pro-growth" policies under Mr Trump, and echoed GOP concerns over a growing deficit, despite their support for Mr Trump's tax cuts that immediately shot up deficits.
House Speaker Nancy Pelosi said she wants to pass the bill in the Democratically controlled House of Representatives near the July 4 holiday, but it faces a murky path in the Senate.
Senator Sanders and Senate Democrats are weighing a move to pass the bill through the budget reconciliation process, as they did with the American Rescue Plan, to bypass the need for GOP support and send the bill to Mr Biden's desk with a simply majority vote.