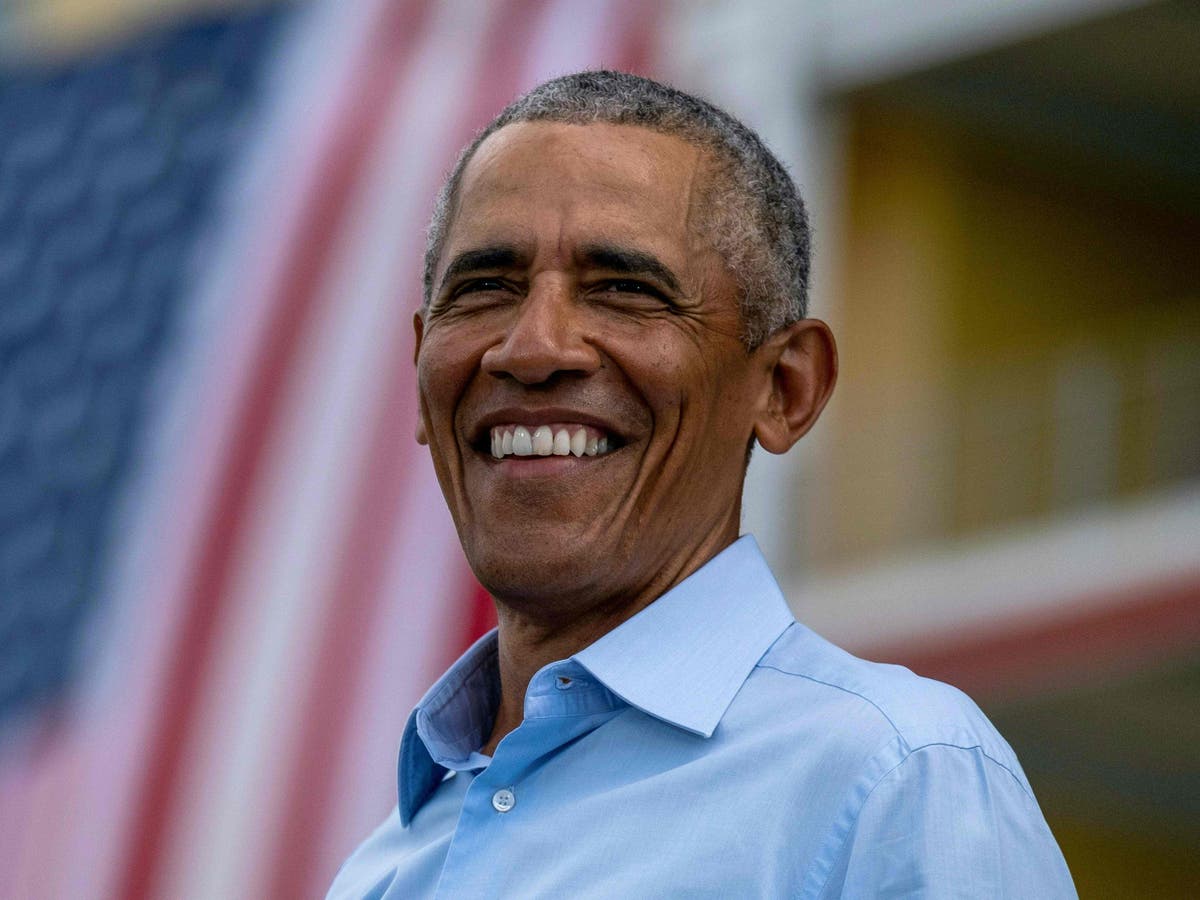 Former president Barack Obama has lauded the Major League Baseball (MLB) for moving its All-Star Game out of Georgia only hours after Donald Trump called on Americans to boycott the "woke" organisation.
"Congratulations to @MLB for taking a stand on behalf of voting rights for all citizens," Mr Obama said on Twitter on Saturday.
He added: "There's no better way for America's pastime to honor the great Hank Aaron, who always led by example."
Aaron, a baseball legend, broke Babe Ruth's record of 714 home runs in 1974 while battling racism throughout his legendary career. He died this year in January.
MLB announced in a statement on Friday that they would be moving the game out of Atlanta in response to the passage of a sweeping elections bill in Georgia.
Read more:
Democrats and voting rights groups have condemned the passage of the new Republican-sponsored overhaul of state elections, saying the law will disproportionately disenfranchise voters of colour.
Mr Obama's support comes amid an intensely polarised debate regarding the league's decision and less than 24 hours after his successor, Mr Trump, condemned MLB for its "woke" protest and called on Americans to boycott the organisation.
"Baseball is already losing tremendous numbers of fans, and now they leave Atlanta with their All-Star Game because they are afraid of the Radical Left Democrats," he said in a statement.
Mr Trump argued that Democrats simply "do not want voter ID" to be involved in elections, adding that it is "desperately needed."
He called on Americans to "boycott baseball and all of the woke companies that are interfering with Free and Fair Elections," adding: "Are you listening Coke, Delta, and all!"
Coca-Cola CEO James Quincey on Wednesday called Georgia's controversial new voting law "unacceptable," and "a step backwards" in an interview with MSNBC.
Rob Manfred, Commissioner of the MLB said on Saturday that their decision came after "thoughtful conversations with Clubs, former and current players, the Players Association, and The Players Alliance, among others, to listen to their views."
"I have decided that the best way to demonstrate our values as a sport is by relocating this year's All-Star Game and MLB Draft. Major League Baseball fundamentally supports voting rights for all Americans and opposes restrictions to the ballot box," he said.
The controversial bill includes sweeping voting restrictions such as limiting the use of ballot drop boxes, cutting the time people have to request an absentee ballot, and setting photo ID requirements for absentee voting.
The legislation is one of a wave of GOP-backed election bills introduced in certain states around the country which come after Mr Trump stoked false fraud claims regarding the 2020 election.
Current President Joe Biden offered his support in line with the decision, the White House said in a release.
"The President has made his concerns about the bill passed in Georgia clear, given its extreme provisions that impact the ability of so many citizens to cast their votes," the White House said.
They added: "He said earlier this week that if the decision was made by Major League Baseball to move the All-Star game, he would certainly support that decision – and now that MLB has made that choice, he certainly does.'
Additional reporting by the Associated Press