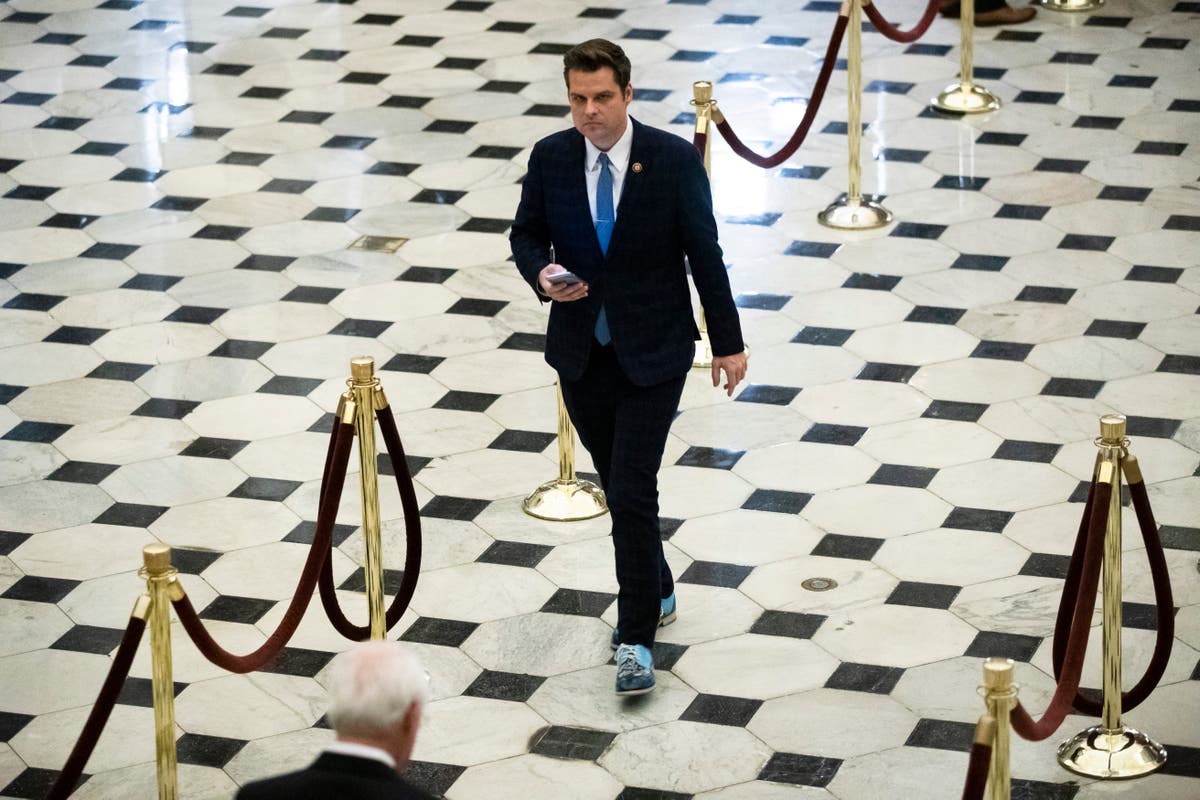 As Congressman Matt Gaetz faces an investigation into allegations of sex trafficking, his Republican colleagues aren't rushing to save him, one CNN journalist says.
"If you could see my text messages from some of his current and former colleagues, I actually can't repeat what some of them say on morning television," Dana Bash said on CNN's New Day.
Bash said the Florida representative has "made enemies" and "antagonised" his colleagues throughout his time in Congress, even within his own party. That history is now coming back to haunt him, the journalist said, as few allies come forward to defend him from a cascade of disturbing allegations.
"It's because he has not made himself popular with most of his colleagues – and again, we're talking about his fellow Republicans," Bash told host Jon Avlon. "We're talking about people who he has antagonised in the name of being as beholden and as loyal to the former president, Donald Trump, as possible."
Mr Gaetz, a staunch Trump ally, is currently facing a Justice Department investigation which is believed to focus on whether he had a sexual relationship with a 17-year-old girl. The probe is also looking into whether he paid for her to travel with him, which, if true, could potentially have violated sex trafficking laws.
Read more:
Since that investigation came to light, other accusations have also arisen – including a CNN report that the congressman showed nude photos of women to other members of Congress.
Mr Gaetz has denied any wrongdoing and vigorously defended himself.
"Over the past several weeks, my family and I have been victims of an organised criminal extortion involving a former DOJ official seeking $25 million while threatening to smear my name," he said in a statement. "No part of the allegations against me are true, and the people pushing these lies are targets of the ongoing extortion investigation."
Bash noted that two other Republican representatives, Jim Jordan and Marjorie Taylor Greene, have also publicly defended Mr Gaetz. But apart from them, she said, few have rushed to his side.j
Part of that, she said, is due to the numerous times Mr Gaetz has gone out of his way to hurt his Republican colleagues. One example she raised was Liz Cheney, the senior GOP congresswoman who voted to impeach Mr Trump. Following her controversial vote, Mr Gaetz flew to her home state of Wyoming to urge Republicans to dump her.
"That was certainly not the first time he made enemies out of people in his own Republican conference," Bash said, "but it was the most recent and certainly the most egregious in the eyes of many of them. And so that is the lack of reservoir of good will that he has at a time when he really needs it."
The Independent has reached out to Mr. Gaetz's office for comment, but has not yet heard back.