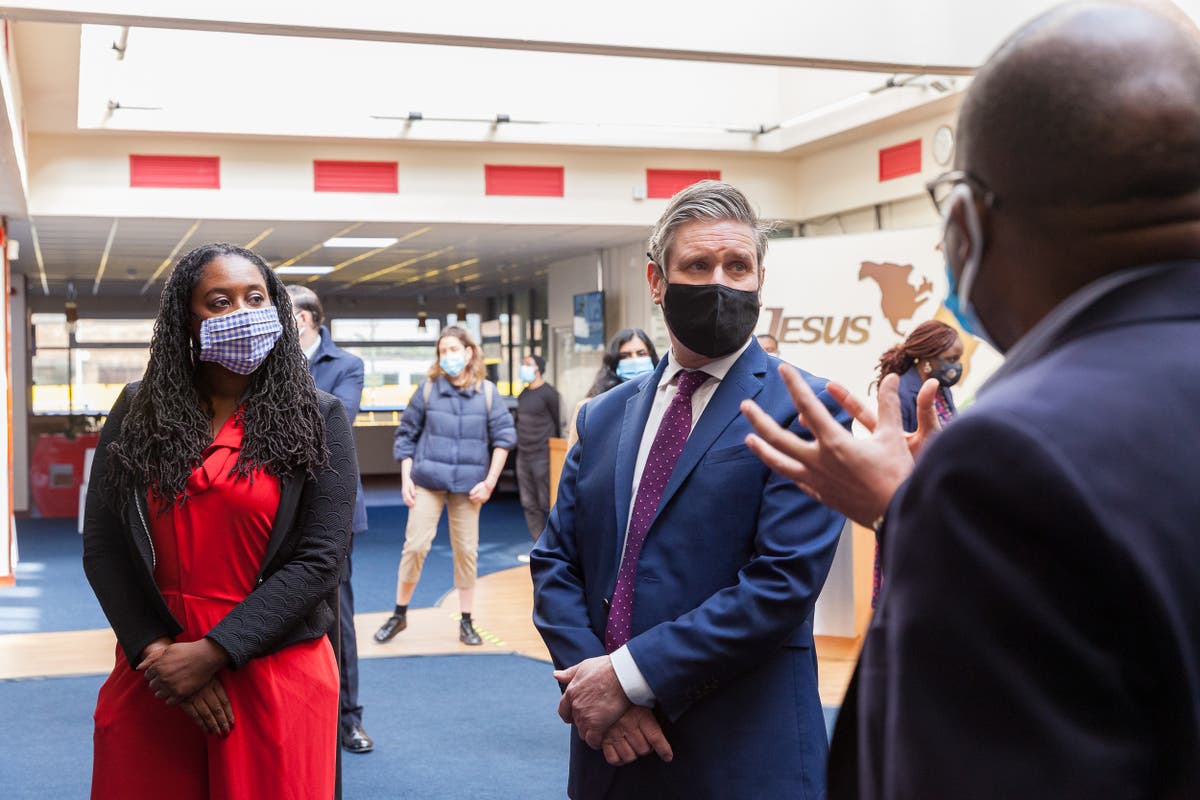 The government's Police, Crime, Sentencing and Courts Bill's disproportionate impact on Black communities is "real cause for concern", Labour Party leader Keir Starmer has warned.
The bill, which entered parliament last week, would increase police powers in cracking down on protests, and follows last summer's Black Lives Matter demonstrations.
A number of its proposals will have a disproportionate impact on Black, Asian and minority ethnic (Bame) people, the government itself has admitted, and yet this aspect of the bill has not been a focal point of the national conversation around the proposed legislation.
Mr Starmer told The Independent that he and David Lammy, shadow justice minister, have discussed the issue at length and suggested that the government should do more to address racial disparities.
"It's a real cause for concern. David Lammy's whole report was into disproportionality in the criminal justice system and we should be trying to tackle that disproportionality and not embed it further," he said.
"Alongside that of course you've got all the other criticisms of the bill – a bill that says far more about protecting statues than it does about protecting women. The government says it's serious about tackling violence against women and girls.
"There was a 300-page, 176-clause, 20 schedules opportunity to do something about violence against women and girls and there's next to nothing in the bill. That is why we voted against it last week."
The Lammy Review, led by the Tottenham MP in 2017, found that while Black people make up around 3 per cent of the general population in England and Wales, they account for 12 per cent of adult prisoners in 2015-16; and more than 20 per cent of children in custody.
Arrest rates are generally higher across minority ethnic groups in comparison to white people.
In response to the bill, a group of criminal justice and race equality organisations have written to Boris Johnson, calling for ministers to withdraw the elements of the bill it acknowledges will increase racial inequality and launch a public consultation around the changes to avoid discrimination.
Addressing how the new bill looks likely to further entrench racial inequalities, Dawn Butler MP told The Independent that the potential disproportionate impact on minority groups is "straight out of Trump's playbook".
"So let's be clear: the government are embarking on a culture war and they think that this is a way for them to win votes. I say that society is waking up to this and there are far, in greater numbers, better people than there are bad people," she said.
"It is a dangerous route that this government is trying to go down, I think they are tearing pages out of Trump's playbook and we've got to stand up against it, all of that."
Mr Starmer and Ms Butler were speaking after a roundtable discussion with faith leaders at Jesus House, a megachurch in Brent, north London, earlier this week, where they spoke with local constituents about vaccine uptake.
The night before, some 2,000 and 3,000 people had gathered in Bristol on Sunday to protest against the new bill in a mass movement dubbed "Kill The Bill".
Andy Marsh, chief constable of Avon and Somerset Police, said the demonstration had been "hijacked" by several hundred "extremists" which saw dozens of police officers injured.
"I believe the events of yesterday were hijacked by extremists, people who were determined to commit criminal damage, to generate very negative sentiment about policing and to assault our brave officers," he said.
Ms Butler said: "I don't believe in violence at all but, as Martin Luther King Jr said, the riot is the language of the unheard.
"The government needs to understand that there's a lot of people who want to be heard – and want to be treated fairly and justly," Dawn Butler continued. "And having draconian powers imposed is not the way to go about it.
"This lies squarely with the government to do better."
The government has argued that the proposed legislation will help to keep the public safe.
A Ministry of Justice spokesperson said: "The government makes no apologies for legislating to ensure violent and sexual offenders spend more time in prison. We are determined to tackle the deep-rooted causes of racial disparity in the justice system and the number of black and minority ethnic children entering it has fallen by three-quarters over the last decade.
"Ultimately this bill will cut crime, build safer communities and restore faith in the justice system."