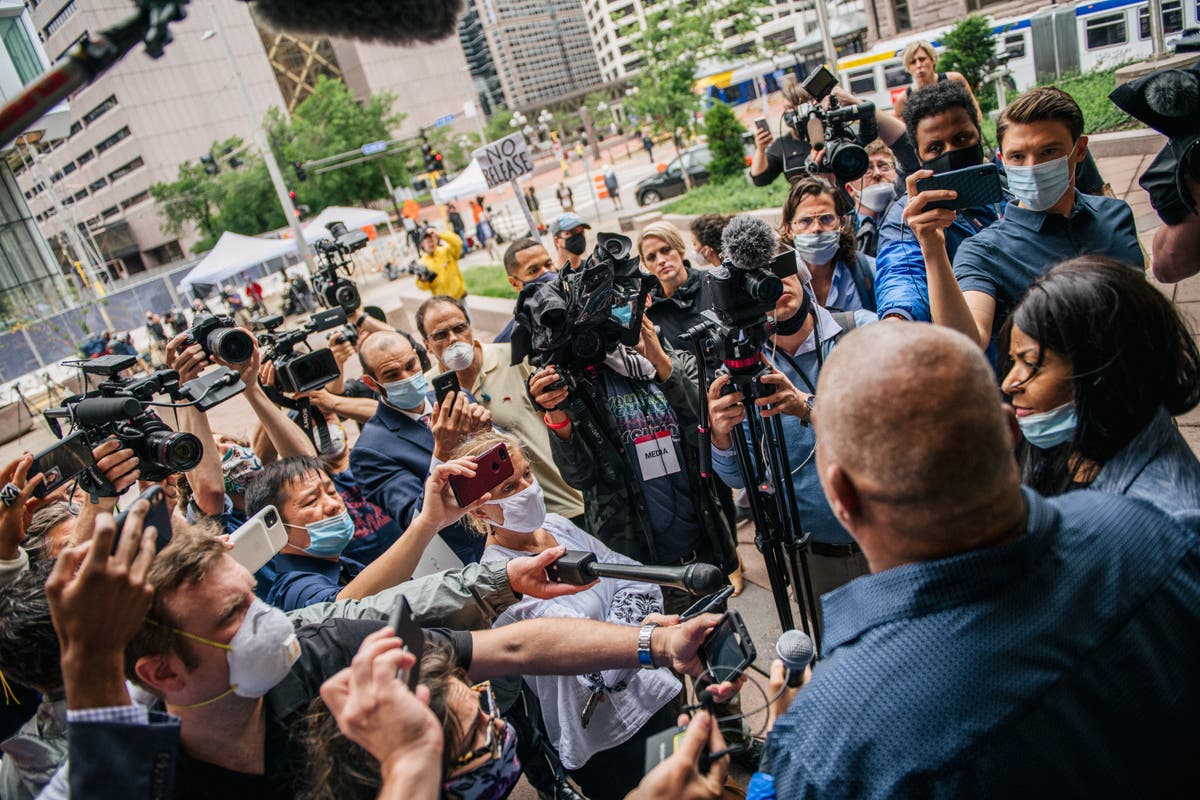 A Minnesota court on Wednesday revoked the Daily Mail's press credential to cover the trial of Derek Chauvin, the former police officer accused of killing George Floyd after the outlet published "stolen" police body camera footage of the incident in 2020, according to a court filing.
In 2020, the Hennepin County District Court allowed members of the media to view and take notes on, but not re-publish, police body camera footage that captured some of the interaction between Mr Floyd and officers. Then, according to the Wednesday filing, the footage was "stolen" and published later that summer.
"It has not been proven to the Court whether the Daily Mail did or did not play a role in the theft of the footage," the document reads. "It is clear, however, that the Daily Mail was the first media outlet to publish the stolen footage."
It also alleges the outlet paid for the stolen footage.
"This Court assumes that the Daily Mail paid for the stolen video footage," the filing continues. "The Court is therefore confident that the Daily Mail can pay to obtain the trial exhibits associated with this case. This is not a hardship for the Daily Mail, it is merely an inconvenience. The Court does not make this decision lightly, but it has no other equitable and appropriate response to the Daily Mail's purchase and publication of the stolen footage."
The Independent has reached out to the Daily Mail for comment.
On 2 August, the Daily Mail published nearly half an hour's worth of body camera footage showing parts of Mr Floyd's arrest, under the headline, 'EXCLUSIVE: Police bodycam footage shows moment-by-moment arrest of George Floyd for the first time – from terror on his face when officer points gun at his head, sobbing before he's shoved into squad car and begging to breathe as his life drains away.'
The footage included key moments, such as the interactions that led up to the physical confrontation between officers and Mr Floyd, and the minutes on end when Mr Chauvin detained him on the ground and knelt on his neck as he plead for breathe.
The article describes the videos as being "leaked to DailyMail.com".
The decision bars Daily Mail staff from accessing trial exhibits, the court media centre, and "any and all other media updates related to the trial," which has been described as the most important civil rights case in a generation.
Extensive scrutiny of police body camera footage is likely to be a major part of the trial, and Mr Chauvin's lawyers have argued that pre-trial media coverage of the incident biased the jury.