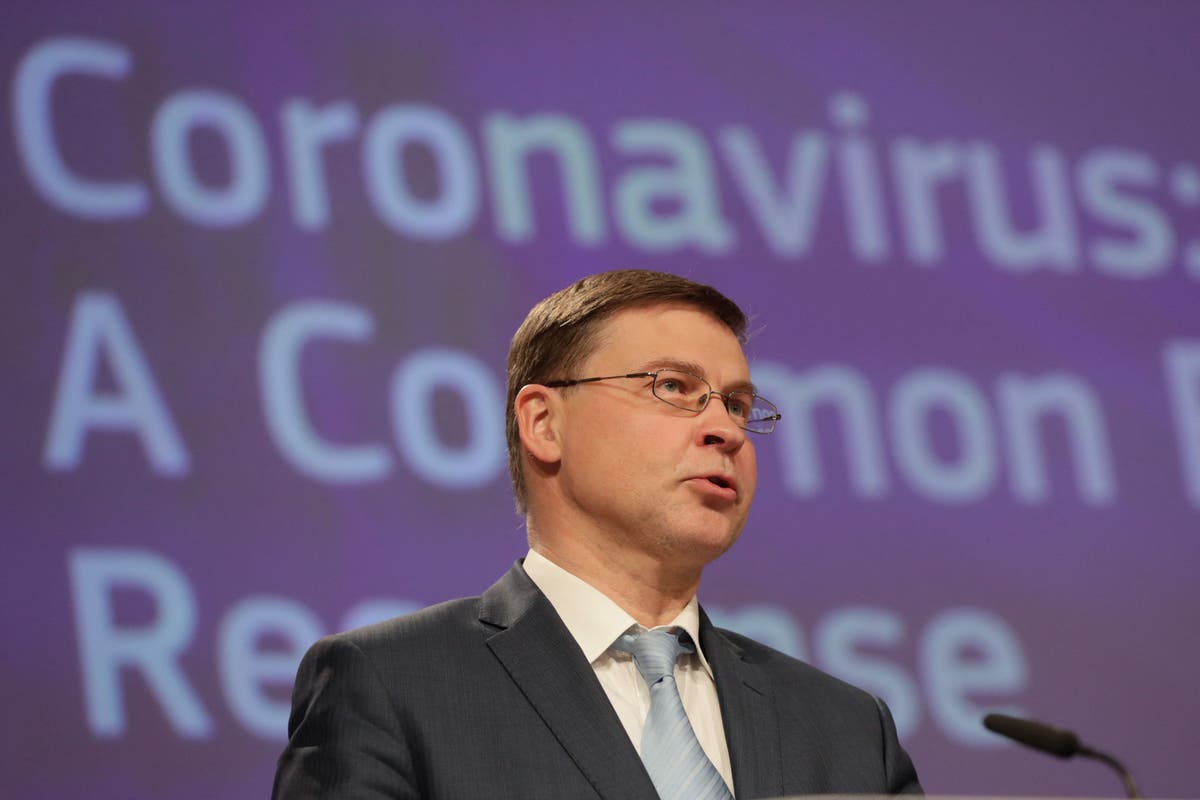 Brussels has said export controls are necessary to stop European pharmaceutical companies sending their vaccines abroad when they are needed in Europe.
Citing the "very serious epidemiological situation" on the continent and possible third wave, European Commission vice-president Valdis Dombrovskis said new conditions would be imposed on manufacturers.
Mr Dombrovskis said one firm, AstraZeneca has "only delivered a small portion of its agreed contractual commitments" with the EU while continuing to export to Britain.
And he declined to rule out blocking shipments to the UK, stating only that "concrete decisions will be taken on a case by cases basis" with individual shipments.
It comes after 29 million doses of the AstraZeneca vaccine thought to be bound for Mexico and Canada were blocked from leaving Italy.
The Commissioner said the EU had exported at least 43 million doses of the various vaccines to 33 countries since the end of January despite Europe's own troubles with the virus – and often got few doses in return.
"Continued shortfalls in production are not distributed fairly across different contracting countries", Mr Dombrovskis said, in an apparent reference to the export of jabs to the UK.
The commissioner said the EU "continues to export vaccines to countries that have production capacities of their own but when these countries do not export to the EU there is no reciprocity".
It also "continues to export significantly to countries whose epidemiological situation is less serious than ours or whose vaccination rollout is more advanced than ours".
As a result, the Commission would look at blocking exports "if a country of destination which has a large production capacity restricts its own exports of vaccines or substances – either by law or other means".
He also said a country's "epidemiological situation, its vaccination rate and the existing availability of Covid-19 vaccines" would be taken into account before approving exports.
Asked about possible exports to the UK being blocked, Mr Dombrovskis said: "Concrete decisions will be taken on a case-by-case basis.
"These adjustments to the regulation which we are presenting today do not describe a specific situation or a specific decision which is to be taken by member states and confirmed or objected [to] by the European Commission. Those decisions will be taken on a case-by-case basis."
He said the new restrictions were "necessary to achieve our objective of ensuring timely access of COVID-19 vaccines for EU citizens".
Initial reports in the Italian press that the vaccine doses stopped form leaving Italy were destined for the UK have been contradicted by both UK and EU sources. Mr Dombrovskis said of 381 requests for vaccine exports made under the export control system introduced earlier this year, 380 had been approved.
He added: "Europe has taken every step to act fairly and responsibly, mindful of our global leadership role, since the start of the pandemic. The EU remains the biggest global exporter of vaccines."
A UK government spokesperson said of the issue: "We are all fighting the same pandemic – vaccines are an international operation; they are produced by collaboration by great scientists around the world. And we will continue to work with our European partners to deliver the vaccine rollout.
"We remain confident in our supplies and are on track to offer first doses to all over 50s by April 15th and all adults by the end of July. Our plan to cautiously reopen society via our roadmap also remains unchanged."
Updating reporters on the unfolding possiblity of a "third wave" in Europe, EU health commissioner Stella Kyriakides said: "The revision of the export transparency mechanism really does come at a time with the situation remaining alarming in many member states.


World news in pictures
Show all 50
"We are starting to see more most concerning circumstances. This is evidenced by the fact that 19 countries are now reporting increasing case numbers, 15 member states are reporting increased hospital and ICU admissions, while eight member states are now reporting increased numbers of deaths.
"The R number is still broadly around one or slightly above, indicating for the moment a fairly stable rate level of transmission. But, of course, the situation is concerning."
She added that the more virulent UK variant had now become "the dominant strain circulating in the EU and EEA and has been identified in all in all but two countries", representing up to 80 per cent of sequenced strains.
EU leaders are due to discuss the question of vaccine exports at an EU summit kicking off on Thursday.