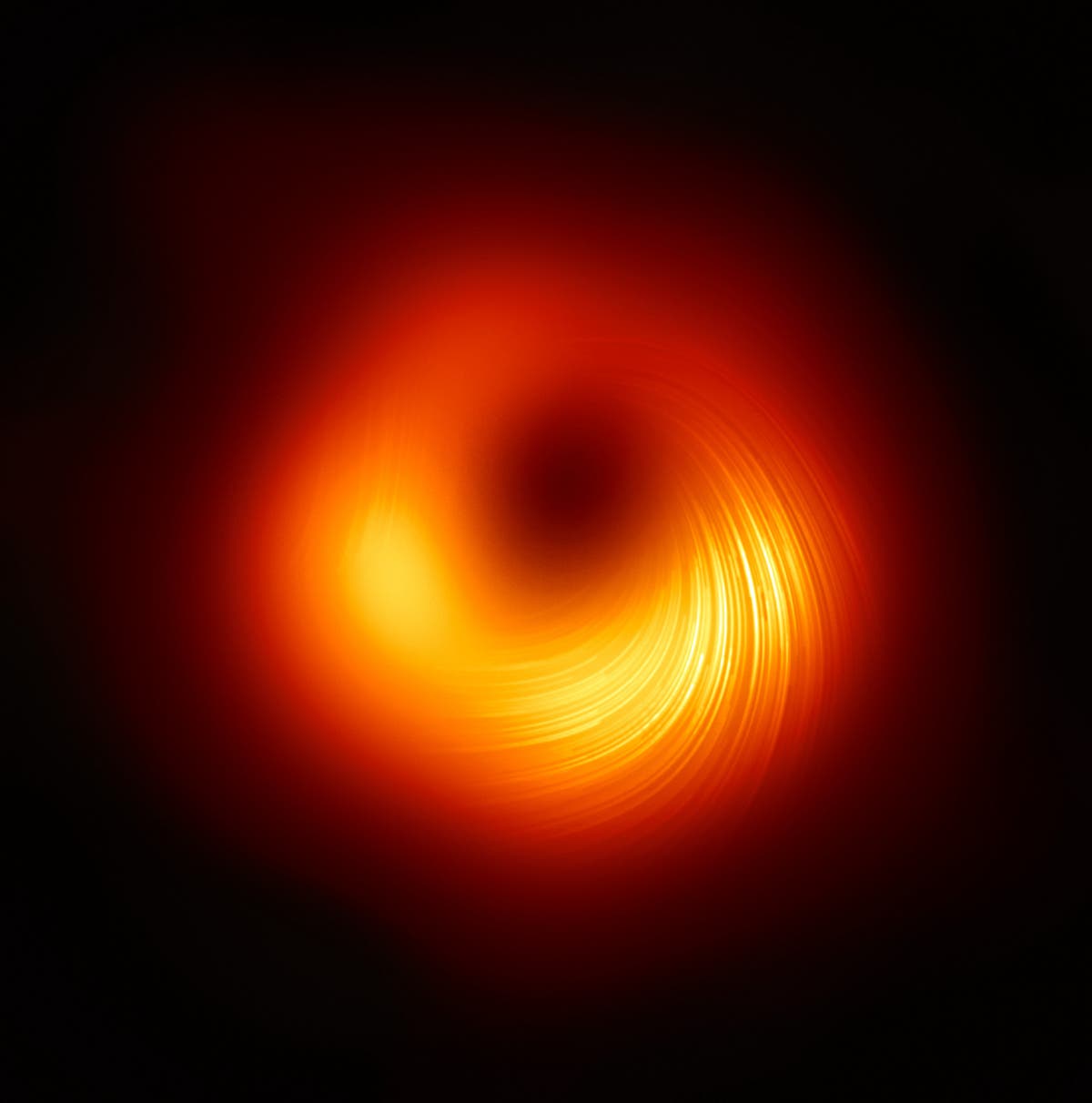 Scientists have revealed another, revealing new image of the first ever black hole to be pictured.
The latest image is a new look at the massive object, showing how it looks in polarised light.
That in turn allows scientists to measure the polarisation, and understand how magnetic fields operate so close to a black hole.
That could help researchers understand the powerful, energetic jets that are launched out from the core of the black hole's galaxy, Messier 87 or M87.
The new image shows how the area around the black hole looks in polarised light, of the kind that can be seen by people when they wear special sunglasses. A similar effect happens in hot parts of space, where magnetic fields are present.
Just as with sunglasses that are polarised, researchers can use the effect to sharpen the image and reduce the glare caused by bright regions. It means that scientists can identify the magnetic field lines that are found at the inner part of the black hole.
As well as being a new look at a now-famous region of space, the study marks the first time scientists have been able to measure the polarisation so close to the edge of a black hole.
The black hole at the heart of M87 became famous when it was the subject of the first ever image of such an object, released in 2019.
That first picture looked similar, showing a bright shining ring with a dark circle at its centre.
Since that image was released, scientists have continued to look into the data taken about the object. And they discovered that much of the light around the black hole is polarised, allowing them to get to know the object much more closely.
"This unique observation means that for the first time we can map the magnetic fields around a black hole right into the region of the event horizon" said Derek Ward-Thompson, from the University of Central Lancashire and a member of the Event Horizon Telescope team that also produced the first image. "This is exciting because astronomers believe that the magnetic fields are responsible for launching ionised material millions of light years into space in what we call 'jets', which can be ten times larger than the entire galaxy.
"This was extremely difficult to do, because not only do we have to record the intensity of the light in the manner of a camera, we also have to record its polarisation in the manner of a pair of polaroid sunglasses. So, in the same way as sunglasses dim the amount of light we see from the sun, the polariser on our telescope dims the amount of light we can see from the black hole, making it much more difficult to detect."