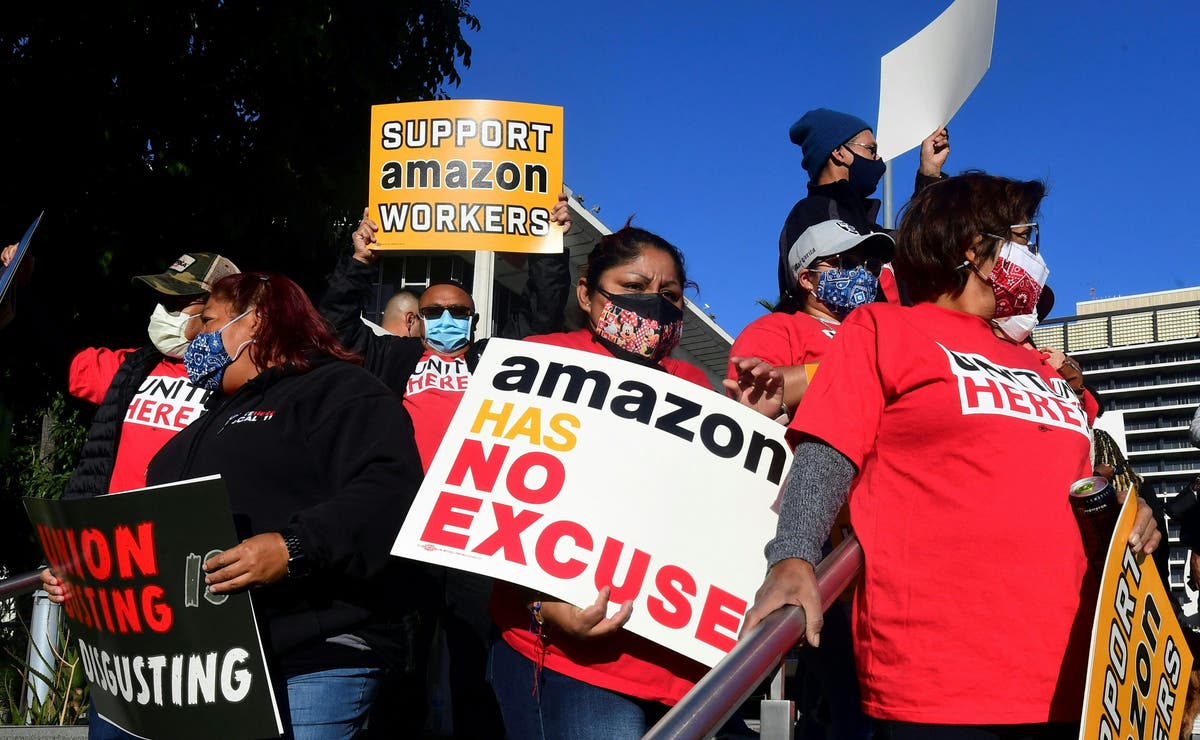 Bernie Sanders will travel to Alabama to support Amazon workers in Bessemer, where 5,800 employees at a sorting facility are in the middle of a high-stakes vote to form a union, which could be the first for the retail giant.
He will be joined by actor and activist Danny Glover and rapper Killer Mike during the visit to Birmingham on 26 March.
The union campaign has attracted a growing network of high-profile support, including a Democratic congressional delegation that travelled to the facility earlier this month. Union organisers and workers have also held solidarity rallies across the US.
Workers at the Bessemer plant are voting to determine their membership with the Retail, Wholesale and Department Store Union, a historic first for the nation's second-largest retailer that could have ripple effects among Amazon facilities and US workplaces. Voting ends on 29 March.
Though he has not specifically named Amazon, President Joe Biden – who has named himself the "most pro-union" president – has also waded into the union campaign, saying a video statement that "every worker should have a free and fair choice to join a union".
In November, as workers began organising union efforts, Senator Sanders announced his support: "All workers are entitled to decent wages and working conditions, which is why I stand with the Amazon warehouse workers in Alabama exercising their constitutional right to form a union." Last month, he sent 40 pizzas to a union rally.
He added that Amazon CEO Jeff Bezos "must not interfere in this election."
The senator has repeatedly criticised Mr Bezos for opposing the union effort as he amassed enormous wealth and his company say record profits during the coronavirus pandemic.
Mr Sanders invited him to testify at a Senate Budget Committee hearing on the state of income inequality in the US earlier this month. He declined.
"If he was with us this morning, I would ask him the following question … Mr Bezos, you are worth $182 billion," Mr Sanders told the committee on 17 March. "You're the wealthiest person in the world. Why are you doing everything in your power to stop your workers in Bessemer, Alabama, from joining a union so they can negotiate for better wages, better benefits and better working conditions?"
Mr Sanders also invited an Amazon worker from the Alabama warehouse to testify.
Jennifer Bates said management at the facility has pressured employees with "anti-union" messages in bathroom stalls, in text messages to workers' phones, and during one-on-one messages on the sorting facility floor.
"Despite all that, or maybe because of it, we continued to build support for the union," she said. "It's frustrating that all we want is to make Amazon a better place to work, but Amazon is acting like they're under attack."
She said the union drive wants to make Amazon "as good a company for workers as it is for shareholders".
In response, an Amazon spokesperson told The Independent: "We take employee feedback seriously, including Ms Bates's, but we don't believe her comments represent the more than 90 [per cent] of her fulfilment centre colleagues who say they'd recommend Amazon as a great place to work to friends and family."
The facility opened in early 2020, imprinting a $361 million investment (buoyed by more than $3 million in tax incentives) into the Deep South. Its workforce is 80 per cent Black.
Workers have sought better and safer working conditions, including hazard pay provisions and an end to the company's practice of near-constant worker surveillance.
"I welcome the senator to Birmingham and appreciate his push for a progressive workplace," Dave Clark, CEO of Amazon's Worldwide Consumer Operations, said in the statement to The Independent. "I often say we are the Bernie Sanders of employers, but that's not quite right because we actually deliver a progressive workplace for our constituents: a $15 minimum wage, health care from day one, career progression, and a safe and inclusive work environment. So if you want to hear about $15 an hour and health care, Senator Sanders will be speaking downtown. But if you would like to make at least $15 an hour and have good health care, Amazon is hiring."
More than a dozen Democratic state lawmakers in Alabama have signed a letter supporting workers' union efforts.
"Unions give workers a powerful vehicle to protect themselves from dangerous working conditions, exploitation, and unfair pay," their letter reads. "We stand with the Amazon workers in Bessemer, fighting to create a better life for themselves and workers everywhere. Your courage is inspiring, and your campaign is important: What happens in Alabama affects the entire nation."