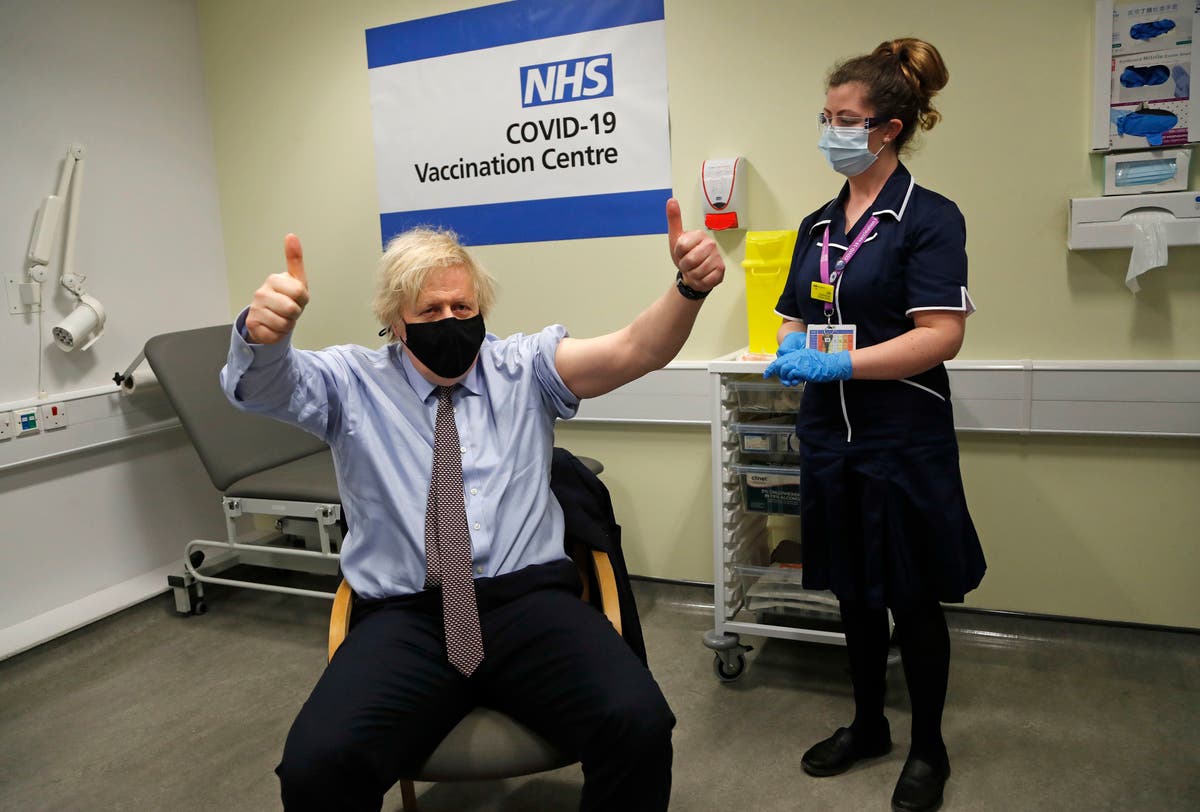 The successful vaccination campaign and falling coronavirus death rates have failed to persuade a large chunk of voters to trust Boris Johnson's handling of the pandemic, according to a new poll.
Some 41 per cent of those quizzed for The Independent in a survey to mark the anniversary of the first lockdown said they did not trust the prime minister to do the right thing, compared to 38 per cent who said they did trust him.
Among them were almost one-third of the population (30 per cent) who said they distrusted Johnson "a lot" on Covid-19 and only 16 per cent who trusted him a lot.
And trust in Matt Hancock to deal with the crisis stood at just 29 per cent, with 39 per cent saying they did not trust the health secretary.
Despite Labour fears that a "vaccine bounce" would boost Conservatives as the UK appears to be heading out of lockdown, the BMG study found the race between the parties tighter than in any mainstream poll since late January.
Asked how they would vote in a general election tomorrow, 39 per cent chose the Tories, against 37 per cent for Labour and 9 for the Liberal Democrats.
BMG pollster Andrew Price said that as many as four in five voters say the vaccination process has gone well and half say the same about Covid-19 testing, while more are positive than negative about the economic response to the pandemic, leaving only the handling of schools and foreign travel as "obvious areas of perceived weakness".
But he added: "That being said, the public is split on whether they trust key Conservative politicians to effectively handle the pandemic. Some 38 per cent feel they trust prime minster Boris Johnson compared to 41 per cent who do not. Figures are bleaker for Matt Hancock, with 29 per cent trusting the health secretary compared to 39 per cent who distrust his ability to deal with the pandemic.
"A potential vaccine 'bounce' does not appear to be leading to major improvements in trust for the Conservative party to handle the pandemic or the prime minister's satisfaction ratings. Indeed, the Tories find themselves with a slim lead over Labour in our latest Westminster voting intention results, despite the success of the vaccine."
The poll came as Mr Johnson locked horns with Brussels over threats of an export ban on vaccines produced in the EU.
And the prime minister was at loggerheads with a substantial section of his party over plans to extend legislation underpinning coronavirus restrictions all the way to October.
Mr Johnson was on Tuesday evening pleading with Tory MPs on the backbench 1922 Committee to vote for a six-month extension of the Coronavirus Act, which the government argues is necessary for continued business support programmes like the furlough scheme.
But former minister David Jones said that "a few dozen" Tories, including himself, were likely to rebel over any effort to maintain the power to impose restrictions beyond the scheduled 21 June end-date of Mr Johnson's roadmap out of lockdown.
"The vaccination programme has been outstandingly successful and seems to be having a real effect in terms of reducing numbers of deaths and hospitalisations," Mr Jones told The Independent. "That being the case, we simply cannot keep the country locked down, given that the really baleful effects of the virus are now being tackled and within the next few weeks should be virtually eliminated."
Tory backbencher Marcus Fysh said he was "pretty uncomfortable" with any extension.
He urged the prime minister to order a fresh review of the most up-to-date data on infections, hospitalisations and deaths to determine whether the relaxation of restrictions can be brought forward.
"The October date is going to be a problem for me and a lot of colleagues," he told The Independent. "Most of us want to support the roadmap because it seems to be heading in the right direction, but we can't see why ministers need to take powers until October. If there's an emergency before then, they can always come back to the House to seek powers."
Mr Johnson is in no danger of losing the vote on Thursday, as Labour has said it will back the extension.
Sir Keir Starmer today sought to step up pressure on the PM for an early public inquiry into official handling of the crisis.
"I think the government was very slow to react," said the Labour leader on a visit to the Chelsea and Westminster Hospital in London. "They were slow in the first wave, slow to go into lockdown, very slow with protective equipment to the front line.


UK news in pictures
Show all 50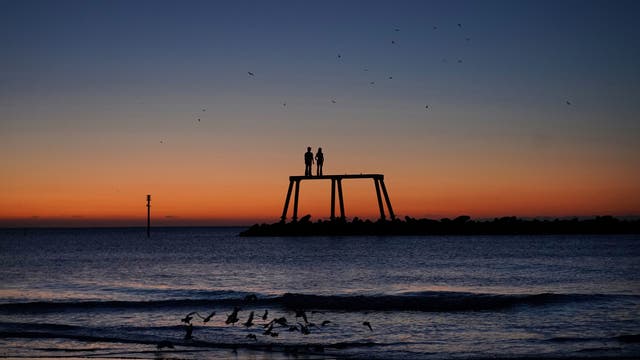 "But then we went into the second wave and instead of learning the lessons they repeated the mistakes: too slow, not getting communications right and in the end in the second wave we had more deaths than in the first wave and I think there are some very, very important lessons there."
Epidemiologist Professor Neil Ferguson suggested an inquiry should start "in the next few months", arguing that a lengthy delay would mean that "people's concerns will have moved on and it's less likely to actually effect real change".
But Downing Street continued to refuse to put a date on the inquiry which Mr Johnson has promised.
Today's poll put public trust in Sir Keir's response to the pandemic at 28 per cent, marginally ahead of the 27 per cent who voiced distrust.
But Starmer lagged behind Johnson on the metric of preferred prime minster, by a margin of 28 per cent to 35.
Worryingly for Labour, Sir Keir enjoyed a clear lead over Mr Johnson only in London and the North-West, with little sign he is making inroads into the key 'red wall' battlefields which the party must regain from Tories after losing them in 2019.
In the West Midlands, Mr Johnson led by 42-29 as preferred PM, in the East Midlands by 42-24 and in Yorkshire and the Humber by 38-26, while in the North-East they were virtually tied with Starmer claiming a 35-34 advantage.
Overall, just 38 per cent of voters said they were satisfied with Mr Johnson's performance as PM, against 44 per cent who were dissatisfied. Satisfaction with Starmer stood at 29 per cent, with 27 per cent dissatisfied and others not expressing a view.
Trust in the figures leading the UK's scientific response to Covid-19 remained high, with chief medical officer Chris Whitty trusted by 48 per cent and distrusted by 14, his deputy Jonathan Van-Tam trusted by 36 per cent and distrusted by 11 and chief scientific adviser Sir Patrick Vallance trusted by 33 per cent and distrusted by 12.