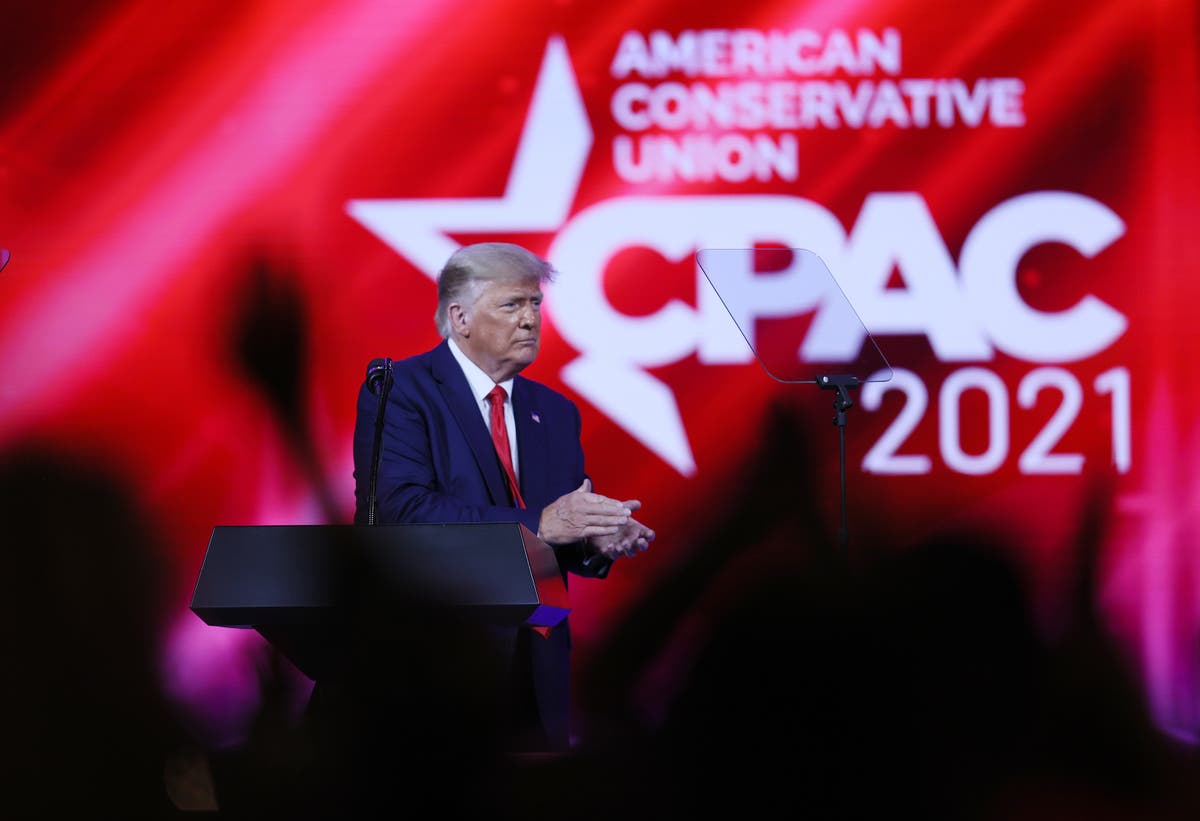 Former US president Donald Trump has called an incident where Joe Biden stumbled up the stairs on Air Force One "terrible" and claimed it was "for the most part" ignored by the media.
Speaking in an interview on conservative TV station Newsmax, Mr Trump suggested his successor, who is 78, might soon be replaced by his vice president Kamala Harris.
"That tumble was terrible. It wasn't really one, it was three, and it wasn't mentioned for the most part in the lamestream," lamented the former president. "The whole thing is incredible. There's no longer freedom of the press."
Mr Biden's slip was covered by most major media outlets, including The Independent, with some comparing it to an incident where Mr Trump walked slowly and tentatively down a ramp after delivering a graduation address at West Point in June 2020.
But some commentators suggested the Biden incident did not receive the same level of attention on US media homepages or TV coverage. Writing for The Hill, journalist Bernard Goldberg noted that CNN devoted just 15 seconds to covering Mr Biden's tumble, compared to its 22-minute segment on Mr Trump's ramp walk last year.
Asked if he was "shocked" by the apparent disparity, Mr Trump told Newsmax: "I expected it. Actually, when I went down the ramp at West Point, which was like a sheet of ice with no railing, no nothing – great planning – I wanted to go inch by inch because the last thing I wanted to do was take a tumble like Biden did," Mr Trump said.
Mr Trump repeated his earlier taunts that the Democrats would end up using the 25th Amendment to declare Mr Biden unfit to lead and replace him with Ms Harris.
"Now, well, a lot of people said when they brought it out because it takes a while to institute and when they brought it out, they said they really need it for Biden, just in case he gets in. So we'll see," said Mr Trump. "Look, I hope — that's a very serious thing and I hope that never happens," he added.
Mr Trump also implied that his successor may be suffering a mental decline to the point that he may not comprehend the executive orders he's signing.
"There's something going on, it's crazy. What's happening is crazy and you wonder whether or not all of the things that he's signing, whether or not he understands what he's signing, because this is worse than Bernie Sanders at its worst point.  We never thought this could happen. Bernie Sanders on steroids wouldn't be signing what this guy is signing," Mr Trump said.
Mr Biden has signed through dozens of executive orders since entering the White House, more than 20 of which have been direct reversals of Trump policies.