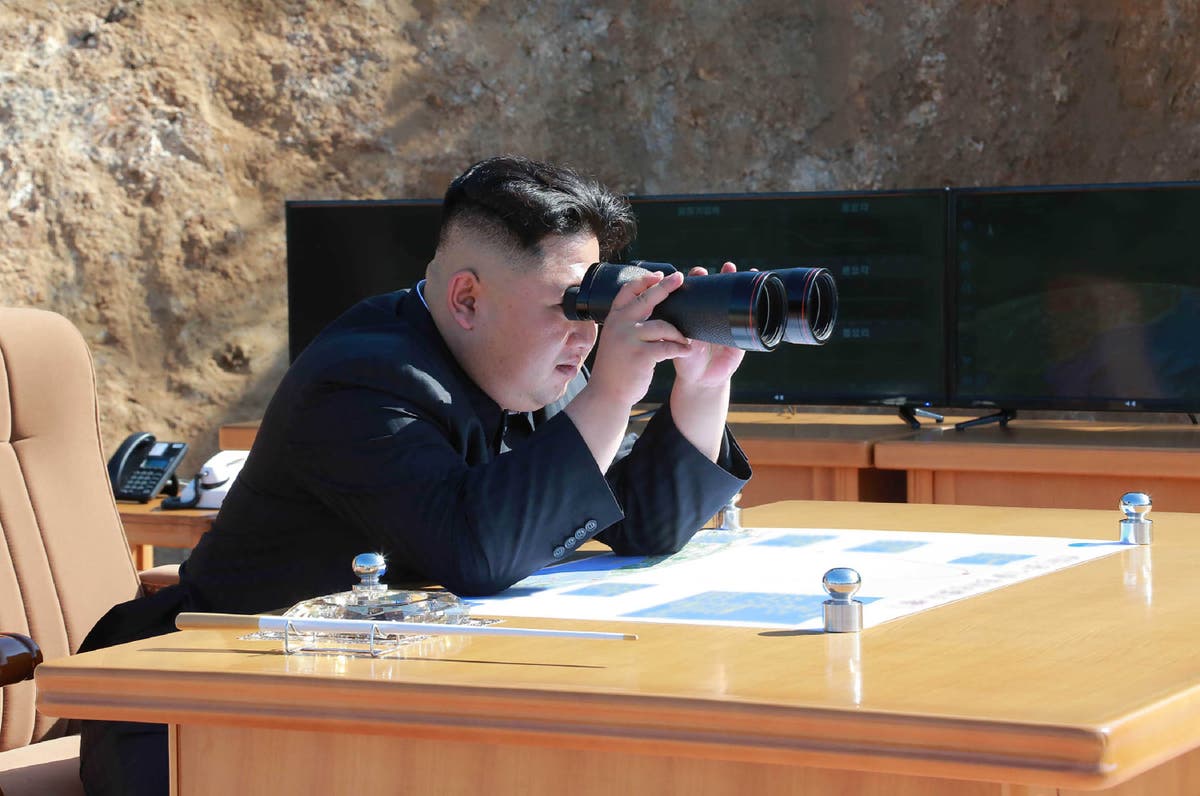 The recent missile testing conducted by North Korea was part of the North's "normal military activity" that isn't covered by UN Security Council resolutions and probably won't merit a response, said a senior Biden administration official.
"While we take all military activity seriously and will continue to consult closely on this with partners now I see this action in the category of most normal military activities by the North," the official said on Tuesday.
"North Korea has a familiar menu of provocations when it wants to send a message to US administration – ballistic missiles of various range, mobile and submarine launch platforms, nuclear and thermonuclear tests – experts rightly recognised what took place last weekend is falling on the low end of that spectrum."
Pyongyang fired at least one missile over the weekend in its first test firing since Joe Biden entered the White House.
Administration officials have not publicly clarified what type of weapon was launched, where it was fired or the success of the test.
The official added that the Biden administration does not believe that it is "in our best interest to hype these things" because such activities are "part of 'normal' set of tests in a military environment like we see on the Korean peninsula."
"We do not respond publicly to every kind of test," the official added.
North Korea's budding nuclear weapons and ballistic missile programmes have been a thorn in the side of American leaders for decades, and the North has a pattern of staging tests to gauge the resolve of new American presidents.
Mr Biden's predecessor, Donald Trump, responded to a series of threatening statements from North Korean officials by famously threatening dictator Kim Jong Un with "fire and fury like the world has never seen" in August 2017, just eight months into his presidency.
Mr Trump and Mr Kim later met for summits in 2018 and 2019 – the only such encounters between North Korean and American heads of state – and a brief meeting at the Korean Demilitarized Zone, during which Mr Trump became the only American president to set foot on the northern half of the Korean peninsula.
Despite Mr Trump's boasts that he and Mr Kim "fell in love" during their brief meetings, Mr Kim was not willing to commit to ending his country's nuclear weapons programme, and Mr Trump would not agree to his demands for sanctions relief.
A senior Biden administration official told reporters that a review of American policy on North Korea is almost at an end, with the outcome of that review set to be a topic of discussion when National Security Adviser Jacob Sullivan hosts his Japanese and South Korean counterparts at the White House next week.
"We look forward to a robust discussion on a wide range of issues on how the US, Japan, and South Korea can deepen our trilateral cooperation," the official said.
A second official explained that the Biden national security team has been "working intensively" on "next steps with regard to diplomacy or engagement on the Korean peninsula" since the beginning of the transition period last November.
As part of that process, the official said that Mr Biden's team has had "a series of conversations" with their counterparts in Mr Trump's administration, as well as "virtually every individual who's been involved in diplomacy with North Korea since the mid 1990s".
Making South Korea and Japan the main US partners in dealing with North Korea would be a departure from previous administrations, which often leaned on China – the North's largest trading partner – to exert pressure on Pyongyang in hopes of curbing the Kim regime's nuclear testing.
But relations between Washington and Beijing took a turn for the worse during the last year of Trump's presidency, and it's unclear whether Chinese leaders are as willing to engage on North Korea matters as they once were.
The official opined that the US would be "stronger" by approaching "these challenging issues on North Korea in partnership with Japan and South Korea", but said the Biden administration is "under no illusions about the difficulty this task presents to us".
"We have a long history of disappointment in diplomacy with North Korea. It's defied expectations of Republican and Democratic administrations alike, we've had working groups, we've tried it at the highest levels of the head of state, and all the while we've seen North Korea proceed ahead accordingly," the official said, adding that tensions between Japan and South Korea and Sino-US relations are "heading into a complex period", which makes it even more important for the US to "[engage] effectively with respect to the North".
But while the official stressed the importance of the trilateral US-Japan-South Korea relationship in Biden-era diplomacy on the Korean peninsula, he did not foreclose the possibility of direct talks between the US and the North.
"We have taken efforts, and we will continue to take efforts, and we believe that that such diplomacy in close coordination with South Korea and Japan – and frankly, with China – is in the best interest of all those concerned, we don't want a situation where it's perceived that our door is not open to talk."