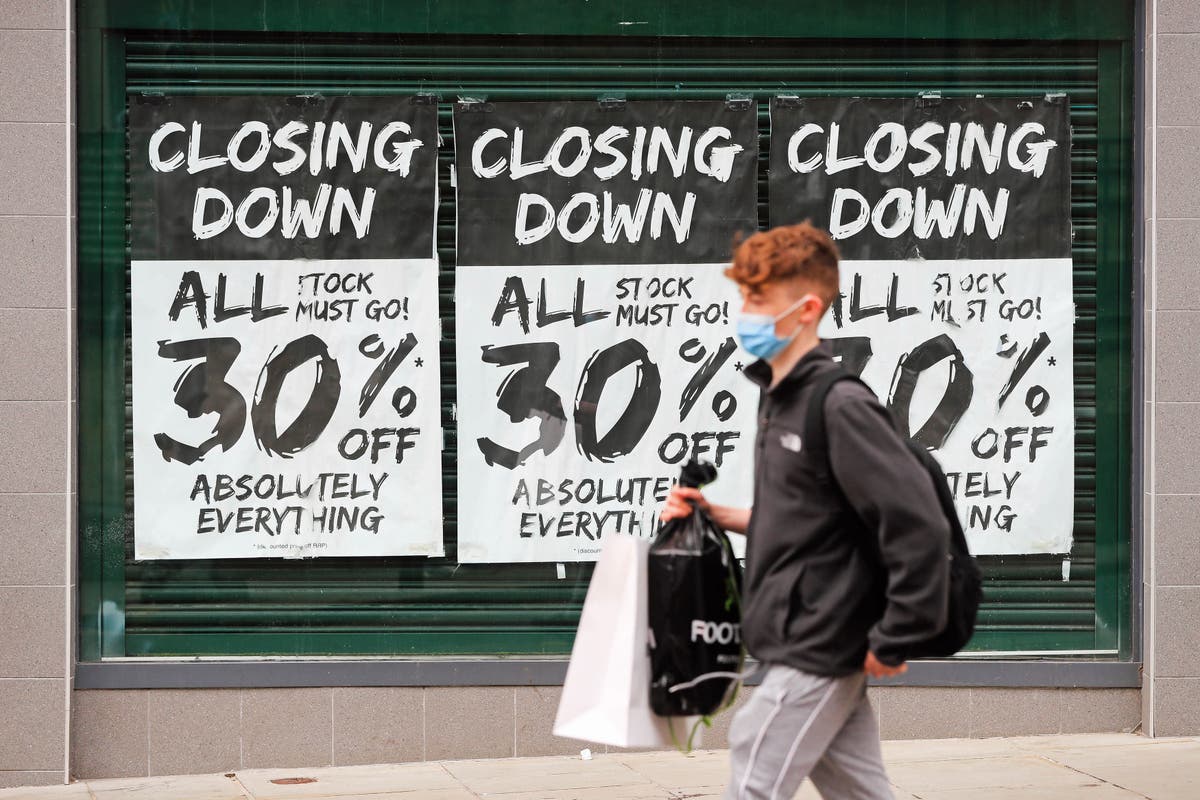 I
n the year since Boris Johnson announced the first coronavirus lockdown, it has become increasingly clear how unequally the colossal financial burden has been shared.
Following the UK's deepest recession in three centuries, optimists are pinning hopes of a recovery on the fact that we have collectively increased our savings by some £125bn.
That's all of the cash people might have splashed, in normal times, on socialising, events, gigs, dinner, drinks, commuting, holidays, weddings and more
This massive sum, and the pent up demand that comes with it, it will power the recovery, causing the economy to burst into life like a "coiled spring" being released — or so we have been assured by the Bank of England's chief economist.
Yet the money is mostly sitting in the bank accounts of a fortunate minority of the country whose experience of the pandemic has been relatively benign.
For many households and businesses the reality is starkly different, with millions facing high levels of debt, rent arrears, uncertain employment prospect and the emotional and psychological consequences.
Half of all workers suffered a real-terms pay cut last year, analysis by the Resolution Foundation shows. Pay growth deteriorated most among those who have been hit hardest by the pandemic – the young, the low-paid and those working in social sectors like hospitality.
In the early days of the pandemic, 27 per cent of those from black, African, Caribbean or black British ethnic groups reported finding it very or quite difficult to get by financially, significantly more than those from white (7 per cent), Indian (8 per cent) and Pakistani or Bangladeshi (13 per cent) ethnic groups.
Among the worst affected groups financially are up to 3.5 million people who have been ineligible for government schemes like furlough.
"The initial panic I felt when we found we would have no support, I can still feel it now," says Julie Convey, a hairdresser who worked part-time until the pandemic struck.
"I had six weeks where I could barely get out of bed, I had to be put on medication. I thought we would lose our home."
Now, she and her partner find themselves in £18,000 in debt.
While Ms Convey could claim a small self-employed grant based on her part-time earnings it was not nearly enough to cover the rent and other monthly outgoings for the couple and three children from her partner's previous marriage. Her partner's income covered most of the family's bills but his work as a performance coach in motorsport disappeared overnight.
He worked as a sole trader, paying through dividends of his limited company. In his industry, which is seasonal, there was no other way to secure contracts from employers.
Homeowners have been able to take a mortgage payment holiday but renters, like Ms Convey, have had no relief. Around half a million private renters are thought to be in arrears.
It's a problem which the government has failed to confront, instead choosing to postpone the inevitable reckoning by extending a ban on most evictions until 31 May. Proceedings can still go through the courts but bailiffs cannot remove people from their homes except in limited circumstances. Housing charities have warned of a tsunami of evictions once the pause is lifted.
Ms Convey feels the unfairness of her situation acutely. "To suddenly have everything ripped away is awful," she says.
"We stopped working because the government closed our businesses down.
"In the early days I was sure that they would realise that we've been left behind. But they do know now and yet they have refused to do anything. It's utterly shameful."
Nicola Burton feels similarly aggrieved. She and her partner run a small business repairing catering equipment for all over Scotland and parts of the north of England.
The business was set up as a partnership, not a limited company, and the couple feel they should have been eligible for financial assistance under the Self-employed Income Support Scheme (SEISS).
However, payments are calculated based on previous years' trading profits. Because Ms Burton had invested in growing her business, it didn't turn a profit in 2019 so she was not entitled to anything.
"If Rishi Sunak had the decency to work out help based on turnover, rather than profit we'd have got some help," Ms Burton says.
"The day that hospitality closed in Scotland was the day that the rug was pulled from under us.
She adds: "My 74-year-old mother sends us money for food, because she is scared that we may starve.
"A pensioner should not have to give up some of her pension to make sure her adult daughter and her partner can eat."
The hardship Ms Burton has faced is shockingly common. Food bank providers reported a doubling in demand in the run-up to Christmas.
For businesses, as with households, the financial hit of this pandemic has been deeply uneven. While recessions are typically caused by a broad downturn that hits most sectors in the economy to some degree, the cause of this recession means that some have received huge windfalls while others are fighting for survival.
Supermarkets, online retailers and food delivery apps have seen revenues surge as their competition has been forcibly shut down.
Shops deemed essential have boomed. Kingfisher, the owner of B&Q and Screw Fix, this week hailed the birth of a "generation of DIYers" who decided to do up their homes, helping the company register a jump in sales.
Meanwhile many other businesses have struggled, notably independent retailers, pubs, bed and breakfasts, nightclubs, theatres, caterers and all of the thousands of firms that supply them.
Adding to the sense of inequity are those people who have profited from an unprecedented level of fraud and gaming of the system.
Drawing on Treasury estimates, the National Audit Office reported that losses on the coronavirus loan schemes could be as high as £26bn, with much of that due to fraud.
Most of the recipients seem likely to get away with it. The police have reportedly decided not to go after people who have defrauded the schemes unless there are clear links to organised crime.
The reallocation of wealth that has occurred during the pandemic is largely due to luck. Like a giant game of snakes and ladders, some have found themselves set right back to the start while, by pure chance, others have received a boost
The inequity caused by Covid and the government's response to it has yet to be fully realised or even recognised by ministers.
But as the dust settles and the financial winners and losers become ever clearer, it is possible that, without further action, a sense of injustice will fester in a society already riven along several deep fault lines.
As Julie Convey puts it: "At the start, they said that we were all in this together but they've absolutely abandoned us."