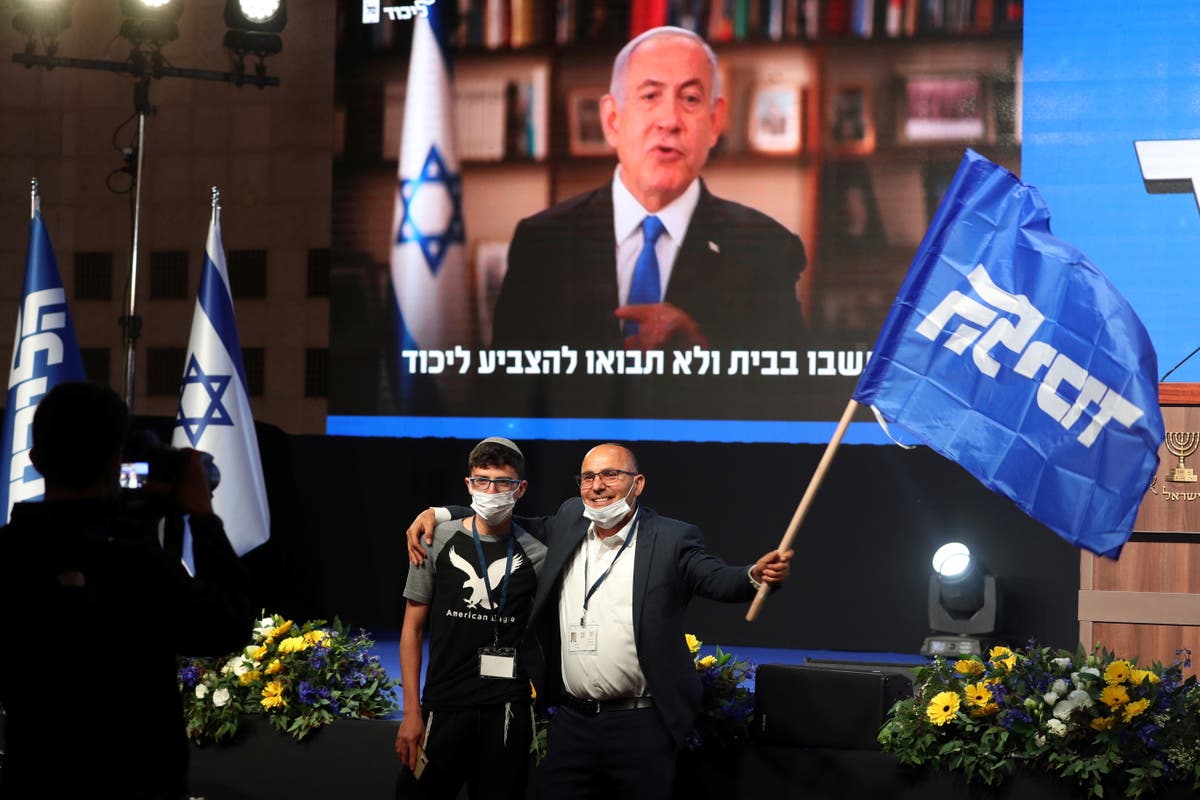 Exit polls from Israel's unprecedented fourth election in just two years show Benjamin Netanyahu's Likud party sweeping the most seats in parliament— but not enough to form a ruling coalition, leaving no clear winner in the tight race.
Predictions on Israel's main TV stations suggest the prime minister and his religious and nationalist allies have fallen a few seats short of a parliamentary majority.
According to the polls released by Israel's Channel 11, 12 and 13 Likud swept between 31 – 33 of the 120 seat Knesset which is nearly double the number of his main contender the centrist Yesh Atid party, which came in second.
Although that places Israel's longest-serving prime minister in a strong position to be tasked with forming the next government, overall his bloc has not secured enough to easily form a ruling majority.
Exit polls have been notoriously inaccurate in Israel in the past, but if they prove to correct the predictions raise the spectre of months of political wrangling and even the possibility of a fifth election.
All three channels predicted that Mr Netanyahu could secure a knife-edge one-seat majority if he is able to woe right-wing party Yamina, which is headed up by former defence minister Naftali Bennett. The polls indicate with Yamina's predicted seven to eight seats on his side, Mr Netanyahu could push his bloc up to 61 seats.
Mr Bennett, who has had a fraught relationship with Mr Netanyahu as an intermittent political partner, remained coy.
When asked whether he would forge a coalition with the prime minister, the "kingmaker" replied, "I shall do only what is good for the State of Israel."
Without Yamina, the pro-Netanayhau bloc trails behind the anti-Netanyahu coalition of unlikely political bedfellows: left-wing, centre and rightist factions, which is nominally headed by Yesh Atid chairman Yair Lapid. All three main polls give the anti-Netanyahu bloc 59 of the seats, just two short of a majority.
While many of the headquarters were subdued because of coronavirus restrictions, celebrations erupted in the party headquarters of the Joint List, a coalition of Arab majority parties.
This is despite the bad news: the Joint List is expected to take just nine of the seats, a considerable drop from the 15 they secured in the last election.
The drop may in part be due to the creation of new party Ra'am, which is headed by Mansour Abbas and broke from the Joint List. But according to the polls Ra'am did not secure enough of the 3.25 percent of the votes required to push them over the threshold into the parliament.
Join List chief Ayman Odeh told Channel 13 tonight: "I'm not happy that Mansour Abbas has not passed – I am broken by the split between us." At the same time, Mansour Abbas insisted: "By the morning we will pass the blocking percentage."