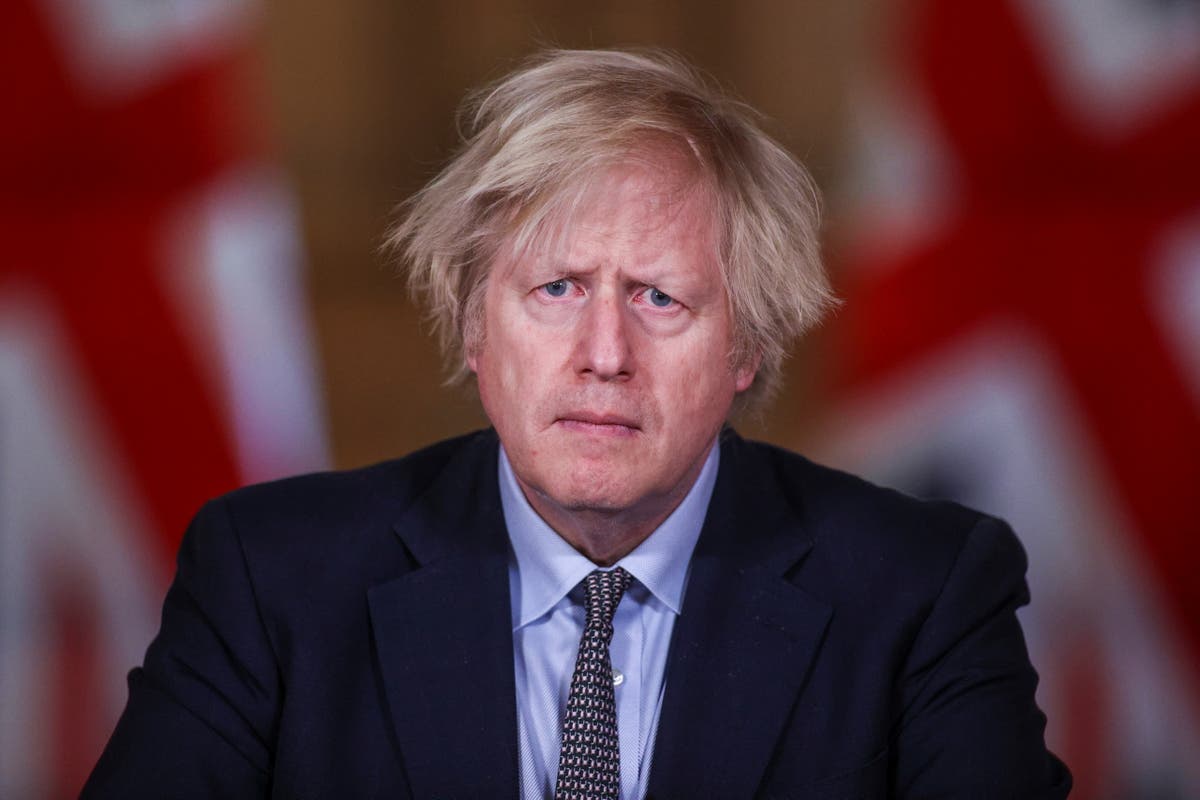 Boris Johnson has admitted that there are "many things" he wishes his administration had done differently in the fight against Covid-19, as his chief medical officer acknowledged that the UK's performance in the pandemic represents "a bad outcome" internationally.
Speaking on the anniversary of the first coronavirus lockdown, Mr Johnson told a Downing Street press conference that he would personally be dealing with this "deeply difficult and distressing period" for as long as he lives.
As the nation lit candles in remembrance of those lost to the virus, chief medical officer Chris Whitty cited new official figures showing that 147,179 people had died from the disease, adding: "More will do so, but we are now on the downward slope."
While stressing it was difficult to make comparisons between different countries' performance in dealing with Covid, Prof Whitty said: "The general point is we had a bad outcome. Many other countries had a bad outcome. What we want to try to do is to minimise mortality in the future and learn lessons from the past."
Mr Johnson again declined to name a date for the public inquiry which he has promised into the handling of the pandemic, and refused to be drawn on whether he could have saved lives by locking down more quickly in common with other countries around the world.
But he identified some of the areas where he accepts his administration got things wrong, particularly in failing to realise early on the importance of transmission of the disease by people showing no symptoms.
"In retrospect, there are probably many things that we wish that we'd known and many things that we wish we'd done differently at the time," said the PM.
"We were fighting a novel disease under very different circumstances, I think, than any previous government had imagined.
"The single biggest false assumption that we made was about the potential for asymptomatic transmission, and that did govern a lot of policy in the early days. That misunderstanding about the reality of asymptomatic transmission certainly led to real problems. "
Mr Johnson was asked whether, with the benefit of hindsight, he would have locked England down earlier both when the pandemic first hit in the spring of 2020 and in the autumn when scientists advised a two-week circuit-breaker to stop a second wave in September.
He did not deny having delayed too long, saying only: "These are very, very hard decisions and there are no good outcomes either way.
"All these consequences are very, very tough for people and all I can say is we took all the decisions with the interests of the British people foremost in our hearts and in an effort to protect the public and to prevent death and suffering."
Epidemiologist Professor Neil Ferguson suggested an inquiry should start "in the next few months", warning that delay would make it "less likely to actually effect real change".
And Labour leader Sir Keir Starmer stepped up pressure for an early inquiry, telling reporters on a hospital visit in London: "I think the government was very slow to react.
"They were slow in the first wave, slow to go into lockdown, very slow with protective equipment to the front line. But then we went into the second wave and instead of learning the lessons they repeated the mistakes."
Mr Johnson went straight from the press conference to a meeting of the Tory backbench 1922 Committee at which he urged MPs to back him in a Commons vote on Thursday to extend coronavirus regulations to October.
Although the PM is certain of victory thanks to Labour support, Tory backbenchers said they expect "a few dozen" rebels to resist the move, dismissing government claims it is necessary to allow the continuation of business support schemes such as furlough.
One senior MP told The Independent that Mr Johnson will struggle to maintain restrictions even as long as the scheduled 21 June end-date for his roadmap to take England out of lockdown.
With no sign of any spike in cases since schools returned on 8 March and reported deaths reaching a six-month low of just 17 on Monday, the MP predicted that the public will simply cease to obey rules if they perceive the threat of hospitalisations and fatalities has passed.
"I sense growing concern – and not just among Conservatives – about the mismatch between the rate of vaccination and the pace of decline in infections and hospital admissions on the one hand and the extraordinarily slow lifting of restrictions on the other," said the MP.
With half of adults vaccinated and aroudn a quarter believed to be carrying protective antibodies because of previous infection, the UK was "approaching the territory where a virus finds it very hard to spread", said the MP.
"By the time we get to 12 April, we will be a very long way from the start of March when schools opened," he said. "If there are no problems apparent by that point, it will become increasingly difficult to persuade people not to meet in large numbers outside or indoors, and meanwhile businesses will be going bust and jobs will be being lost.
"I hope that the PM will come to see that the process can be accelerated. I am an incurable optimist, but he seems to have lost his optimism."
The comments came amid indications that younger people are becoming less stringent about following lockdown guidance.
A poll by Savanta ComRes found that two in five (42 per cent) of 16-34 year-olds now are now complying only "sometimes" – up from 34 per cent at the end of January.
And overall, the proportion of UK adults saying they are mostly or entirely following official guidelines fell six points to 74 per cent. Overall levels of worry about Covid were down 12 points over the same period to 40 per cent.
Mr Johnson paid tribute to all those who had made sacrifices over the past year.
"At the right moment, we will come together as a country to build a fitting and a permanent memorial to the loved ones we've lost and to commemorate this whole period," he said.
"For month after month, our collective fight against coronavirus was like fighting in the dark against a callous and invisible enemy until science helped us to turn the lights on and gain the upper hand."
And he added: "I certainly think that this is something that we will all remember and be dealing with in different ways, certainly in my case for as long as I live. It's been an extraordinary moment in our history and a deeply difficult and distressing period."
Mr Johnson's comments were welcomed by the cross-party March for Change group, which is launching a consultation on the design for a permanent memorial.
Lib Dem MP Layla Moran said: "The London memorial must be a permanent reminder of the sacrifice made by all key workers who got the UK through this crisis. The only fitting place for it is on Whitehall, where wreaths can be laid."