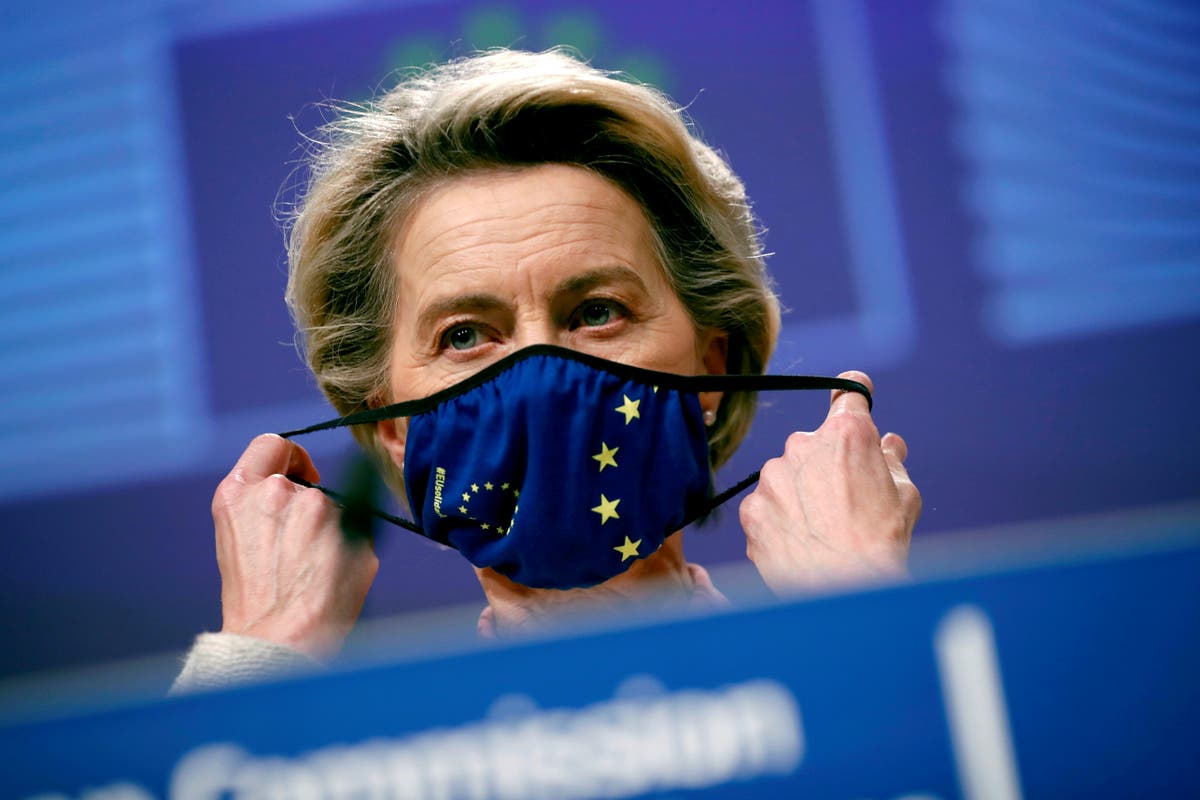 [ad_1]

The European Commission insisted on Monday it was not set on "banning vaccine exports" amid an escalating row over supplies that has threatened to derail vaccination efforts across the continent.
Eric Mamer, spokesman for EU Commission president Ursula von der Leyen, said the bloc was focused on "making sure that companies deliver on their commitments to the member states" rather than restricting movement of doses to third countries.
There is growing frustration on the continent that the EU is not getting the supplies it expected from AstraZeneca.
Boris Johnson spoke with the German chancellor, Angela Merkel, and French president, Emmanuel Macron, on Monday in a bid to end the stand-off.
The EU leaders are to hold a virtual summit on Thursday where the matter will be debated further.
It left officials simultaneously demanding assurances on future vaccine supply while doses were going unused.
After confirmation from the European medicines regulator that the AstraZeneca jab was safe, countries began administering doses again, though with France still opting to impose a restriction for the over 55s.
Sweden, Norway and Denmark, which was the first country to pause using AstraZeneca, said they would wait another week before deciding whether to resume.
Is the vaccine safe?
The World Health Organisation, which has urged vaccinations to continue, said on Friday that more than 20 million doses of the vaccine had been given to European citizens.
The rollout of the AstraZeneca vaccine has been affected by reports of possible harmful effects centering on blood clotting.
But the European Medicines Agency and the UK's Medicines and Healthcare products Regulatory Agency have concluded it is safe and effective and that the benefits outweigh any potential risks.
On Monday, data from a US-led trial showed the vaccine is 79 per cent effective at preventing Covid-19 and offers 100 per cent protection against severe disease.
An independent data safety monitoring board also identified no safety concerns relating to the vaccine.
Should you worry about the AstraZeneca vaccine?
What has the EU said?
Last week, Ms von der Leyen grabbed headlines when she threatened to restrict exports of Covid vaccines to the UK and other countries in an effort to safeguard jabs for its own citizens, as parts of the continent face a third wave of the pandemic.
She said the bloc would use "whatever tool" it needed to ensure doses reached its citizens, including seizing production of vaccines.
Over the weekend, in an interview with Germany's Funke Media Group, she repeated that warning: "We have the possibility to forbid planned exports. That is the message to AstraZeneca: You fulfill your contract with Europe before you start delivering to other countries."
However, speaking on Monday in Brussels, Ms von der Leyen's spokesman, Mr Mamer, appeared to soften the EU's stance.
While he said "the president has given our view of what the situation is and what are the objectives that we are following", he added: "This is not about banning vaccine exports, this is about making sure that companies deliver on their commitments to the member states and the European Union that are inscribed in the contracts that they have with us.
"Therefore, this is our objective, to make sure that the contracts that we have signed are respected.
"In that context, the president has said that, of course, we see that, actually, companies that manufacture doses in the EU have been exporting very widely – which is in itself a good thing – but that we want to see reciprocity and proportionality in these exports."


World news in pictures
Show all 50
What has the UK said?
Downing Street responded last week by urging Brussels to "stand by its commitment" that it would not restrict vaccine exports.
Asked about Ms Von der Leyen comments, Boris Johnson's official spokesman said: "I would point you back to the conversation the prime minister had with Ursula von der Leyen earlier this year.
"She confirmed then that the focus of their mechanism was on transparency and not intended to restrict exports by companies where they are fulfilling their contractual responsibilities.
"It remains the case we would expect the EU to continue to stand by its commitment."
Dominic Raab, the foreign secretary, added: "The world's watching. We've, all of us, including with our European friends, been saying throughout the pandemic, that you'd be wrong to curtail or interfere with lawfully-contracted supply. We all said it last year on PPE. We've been saying it this year, on vaccines and other things."
Asked to comment on the situation on Monday, the care minister, Helen Whately, urged the European Commission to stick to its commitment not to block pharmaceutical companies from meeting the terms of contracts to supply vaccines.
She told BBC Radio 4's Today: "What we're hearing at the moment is some speculation, some conjecture, an element of rhetoric.
"But what is actually important is that the EU and no country should follow vaccine nationalism or vaccine protectionism.
"We expect the European Union to stick by their commitments and I'm sure the Prime Minister will be in contact with European counterparts – he speaks to European counterparts regularly – but I don't think this debate is helpful to anybody.
"What matters is for all countries to be getting on and deploying and vaccinating their population."
Labour leader Sir Keir Starmer told LBC Radio: "I don't think the EU is helping itself here, I don't think it has helped itself much in the last few weeks and months on the whole question of the vaccine.
"I don't think they should go down this road of banning exports."
Is there a shortage of supplies?
Intense global demand for vaccines has resulted in a warning of delays down the tracks.
The UK announced last week that it would be hit by supply shortages, with new bookings for Covid vaccinations closed for the month of April after health bosses revealed a "significant" reduction in supply from the week beginning 29 March.
NHS leaders received a letter ordering them to concentrate on completing vaccination of over-50s and other priority groups, as well as administering second doses to those who have already had a jab, while people aged under 49 must wait for their turn.
The shortage, caused by "reductions in national inbound vaccines supply", was likely to last for four weeks, the letter said.
Europe is also facing shortages. Germany's health minister, Jens Spahn, warned last week that the country did not have enough vaccines to prevent a third wave of the disease.
No vaccine has so far been shipped from Britain to the EU, despite requests from Brussels, while the bloc has shipped millions of Pfizer jabs to the UK.
[ad_2]

Source link