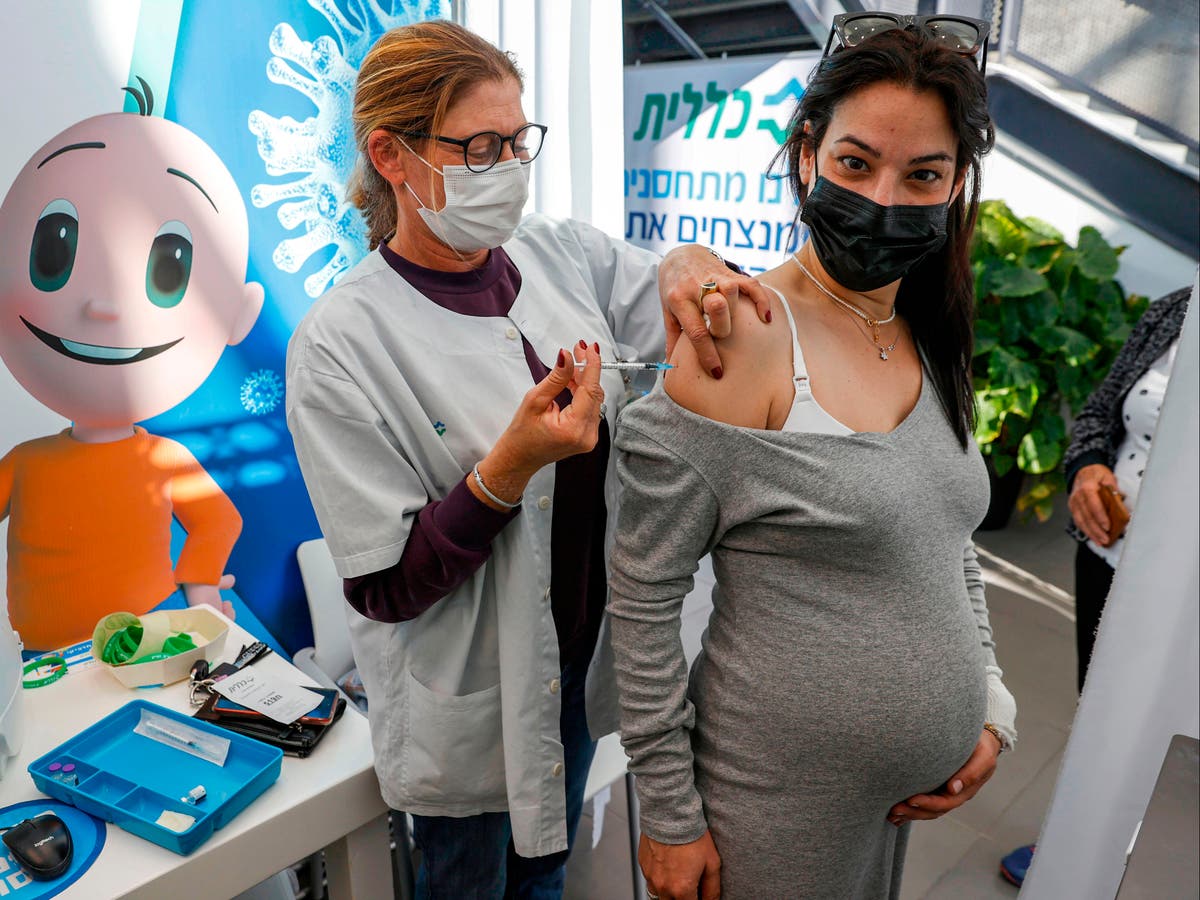 [ad_1]

Early research shows that vaccinated pregnant mothers pass on Covid-19 antibodies to their children via breastmilk and in utero.
Numerous preliminary studies show that pregnant women who got an mRNA vaccine, such as those from Pfizer or Moderna, had Covid-19 antibodies in their umbilical cord blood.
Another study found antibodies in breastmilk, meaning that some immunity could be transferred to children during pregnancy and after birth.
The vice-chair for obstetrics and quality at Duke University Brenna Hughes told The Washington Post that some not yet peer-reviewed papers are "the first to show what we had hoped would be true, which is that these vaccines could be potentially protective through antibodies passed on to the fetus".
She added that "worries about possible risk and harm may be proven quite the opposite. In fact, it may be proven that the vaccines actually provide protection to the developing fetus".
A South Florida healthcare worker was vaccinated three weeks before giving birth to a girl with Covid-19 antibodies, CBS News reported.
Dr Paul Giblert and Dr Chad Rudnick wrote in a preprint study that "antibodies are detectable in a newborn's cord blood sample after only a single dose of the Moderna COVID-19 vaccine. Thus, there is potential for protection and infection risk reduction from Sars-CoV-2 with maternal vaccination".
One preprint, not yet peer-reviewed study examined 131 vaccinated women, 84 of whom were pregnant. The study showed that pregnant women had similar immune responses, and thus probably will get as much protection from the vaccine, as women who are not pregnant.
Dr Andrea Edlow, a maternal-fetal medicine specialist at Massachusetts General Hospital, who co-authored the study, told CBS News: "Maternal vaccine-generated antibodies were detected in the umbilical cord blood of all 10 babies who [were] delivered during our study period."
She added: "Our data suggest that receiving both shots of the mRNA vaccine leads to improved antibody transfer to newborns."
The next phase of studies will be to figure out how effective the antibodies are for newborns and how long they will provide protection.
Denise Jamieson, chair of the department of gynaecology and obstetrics at Emory University, told The Washington Post that it's "important to remember that the main reason why we're so focused on getting pregnant women vaccinated for Covid is because we know the mothers are at increased risk of severe disease," adding that this puts babies at an increased risk as well.
[ad_2]

Source link