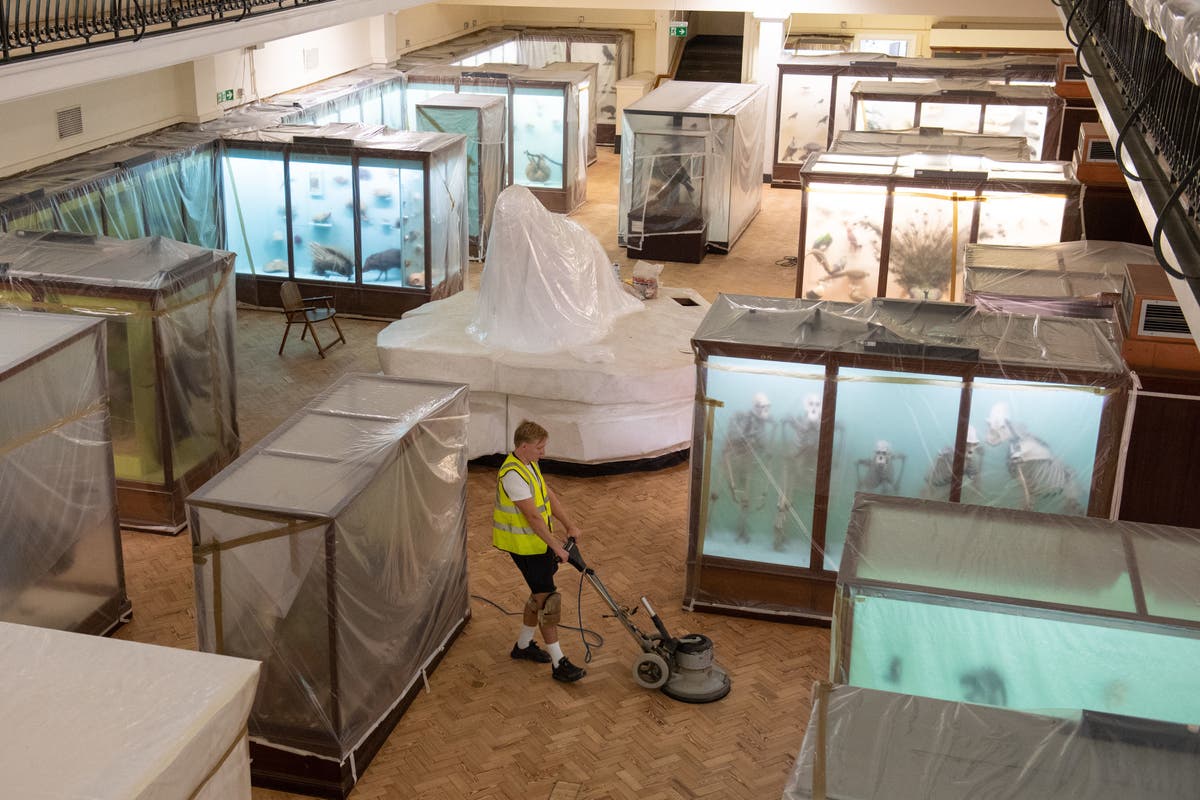 [ad_1]

A new species of shrimp has been discovered in the tanks of a south London museum, having arrived there on a rock plucked from the Caribbean Ocean, scientists believe.
The shallow-water invertebrate, which has also been observed in aquariums in France and Poland, was named Heteromysis hornimani in honour of the Horniman Museum in Forest Hill, where it was first found.
Fully grown adults measure no more than about 6mm and are said to dance in a figure of eight motion.
They are largely transparent with yellowy-brown areas and small orange spots. Pregnant females carry a sack of bright-green eggs, as found in other species of opoussum shrimps.
The species is so far not found in nature and is only known from tanks in the Horniman Museum as well as the Oceanopolis Aquarium in Brest and the Aquarium de Paris, both in France, and Wroclaw Zoo in Poland.
Researchers said that compared with the shrimps observed in the Brest aquarium, the London shrimps had a more intensive orange or red tinge.
A study of the newly discovered creature suggests its origins lie in the Caribbean.
Jamie Craggs, aquarium curator at the Horniman, said the new species was a "great example of how aquariums can be used to further our understanding of the world and support new scientific discoveries".
The shrimp, whose discovery was first reported by The Observer, became so ubiquitous in the Horniman's aquarium that it was being used to feed other fish.
Mr Craggs, who until recently was unaware that the shrimp was a new species, told the paper: "We've used them as a food source because they breed so prolifically. I've been here 12 years and they've been here all that time."


World news in pictures
Show all 50
A sample of the shrimp has been transferred to the Vienna Natural History Museum where it will be preserved in ethanol.
Heteromysis hornimani is one of four new species found in six public aquariums in the US and Europe detailed by Daniel Abed-Navandi, a marine biologist at the University of Vienna, and Karl Wittmann, from the Austrian capital's Aqua Terra Zoo.
Two species, Heteromysis waikikensis and Heteromysis sixi were found in the Waikiki Aquarium in Honolulu, Hawaii, and Heteromysis smithsoniana was discovered in the Atlantic coral reef exhibit of the Smithsonian Marine Ecosystems Aquarium in Fort Pierce, Florida.
The origins of the Heteromysis waikikensis and Heteromysis sixi most likely lie in coastal marine waters of the central Pacific, while Heteromysis smithsoniana is believed to originate from the subtropical northwest Atlantic.
[ad_2]

Source link