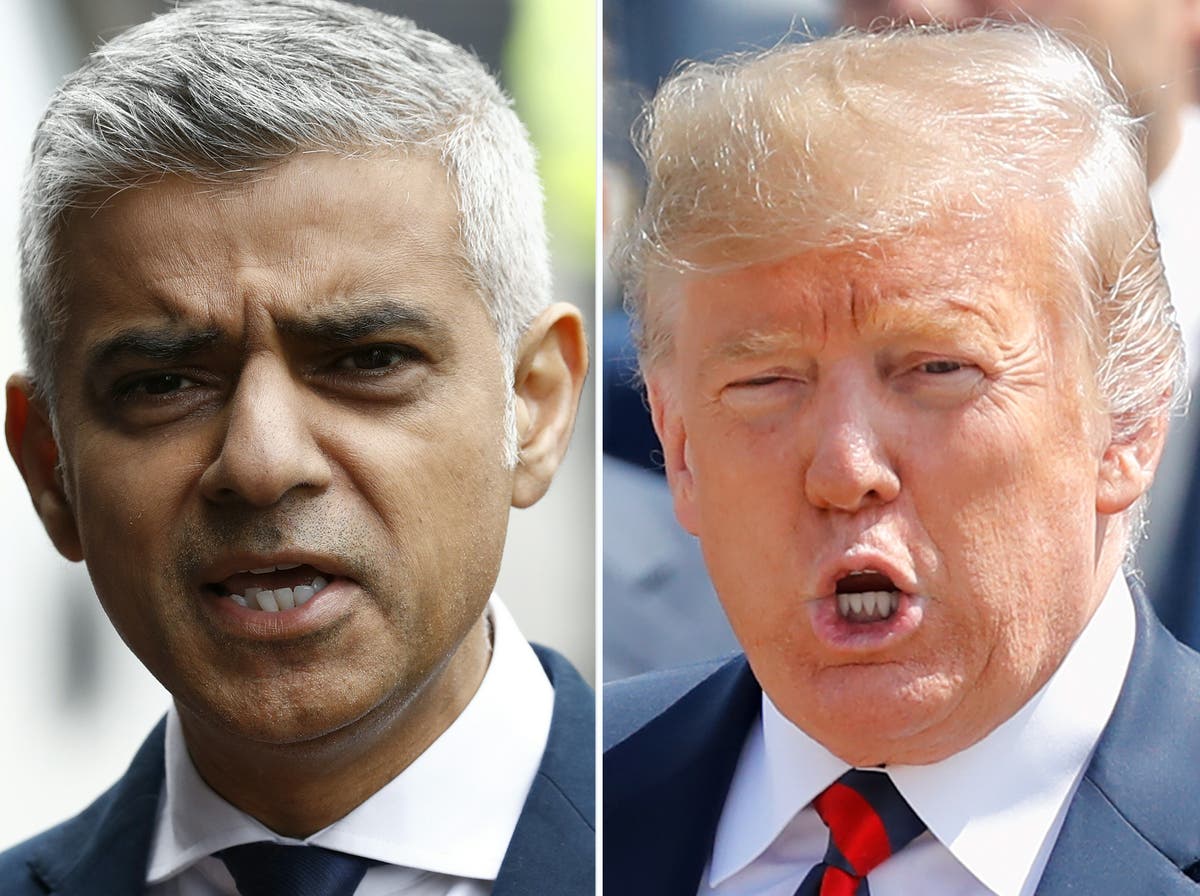 [ad_1]

Sadiq Khan will emphasise his record standing up to Donald Trump and a "rising tide of nationalism" as part of his strategy to stay in City Hall, in a break with Labour's national positioning.
The Labour mayor of London is planning to explicitly target Liberal Democrat voters to take him over the line as a new poll shows he is set to win over a substantial chunk of their 2019 support.
The approach, tailored for the capital, breaks with the one set by Labour leader Keir Starmer at national level – which has sought to emphasise patriotism in an appeal to more conservative voters.
Mr Khan kicked off his campaign, which will officially begin on Monday, by telling The Independent he was in a "two-horse race" with the Tories and that voting Lib Dem could risk him losing.
But his suggestion sparked anger in the Liberal Democrat campaign, with the party's candidate Luisa Porritt accusing the Mayor of "engaging in fake news tactics" around the voting system.
Both parties are preparing to set out their stalls ahead of the formal start of the mayoral contest on Monday. The latest survey by Redfield and Winton Strategies showed Mr Khan taking 37 per cent of the 2019 Lib Dem vote and Ms Porritt taking 35 per cent – though such poll crossbreaks have a wider margin of error.
The Mayor Mr Khan said: "This election is a two-horse race between me and the Tory candidate – who simply doesn't share Londoners' values.
"I'm calling on people who have previously voted Liberal Democrat and who love London to lend me their vote. A vote for any candidate other than me will just increase the chance that the Tory candidate will win.
"I have always fearlessly stood up for London's values – whether on immigration, Brexit or the environment – and will continue to do so if I'm re-elected on 6 May."
But Luisa Porritt, the Liberal Democrat candidate, said the capital's voting system meant Londoners didn't need to vote tactically.
Under the so-called "supplementary vote system" voters can choose a first and a second choice. If their first choice candidate does not make it to the top two, their vote moves to their second choice.
"It is an utter disgrace that a so-called progressive Mayor is engaging in fake news tactics to scare the public into voting for him in this election," Ms Porritt told The Independent.
"Londoners backed a better voting system for our elections so they didn't have to engage in this type of negative tactical voting. At a time when the Tories are threatening to abolish our proportional system, you'd think progressives would be out to defend it – not pretend it doesn't exist.
"With the Conservative candidate falling further and further behind, Londoners are looking for a serious and progressive challenger to the Mayor. Someone who will hold him to account for his poor record and has a plan to take London forward. I am that challenger."
Mr Khan's team has prepared campaign material specifically targeted at Lib Dem voters, such a video interviews, stressing his opposition Brexit and spats with Donald Trump.
In one video, a former Lib Dem voter named Dylan phrases Mr Khan's record having "stood up for an open London against Trump and a rising tide of nationalism" where people can "fulfil their potential no matter where they come from, who they love, what colour their skin is or their religion".


UK news in pictures
Show all 51
Mr Khan in 2019 said Mr Trump stood for "the complete opposite of London's values and the values in this country", while the US president took time out to castigate the mayor as having "done a terrible job".
Ahead of Mr Trump's arrival in the UK for a state visit, Mr Trump described Mr Khan as "a stone cold loser" and "very dumb"; the mayor's office accused the president of "childish insults".
Polls show the former US president is very unpopular with Londoners and Britons in general, meaning the rows are see as a political asset for Mr Khan.
The mayoral election will be held on 6 May 2021 after a one-year delay due to the Covid-19 crisis. The latest poll has Mr Khan on 51 per cent, Tory Shaun Bailey on 25 per cent, Ms Porritt on 8 per cent, and Green Sian Berry on 6 per cent.
[ad_2]

Source link