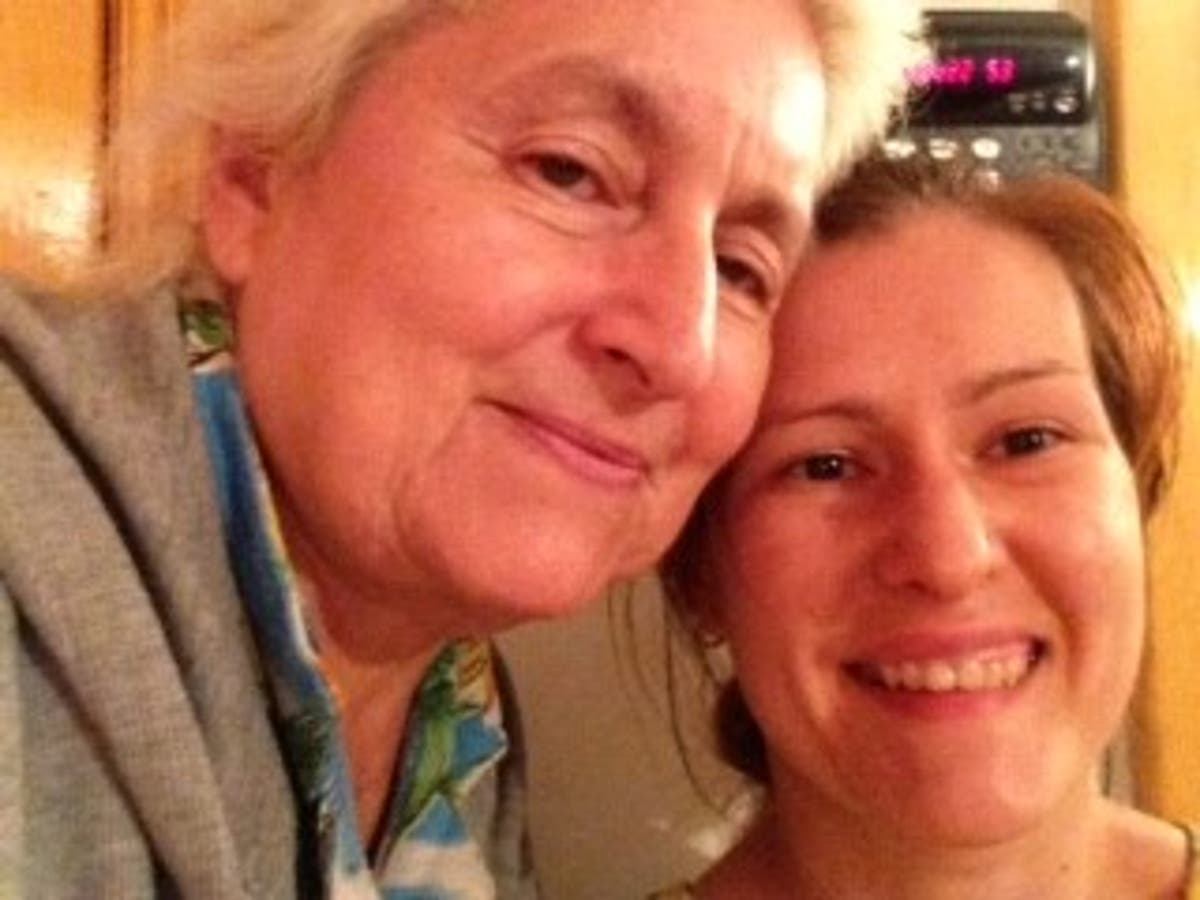 [ad_1]

The elderly mother of a British police officer has been blocked from entering the UK for the last six years because she is accused of "trying to deceive" immigration officials following an error in a visa application.
Ukrainian national Ganna Shamshuryna, 72, who lives alone in Kharkiv, northeast Ukraine, has been unable to visit her daughter, Kateryna Shamshuryna-Acland, since 2015, which she says has left her "destroyed".
As a result Ms Shamshuryna has missed the wedding of Ms Shamshuryna-Acland, 34, who has lived in the UK since 2009 and works as an intelligence officer at Thames Valley Police, as well as being unable to visit following the birth of two of her grandchildren.
The elderly woman said she felt as though "she had committed a crime" and that "all [she] holds dear has been ripped away from her".
The Home Office is blocking her on the basis that she failed to state on her visa application that she had been refused a number of UK visas in the past, with officials concluding that she had "sought to deceive".
In 2011, she applied for a five-year family visit visa in Britain, and in 2014, she applied for a humanitarian visa after the Ukraine conflict broke out – both of which were refused.
The department also used the fact that she had made these applications to draw the conclusion that they were "not satisfied" that she was a "genuine visitor" and that she may seek to remain permanently in the UK.
Her daughter Ms Shamshuryna-Acland, who lives in Milton Keynes with her British husband and three children, aged 10, two and 10 months, said she felt "demoralised" by the situation.
"I get up and I go to work and do my job to a T, protecting victims of crime, but my mum has been made to feel like she's a criminal," she said.
"She goes to bed every night crying, and my kids are growing up not knowing their grandma properly. I feel like they're missing out on finding out about their roots."
The police officer said Ms Shamshuryna, who lives alone with no close relatives nearby, was "lonesome" and that she was growing increasingly worried about her.
"She is a strong woman who is trying to manage day-to-day, but sometimes she feels what is the point in getting up in the morning when there is nothing to look forward to," she said.
"She is alien to technology. We speak on the phone every day, but she can't do video calls, so it's hard for her to communicate with the kids.
"I don't have any other biological family members in the UK. When people say they haven't seen their family for a year due to Covid, I just want to cry."
In 2013, Ms Shamshuryna-Acland applied for her mother to come to Britain on a six-month visitor's visa, which was granted. Her mother arrived in January 2014 and planned to return in June.
However, when violence broke out in Ukraine in March of that year, Ms Shamshuryna-Acland decided to apply for humanitarian protection for her mother over fears for her safety.
It took a year for the application to be processed, during which she had to drive her mother to a Home Office centre in Hounslow – a three-hour round trip – once a month to "sign on" with the department.
In 2015, the application was refused on the grounds that the Home Office said Ms Shamshuryna could relocate to a part of Ukraine where the violence was not taking place.
Ms Shamshuryna-Acland was concerned for her mother's safety and wellbeing but accepted the decision and she returned to Ukraine.
In 2016, she applied for a visitor visa for her mother so that she could attend her wedding. A week later, the Home Office refused it with no right of appeal, stating that she had "made false representations in relation to declaring previous refusals".
The police officer admitted that she had made a small error in the application, adding: "It was a really complicated application process and I wasn't qualified. I made a minor mistake, with such a harsh punishment."
She tried applying for a visit visa for her mother again, and received the same response, with the Home Office also stating that it was "not satisfied" that she was a "genuine visitor" and that she would "not seek to remain permanently in the UK or to live in the UK for extended periods".
The 34-year-old said the refusals "hit her [mother] hard, both physically and emotionally", adding: "Reading the refusal letter, you'd think we are criminals."
Speaking from Ukraine, Ms Shamshuryna said: "I want to cry all the time. I feel like I'm a prisoner, as if I've committed some crime and I've been punished by UK government. I'm not allowed to see my daughter and my grandchildren.
"After I worked for 41 years I can hold my head high with pride, as I lived my life being an honest and hard-working person. I'm proud to be mum to my daughter and I adore my grandchildren. Nobody should have the power to tear good families apart."
In 2018, Ms Shamshuryna-Acland instructed a solicitor, Dimeji Adebayo, of Saracens Solicitors, to represent her in fighting the case. He challenged the refusal in court, but the judge ruled on the side of the Home Office.
The lawyer requested an oral hearing into the case last year, but this was refused by the courts in January.
"The Home Office is a law unto itself when it comes to visiting visas because there is no right of appeal. The decision to refuse my client a visit visa is subjective rather than objective," said Mr Adebayo.
"They are hell-bent on punishing her for applying for humanitarian protection in the UK while on a visit visa, when there's nothing illegal in doing that."
Ms Shamshuryna-Acland, whose husband Matt Acland also works for the police, as a detective constable, said that the idea that her mother would overstay her visa was inconceivable: "If she did, my husband and I would lose our jobs. We would never cross the line."
She added: "It seems Home Office officials don't invest proper time and consideration in these decisions. My mum and I clearly mean nothing to them, nor does my kids growing up not knowing their grandma properly.
"Of course my mum wants to go back to her home in Ukraine – the home she's lived in for 20 years. She has no desire to stay in the UK; she just wants to see her family.
"She's being treated as a statistic, and we've been suffering the emotional damage for years now."
A Home Office spokesperson said: "All visa applications are considered on their individual merits and based on the evidence provided.
"In this case, the individual had used deception in an application to enter the UK previously and the Immigration Tribunal and Courts have found in our favour on multiple occasions."
[ad_2]

Source link