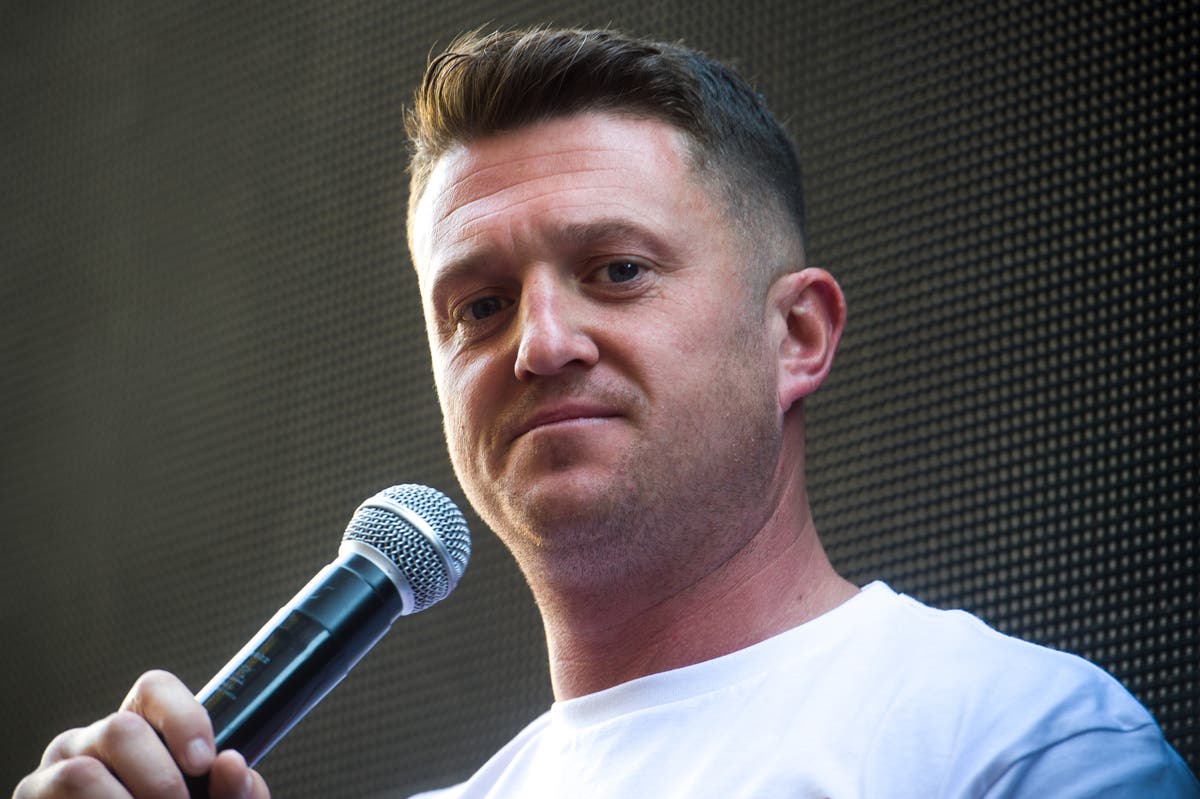 [ad_1]

Tommy Robinson turned up at the home of an Independent journalist late at night and threatened to falsely accuse her partner of being a paedophile in a bid to prevent the publication of a news story, a court has heard.
The English Defence League founder, real name Stephen Yaxley-Lennon, was issued a stalking protection order on Friday after a court was told he sent menacing messages to Lizzie Dearden in an attempt to get her to drop an investigation into claims he misappropriated donations from his supporters.
Westminster Magistrates' Court heard he turned up at Ms Dearden's home in south London in a black Range Rover at around 9.50pm on 17 January this year, two days after The Independent home affairs correspondent emailed his solicitors seeking comment on the article.
Robinson, speaking over the building's intercom and shouting outside, asked the journalist and her partner to "come down and talk". He tried to get into the building but they refused to let him in and he was turned away by security.
He then referred to Ms Dearden's partner by name and shouted loudly: "I know you are inside. Come out and we will sort this out. I will be back every day if I have to."
Witnesses also heard him saying: "There's a paedophile living in this building."
Robinson then left the area with a second person in the car but was arrested in Elephant and Castle, south London, at around 11.01pm.
The court heard he also posted photographs of Ms Dearden's partner on the Telegram social media app with the comment: "I have received some serious allegations about this man. Anyone with information about this man get in contact with me."
Ryan Dowding, a lawyer acting on behalf of the commissioner of the Metropolitan Police, told the court Robinson was "a high-profile public figure and self-styled independent journalist".
Mr Dowding said: "In the past he has mentioned Lizzie Dearden in numerous posts and videos where he has sought to discredit her by calling her a liar, a hypocrite and a hack, which have led to a torrent of comments from others of a much more abusive and violent nature."
On 19 January, Robinson sent a lengthy email purporting to respond to the allegations made in the article written by Ms Dearden.
It ended with the claim he knew "a source who came to me with information" that her partner "groomed and molested a child", adding: "Printing a full story about me using a questionable source could result in me going public about the accusations".
Mr Dowding told the court: "That pretty clearly sets out the purpose of the email to prevent Ms Dearden from going to press with her article."
District judge Tan Ikram made an interim stalking protection order until a full hearing at Westminster Magistrates Court on 2 July.
He said: "The evidence suggests he has engaged in surveillance, he has identified her address and her partner and with another turned up at the address, that he has made suggestions that her partner is a paedophile. It is suggested he has said he will come back to the address every night and published a photograph of the journalist's partner.
"What the police say is he has embarked upon all of this to persuade her not to publish the story.
"I am satisfied that these are capable of being actions associated with stalking. There is a clear prima facie case which makes it necessary and proportionate to make an interim stalking order until this case is concluded at a final hearing.'
Robinson did not appear at the court to contest an application for a stalking protection order, despite posting a video on his Telegram account referring to the hearing taking place on Friday afternoon, and was not represented by a solicitor.
The terms of the order prohibit Robinson from contacting Ms Dearden and her partner, attending the area of south London surrounding her address, engaging in surveillance, causing photos or videos to be taken, publishing references to them on websites or social media directly or indirectly with the sole exception of responding to articles written about him, and publishing or sharing their home address.
David Marley, acting editor of The Independent, said: "Lizzie is a brilliant and brave journalist who has reported extensively on the far-right despite regularly facing threats and trolling. What happened in this case is completely unacceptable. Neither Lizzie nor The Independent will be deterred from pursuing important stories by threats and intimidation."
[ad_2]

Source link