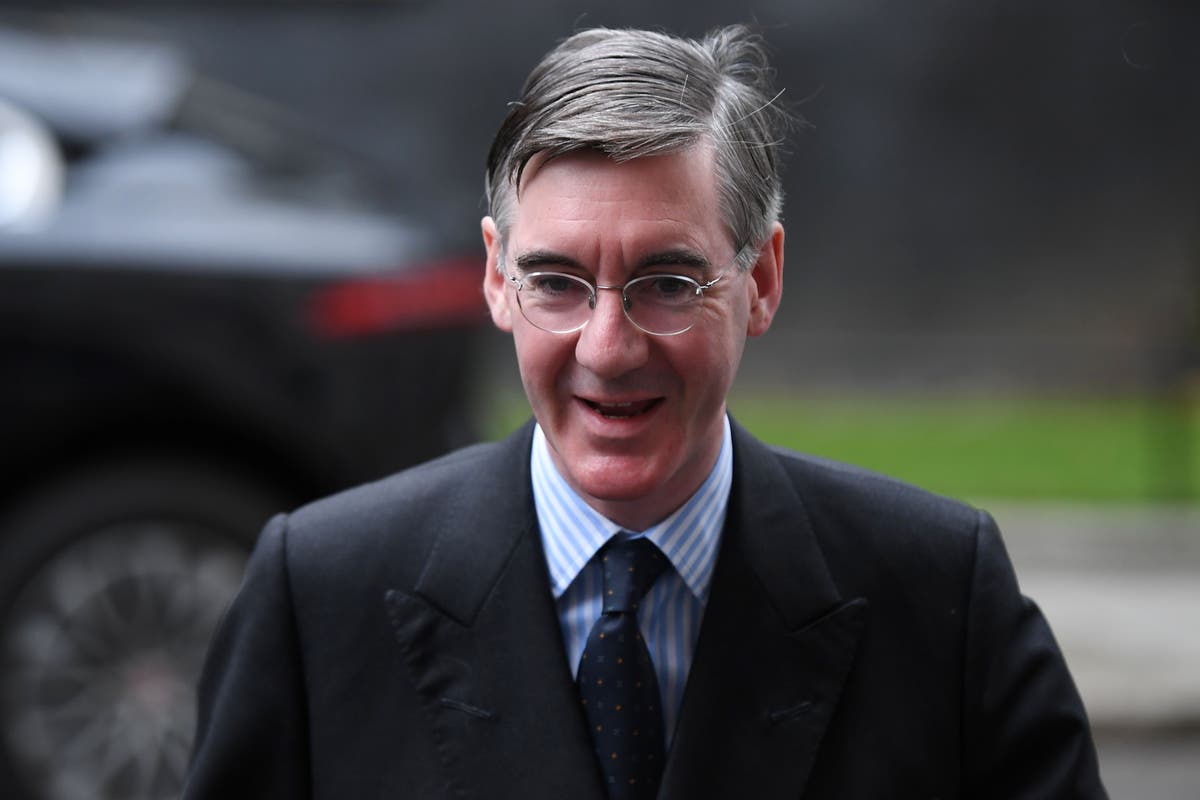 [ad_1]

Boris Johnson has slapped down Jacob Rees-Mogg over his attack on a journalist under cover of parliamentary privilege, with Downing Street saying: "These are not comments that the prime minister would have made."
News website HuffPost is demanding a public apology from Mr Rees-Mogg after he told MPs on Thursday that its correspondent Arj Singh was "a knave or a fool" over a story in which he accurately quoted foreign secretary Dominic Raab saying that the UK could miss out on trade deals if it insisted on partners observing high standards of human rights.
Editor-in-chief Jess Brammar said: "HuffPost UK would like a public apology from Jacob Rees-Mogg to us and our reporter Arj Singh after Mr Rees-Mogg made false claims about him in Parliament."
The incident sparked a warning from the National Union of Journalists that ministers were acting "like playground bullies" in their approach to the free press.
It followed an earlier incident in which equalities minister Kemi Badenoch targetted former HuffPost reporter Nadine White – now a correspondent with The Independent – on social media in response to her emailed request for a comment.
At a regular Westminster media briefing on Friday, a Downing Street spokesman declined to say whether the prime minister would speak to the leader of the Commons about his comments.
But asked if he backed Mr Rees-Mogg's position, the spokesman added: "These are not comments that the prime minister would have made.
"These comments were made by Jacob Rees-Mogg and I'm confident he can explain their intended meaning.
"The prime minister is a staunch believer in the value of the free press and the important role which journalists play in our democracy."
The row erupted over a story published by the HuffPost website on Wednesday, based on a leaked recording of a video call between Mr Raab and officials.
In an excerpt from the call, the foreign secretary told staff: "I squarely believe we ought to be trading liberally around the world. If we restrict it to countries with ECHR (European Convention on Human Rights)-level standards of human rights, we're not going to do many trade deals with the growth markets of the future."
The comment was condemned by Amnesty International, which said that the foreign secretary was throwing human rights defenders in repressive states "to the wolves".
The Foreign Office later released further excerpts from Mr Raab's comments, in which he said that there was behaviour which a potential trade partner might undertake "that would cross the line and render a country beyond the pale".
Raab tells UK officials to trade with countries which fail to meet human rights standards in leaked video
A Foreign Office spokesman claimed that the recording had been "deliberately and selectively clipped to distort the foreign secretary's comments", but did not dispute that his remarks had been accurately reported.
Asked about the row in the Commons, Mr Rees-Mogg claimed that Mr Raab's comments had been "shockingly distorted" by being clipped out of a longer recording, branding it a "very cheap level of journalism".
Called upon by Labour to either apologise or repeat his comments outside the chamber, where he would not be protected from defamation laws by parliamentary privilege, the Tory minister did not back down.
If "the journalist didn't clip it himself, he ought to have known it was clipped", said Mr Rees-Mogg. "He is either a knave or a fool."
NUJ general secretary Michelle Stanistreet said: "It beggars belief that government ministers are smearing and impugning journalists in this way, indulging in outrageous behaviour that demeans them and the offices they hold.
"This same government, including the prime minister and other ministers, have committed time and resources to tackling the growing problem of abuse and harassment which is compromising the safety of journalists across the UK.
"Yet here we have colleagues around the cabinet table acting like playground bullies, undermining the work of journalists, bringing their work into disrepute, and dishing out insults that are clearly designed to further inflame harassment and abuse online.
"It's not acceptable to dismiss reporting you don't like as fake news. It's completely unacceptable to resort to insults and personal smears of journalists simply trying to get on with their job.
"Our elected politicians should be committed to improving the parlous level of public discourse, not further polluting it. This behaviour has to stop, the government must get a grip and put its commitments  to improving the recognition and value of journalists and journalism into practice."
[ad_2]

Source link