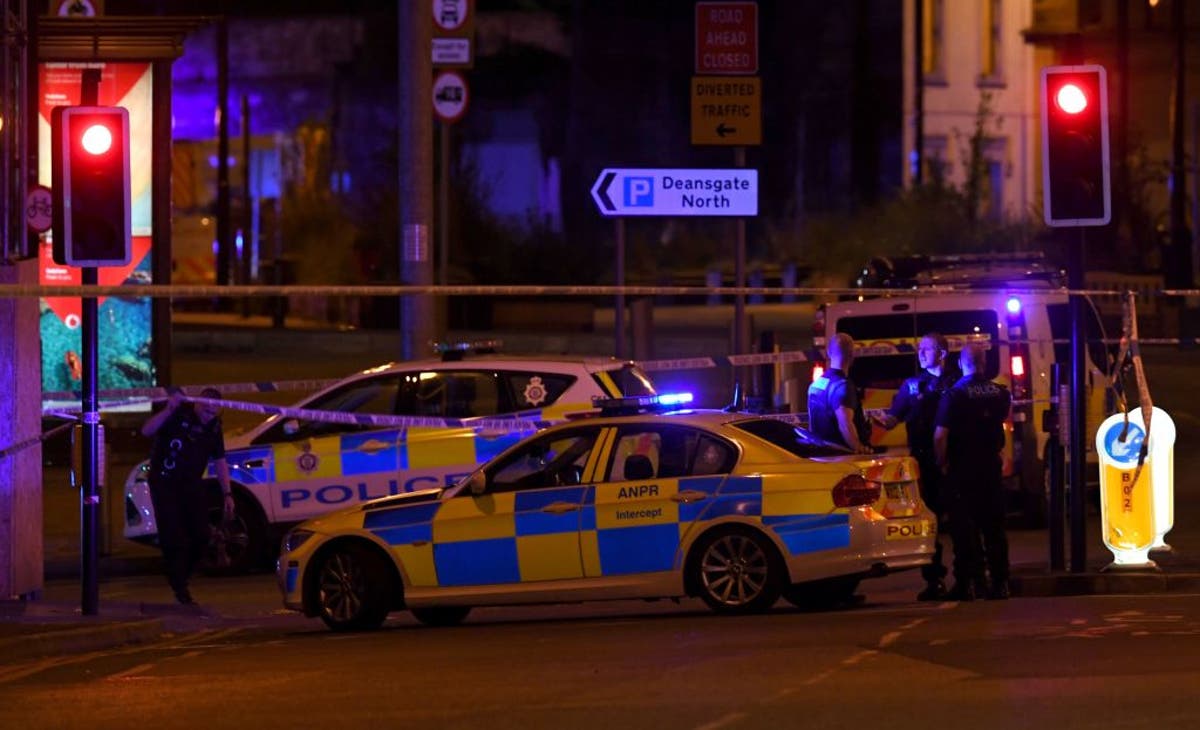 [ad_1]

A public inquiry on Friday heard how a police sergeant who tended to casualties of the Manchester Arena bomb desperately told colleagues: "we need the f****** medics".
Sergeant Kam Hare and his team from the Tactical Aid Unit of Greater Manchester Police (GMP) rushed to the arena after suicide bomber Salman Abedi detonated a device that killed 22 people and left hundreds more injured on 22 May 2017.
Upon arriving at the Arena at around 10.55pm, Sgt Hare went to the foyer where at that point there was just one paramedic on the scene. He repeatedly emphasised the need for more ambulance staff to be there until most of the casualties were moved out by about 23.40pm, an inquiry into the atrocity head on Friday.
He said he and his team of constables offered basic first aid and used makeshift stretchers to carry the injured, but he expected paramedics and ambulances were on the way.
The inquiry heard only three paramedics treated casualties in the City Room on the night, including two from the Hazardous Area Response Team who arrived more than 40 minutes after the explosion happened at 10.31pm.
Footage taken from Sgt Hare's bodyworn camera showed that at 11pm he told a police constable: "We need the f****** medics."
He told the inquiry: "I was frustrated. I was thinking 'where are they, where are the paramedics? There's one here and we need more'."
He added: "Minutes were going by and there was people there with lots of injuries and we needed paramedics with the expertise and better equipment there as quickly as possible."
The inquiry heard that at 11.13pm Sgt Hare was asked by a colleague if paramedics were coming, and replied: "Paramedics mate, they need to be coming in in droves."
Paul Greaney QC, counsel to the inquiry, said: "Throughout this whole period of time you are speaking to people who are injured, you are speaking to your staff, encouraging them to help to the extent that they can, encouraging them to support each other.
"In short, were you doing your best with the limited training that you had in first aid to co-ordinate a response?"
Sgt Hare said: "Yes sir, I did my best."
He told the inquiry he handed out cleaning cloths to be used as dressings and helped to move a casualty downstairs on a metal barrier, but said it was "difficult" to carry the makeshift stretcher.
He said: "They weren't ideal but it was what we had at the time."
The inquiry heard that by 11.40pm all those needing treatment had been removed from the City Room, and Sgt Hare had a conversation with Patrick Ennis, the first paramedic in the area, who shook his hand and told him: "I don't know what we would do without you guys here."
Mr Greaney said that just before Sgt Hare's bodycam was switched off at 12.27am he was recorded saying: "F****** hell, we weren't ready for this were we?"
He said: "I must have meant that what we had just dealt with was overwhelming."
Following Sgt Hare's evidence, inquiry chairman Sir John Saunders said: "I've found your evidence both shocking and inspirational.
"It is shocking because of the awful scene which faced you as you entered the City Room and the awful situation you had to cope with.
"It is inspirational because, on what I have heard and read, you and your team, under your leadership, did everything you possibly could to help the injured people you found in there."
The inquiry, which is looking into events before, during and after the bombing, will continue on Monday.
[ad_2]

Source link