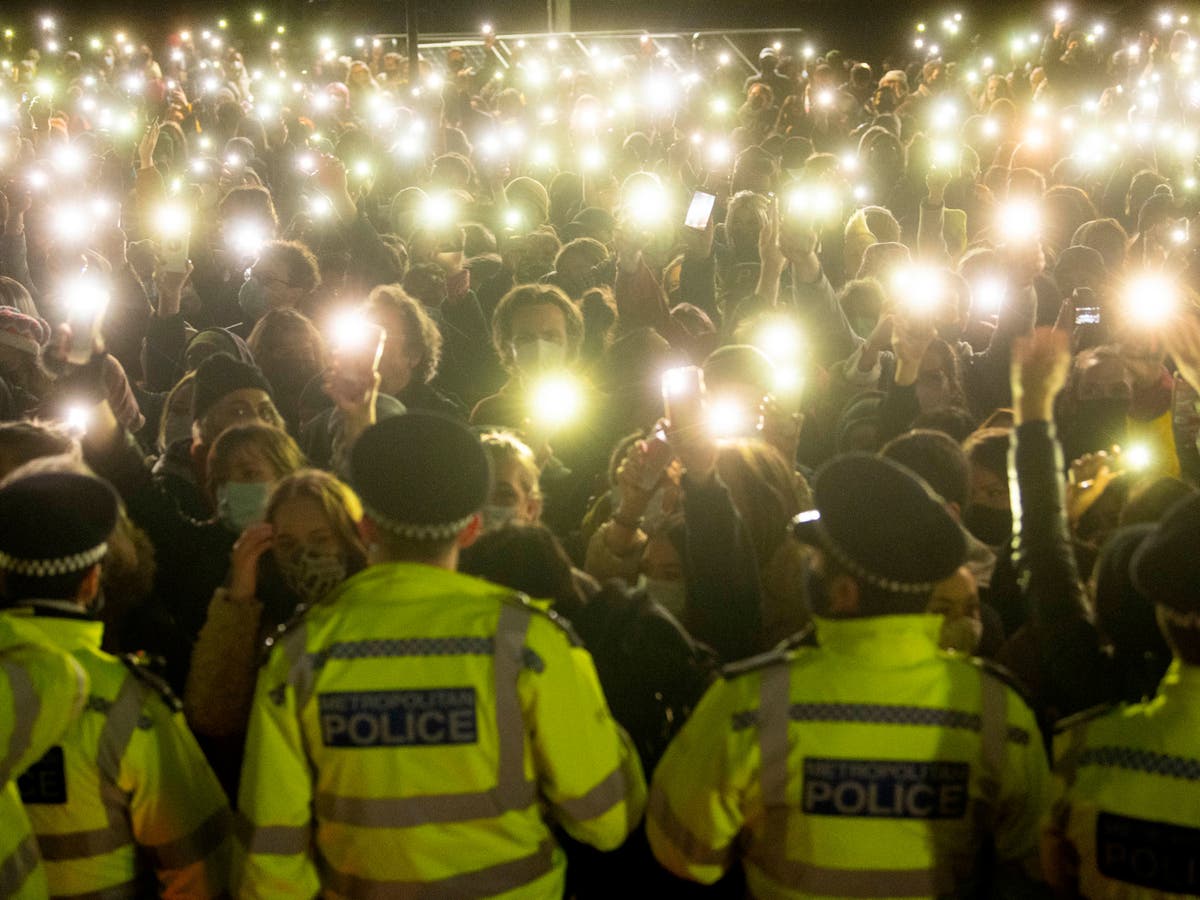 [ad_1]

Priti Patel is coming under pressure to explain what she said to police ahead of last weekend's vigil for Sarah Everard, after the emergence of a letter suggesting she wanted them to stop people gathering.
The Home Secretary told MPs on Monday that she had "been in touch" with Metropolitan Police Commissioner Cressida Dick "on Friday and throughout the weekend" about the sensitive event, which ended with images of women being held on the ground and handcuffed by police.
A memo from the National Police Chiefs' Council, sent on the eve of Saturday's vigil in remembrance of the murdered 33-year-old, indicates that government ministers were "supportive" of the position that coronavirus restrictions do not permit large gatherings.
Entitled "Vigils following the murder investigation of Sarah Everard" and sent to chief constables including Dame Cressida, the memo makes clear that the NPCC was expecting Ms Patel to make a public statement urging people not to attend.
In the even, no such statement was made, and Ms Patel later criticised footage of police handling of the Clapham Common footage as "upsetting" and called for a full report on events, leading to complaints she had "let down" officers.
Last Friday's memo, obtained by The Guardian, was sent after a meeting between police chiefs and policing minister Kit Malthouse.
It read: "Covid regulations do not permit large gatherings. This issue has been discussed with the policing minister this morning who is supportive of our position.
"In support of this, the home secretary will also be issuing a message to the public later today that will discourage people gathering in person."
It added: "People should conduct their vigil using alternative means and in accordance with the law. Police must take a consistent approach and cannot waive the regulations for any one type of gathering."
Liberal Democrat leader Sir Ed Davey, who was the first national politician to call for Dame Cressida to resign over her handling of the vigil, today wrote to Ms Patel demanding to know what advice she had given the Commissioner
"The heavy-handed tactics used by the police – against women who were holding a peaceful vigil – were disgraceful and disproportionate," said Sir Ed in a letter seen by The Independent.
"It is clear that the Metropolitan Police got it seriously wrong, and I urge you to join the Liberal Democrats' calls for Cressida Dick to resign.
"But responsibility for this also lies with you as home secretary."
He added: "Given that you did not issue a public statement last Friday, police officers understandably feel let down by you. "Please can you therefore clarify what advice and guidance you did give the Met Commissioner and any other police chiefs, ahead of the vigils last Saturday?
"Asking the Commissioner for reports and explanations after things have gone wrong is simply not good enough. The public and our police officers want the home secretary to be held to account as well."
There was no immediate response from the Home Office to the developments.
But one Whitehall source told The Independent: "I think if we had a government who told the police they could ignore the law we would be in a very difficult situation."
[ad_2]

Source link