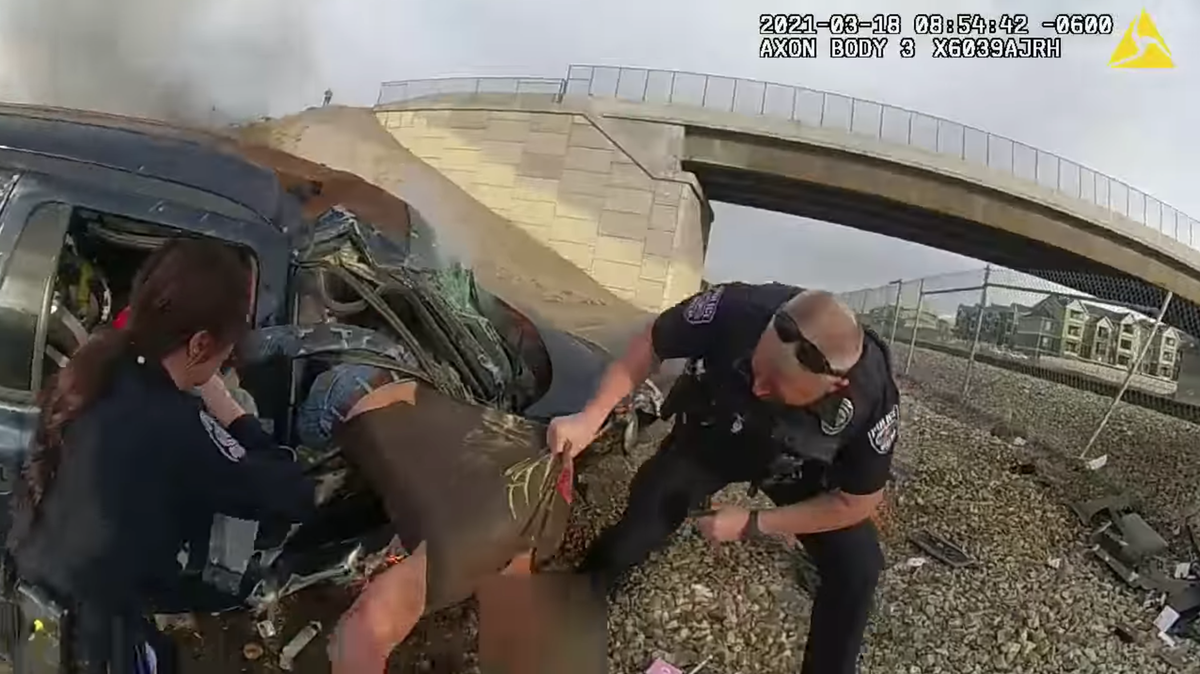 [ad_1]

Three Utah police officers are being hailed as heroes after a dramatic chase ended with them pulling a man from his burning car.
The driver, Dustin Scott Butterfield, 35, was reportedly fleeing police when he drove his car off an overpass in Orem, Utah. The car landed on the ground below and burst into flames. At that point, three Orem officers pulled Mr Butterfield out through the passenger window and dragged him to safety.
"We as a department would like to commend Officers Halladay, Harrison and Bybee for their bravery during this incident," the Orem Police Department wrote in a Facebook post.
Video footage from one officer's body camera shows the three cops shouting at Mr Butterfield to get out as they approach the flaming vehicle, but the driver is unresponsive.
They then hoist Mr Butterfield out through a mangled passenger window and drag his limp body along the ground, away from the fire.
Police say paramedics treated Mr Butterfield at the scene, and he was then taken to a nearby hospital, where he was in serious but non-life-threatening condition.
The chase began on Thursday morning, when witnesses reported an SUV driving recklessly. Police in Provo spotted the driver at about 8.30am, but he fled the scene, according to the Utah County Sheriff's Office.
A short while later, Mr Butterfield's SUV hit a FedEx truck, and a sheriff's deputy in Vintage tried to pull him over. Once again, he did not stop.
"The vehicle continued eastbound on Center Street and ran the red light at Center Street and Vineyard Road," the Sheriff's Office said. "It continued up the overpass where it left the roadway to the south, crashing at the bottom near the railroad tracks."
At that point the SUV was on fire, with Mr Butterfield inside it. The three Orem officers sprang into action.
"Not thinking about the danger of a burning vehicle, they were able to pull the driver, who was hanging out of the passenger side window, free from the burning vehicle and to safety," the Orem Police Department said. "The officers put their own lives at risk to save the driver, who had sustained a broken leg and other injuries during the crash."
When Mr Butterfield is discharged from the hospital, he will be booked at the Utah County Jail.
The driver faces charges of felony evading, driving under the influence, failure to stop for a school bus, and running a red light.


[ad_2]

Source link