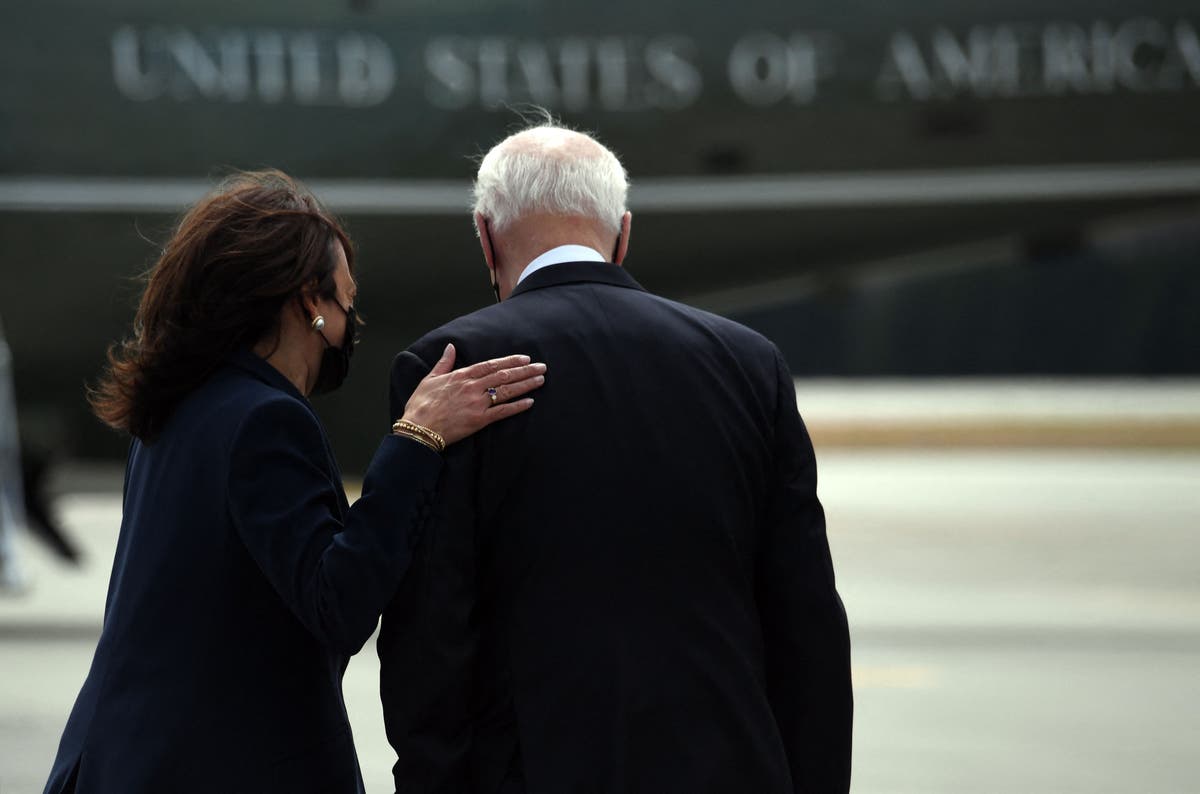 [ad_1]

Vice-president Kamala Harris condemned the Tuesday shooting of eight people in the Atlanta area, six of them Asian-American women, as a "heinous act of violence" on Friday during a speech at Emory University. Her remarks followed a meeting between her, the president, and a delegation of Asian-American leaders from Georgia.
"Whatever the killer's motive, these facts are clear," she said. "Six out of the eight people killed on Tuesday night were of Asian descent. Seven were women. The shootings took place in business owned by Asian-Americans. The shootings took place as violent hate crimes and discrimination against Asian-Americans has risen dramatically over the last year or more."
President Biden spoke after Ms Harris, talking about how the shooting in Atlanta was both a part of the "public health crisis" that is gun violence, and "racism, the ugly poison that has long haunted and plagued our nation."
"Too many Asian-Americans have been walking up and down the streets and worrying, waking up the past year feeling their safety and the safety of their loved ones is at stake," Mr Biden said. "They've been attacked, blamed, scapegoated and harassed."
He also pointed to how Asian-American women were more than twice as likely to face hate-based attacks, according to recent studies, and called on Congress to re-authorize the Violence Against Women Act, which he helped author decades ago, and pass the Covid-19 Hate Crimes Act, which would expedite the federal government's response to hate crimes.
Prior to the speech, the White House delegation met with Asian-American and Pacific Islander (AAPI) leaders from Georgia's state legislature, including senators Dr. Michelle Au and Sheikh Rahman, representatives Marvin Lim and Bee Nguyen, as well as others like Atlanta mayor Keisha Lance Bottoms and Stephanie Cho, executive director of Asian Americans Advancing Justice-Atlanta.
The visit to Georgia came after a mass shooting earlier in the week. On Wednesday, 21-year-old Robert Aaron Long, a white man, was charged with multiple counts of murder and one count of assault in the shootings, which took place across spas and massage parlors in the Atlanta area.
A police incident report about the shooting indicated a "no" on whether it was a suspected hate crime, but Atlanta police said Thursday they are still investigating Mr Long's motive. Recent reporting suggests Mr Long had a sex addiction he attempted to treat in rehab.
Senator Au, the first Asian-American woman elected to the Georgia state Senate, told the Wall Street Journal she was heartened by the attention the president had paid to the shootings.
"The fact of the most powerful man in the world speaking about it frankly and shining light on it in a way that no one has ever done before, that's incredibly important for a lot of people," she said.
"Jill and I are keeping everyone impacted by the shootings in Atlanta in our prayers," Mr Biden tweeted on Wednesday. "We don't yet know the motive, but what we do know is that the Asian-American community is feeling enormous pain tonight. The recent attacks against the community are un-American. They must stop."
Ms Harris, the nation's first vice-president of Asian descent, also reflect on the attacks yesterday.
"It is tragic. Our country, the president and I and all of us, we grieve for those lost," she said. "I do want to say to our Asian American community that we stand with you and understand how this has frightened and shocked and outraged all people."
He also noted, during his speech, that the US had met his goal of 100 million doses of the coronavirus vaccine within his first 100 days in office, but warned "while this is a time of optimism, it's not a time for relaxation."
"I need all Americans to keep doing your part," Mr Biden added. "Wash your hands, stay socially distanced. Keep masking up, as recommended by the CDC, and get vaccinated when it's your turn."
"The fact that there was a record turnout in America in the midst of a pandemic should be something we celebrated, not attacked," he said. "The fact that you held a free and fair election, that stood up to recount after recount, court case after court case, is something you should be proud of."
"But as this state, home to Martin Luther King, Jr. and John Lewis, knows better than most, the battle for the right to vote is never, ever over," Mr Biden added.
The president credited the election, and the two Democratic senators that were elected alongside him, Jon Ossoff and Raphael Warnock, with securing passage of the Covid relief plan. Mr Biden said the package would deliver $1400 checks soon, as well as other savings to families via the Medicaid subsidies, expanded child tax credits and savings on insurance premiums under the Affordable Care Act.
[ad_2]

Source link