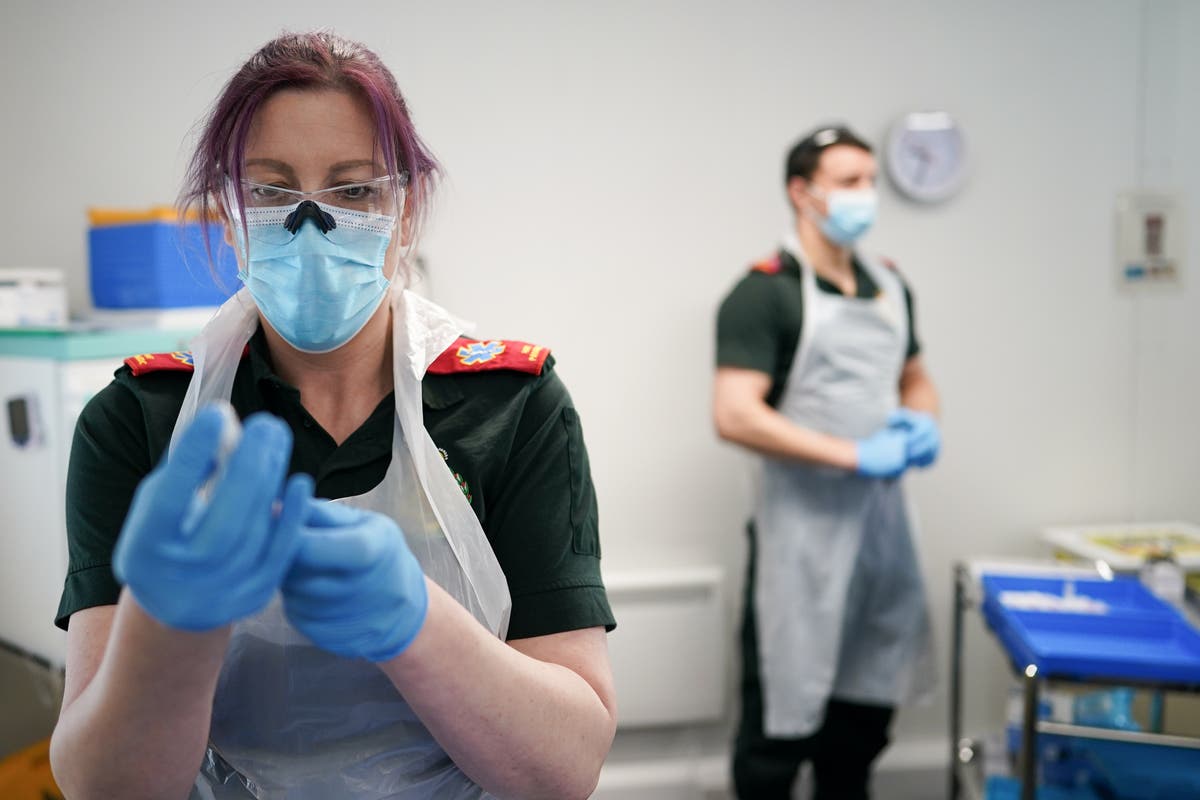 [ad_1]

The latest coronavirus infection data has showed the number of cases is continuing to fall across the UK but the rate could be slowing, with some parts of England showing a potential increase.
During the two weeks to 13 March, the percentage of children aged over 11 testing positive in England has decreased. But the ONS said the rate of decline has slowed in all groups except for those aged between 25 to 34 and 50 to 69-year-olds.
Overall, 160,200 people were estimated to have the virus, equivalent to one in every 340 people in England.
The percentage of people testing positive has decreased in the West Midlands, East of England, South West and London during the latest week but the ONS said across all other regions the trend was uncertain.
It highlighted the East Midlands, where there may be early signs of an increase in infections.
Infections are on the rise in Scotland where the ONS estimated 19,300 people had Covid-19 in the week to 13 March, around one in 275 people.
In Wales, cases fell but the rate of decrease has slowed down. Around 7,000 people in Wales had Covid, equating to around one in 430 people.
In Northern Ireland, 5,800 people had the virus with the rate of positive tests said to be levelling off. This would equal around one in 315 people being infected.
Separately, the government has released new estimates of the R-rate for the UK which shows the rate of transmission of the virus. Anything above 1 means the virus is growing.
Across the UK the latest R rate is between 0.6 to 0.9 with the number of new infections thought to be shrinking by between 3 and 6 per cent every day.
The estimates were based on data up to 15 March.
Sarah Crofts, senior statistician for the Covid-19 infection survey, said: "There is a mixed picture across the UK with infections in England and Wales continuing to fall, levelling in Northern Ireland and showing early signs of an increase in Scotland.
"The trend in some English regions is now uncertain, with the West Midlands, East of England, the South West and London showing clear declines and there are early signs of a possible increase in the East Midlands.
"Positive infections among secondary aged children have decreased and appear to be levelling for primary aged children. Our figures this week are from the first week since schools returned in England and therefore it is too early to say whether this has influenced infection rates.
"We will continue to closely monitor the infection rates in all age groups."
The weekly ONS infection survey is based on an analysis of 665,000 tests from across the UK over the last six weeks. It does not include patients in hospitals or care homes and aims to measure the infection level in the general community.
[ad_2]

Source link