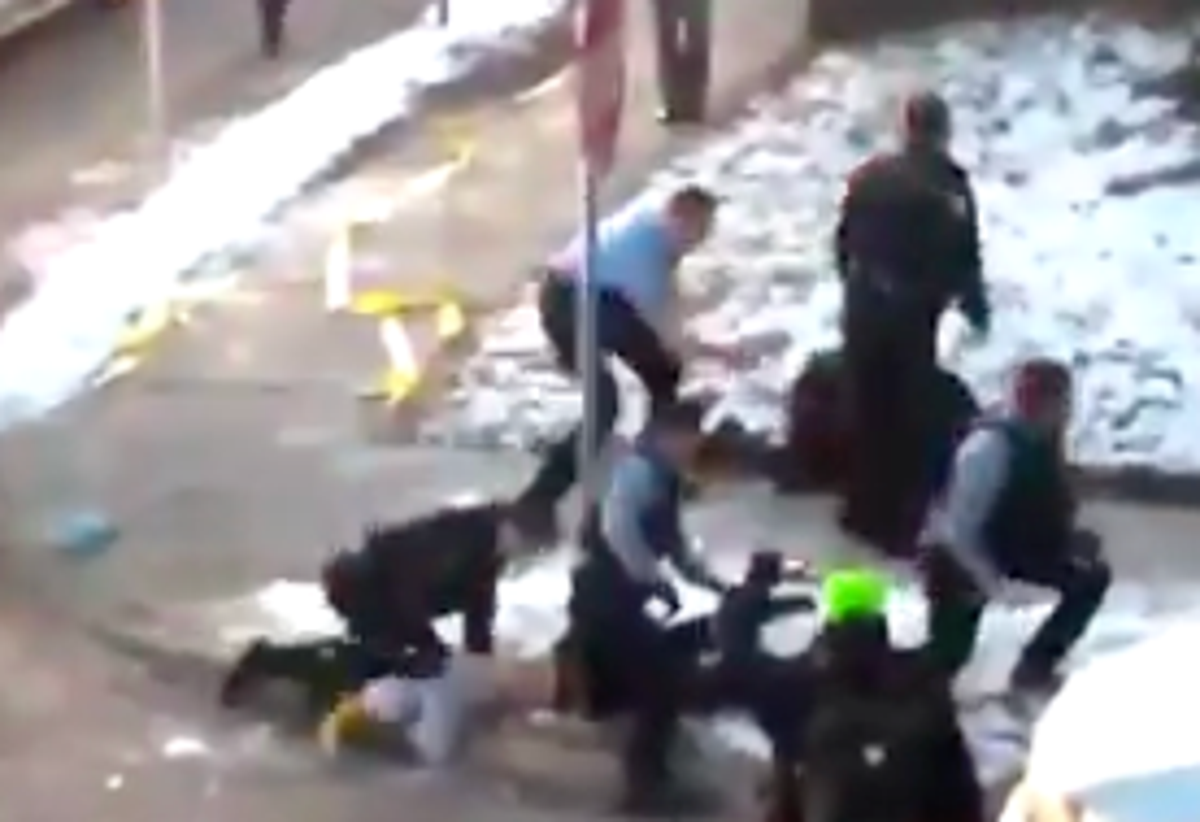 [ad_1]

A violent brawl reportedly broke out between activists and the Minneapolis Police Department (MPD) this morning, and video of the incident allegedly shows an MPD officer kneeling on a demonstrator's neck—the same, now-banned maneuver former MPD officer Derek Chauvin used on George Floyd. Mr Chauvin's murder trial is ongoing in Minneapolis.
MNUPRISING, a local activist group, shared video of the incident, where an officer at the center of the frame near a stop sign appears to kneel on an individual's neck in the final seconds of the clip.
"We are asking cops to stop brutalizing our community," John Brown, from MNUPRISING, told The Independent. "They say these are public safety officials, peace keepers, and protectors but all they do is kill and terrify. We showed up to defend our comrades homes from state sanctioned violence and we'll do it again."
The Independent has reached out to the Minneapolis Police Department and mayor's office for more information on this breaking new story.
The clash reportedly began when, according to witnesses, about a dozen police cars arrived to clear out an encampment of about 20 unhoused people in the Near North section of Minneapolis, many of whom are Black and indigenous. On Wednesday night, Near North residents said they'd only been given two days notice from the city and were about to get evicted and had no alternative place to go.
Video of the incident spread quickly on social media in the Twin Cities and beyond, and drew condemnation from Isra Hirsi, the daughter of Minnesota congresswoman Ilhan Omar.
"Today MPD woke up and chose to brutalize innocent people for defending the Near North houseless encampment in Minneapolis," she wrote on Twitter on Thursday.
Last summer, following widespread outrage over Mr Floyd's death, Minneapolis police agreed to stop using chokeholds and neck restraints as part of a deal between the city and the Minnesota Department of Human Rights.
[ad_2]

Source link