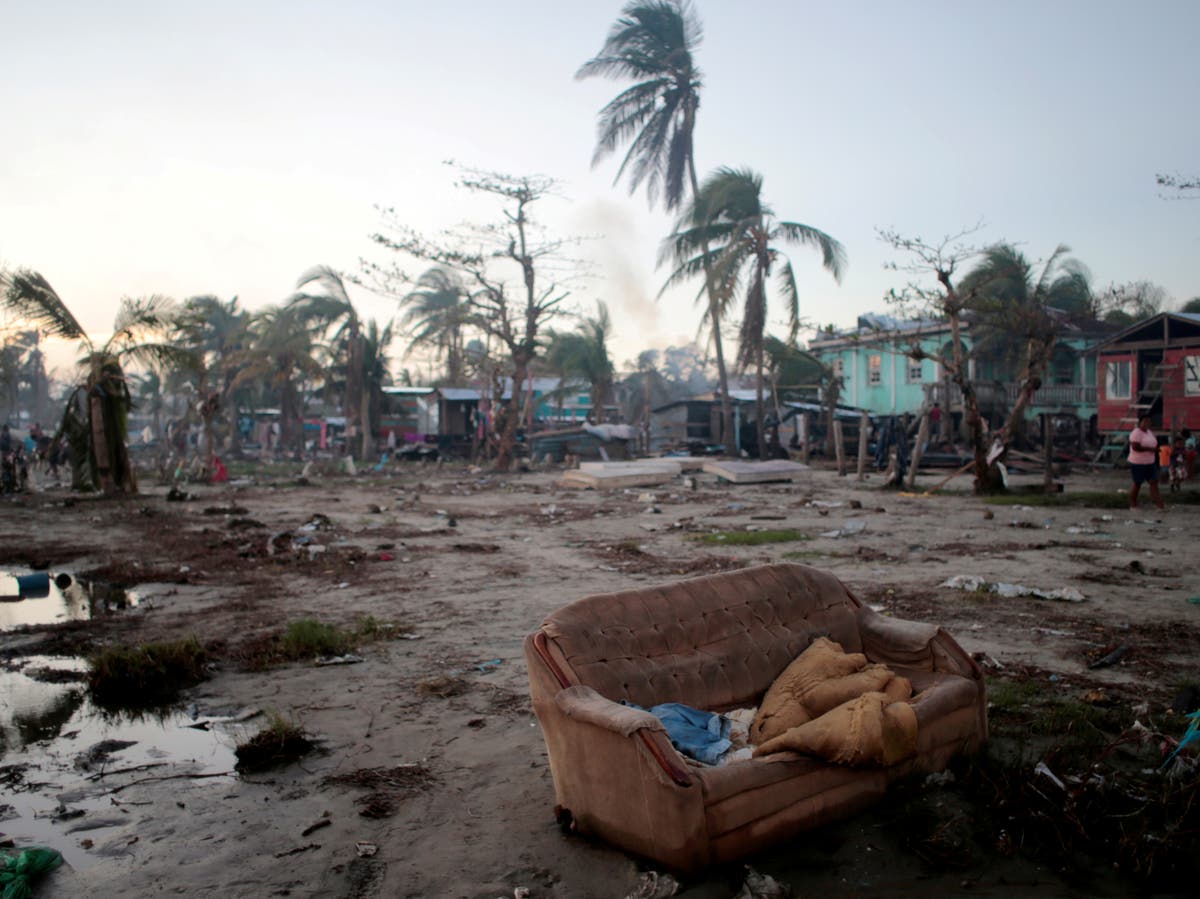 [ad_1]

The names of four deadly tropical storms have been dropped from future use due to the unprecedented death and destruction they caused.
The World Meteorological Organization's Hurricane Committee (WMO), retired 2019's Dorian and 2020's Laura, Eta and Iota from its six-yearly rotating lists of 21 names for Atlantic tropical cyclones, following a virtual meeting this week.
All three tropical storms caused untold damage, hundreds of fatalities and more than $30bn of damage in total.
The news, which also includes dropping the future use of "confusing" Greek alphabet names, comes as the Carribean and US brace themselves for the official start of hurricane season on June 1.
Ken Graham, chair of the Hurricane Committee, said that naming storms is the organisation's smallest job, but often receives the most attention, with 93 names retired since the tradition began in 1953.
He added: "Hurricanes don't care about international boundaries. We all face similar dangers from tropical systems. Impacts from a single storm can affect multiple countries, so it is critical we have a plan, coordinate our efforts, and share challenges and best practices".
On August 24, 2019, Hurricane Dorian, which will be replaced by the name Dexter, became the first major hurricane of the season.
The category five storm had winds of up to 185mph that wreaked destruction across the Bahamas and south eastern United States, including Florida, Georgia, South and North Carolina, for more than two weeks, killing more than 80 people, leaving an estimated 29,500 people homeless and causing around $3.4bn of damage.
Last year's storm season was so active that the WMO's 21-name rotating list was exhausted, causing meteorologists to use the Greek alphabet for the first time since 2005.
Storm Laura, whose name will be replaced by Leah the next time it is due to be in rotation in 2026, hit Louisiana on August 20, 2020, causing 47 deaths in the US and Hispaniola, as well as $19bn of damage.
Hurricanes Eta and Iota both made landfall less than two weeks apart during November 2020 in the same area of the Nicaraguan coast just south of Puerto Cabezas.
The two powerful tropical cyclones caused extensive flooding in Nicaragua, Honduras and other adjacent Central American countries, resulting in at least 272 fatalities and damage losses of more than $9bn.
Evan Thompson, president of WMO's regional association for North America, Central America and the Caribbean, said: "We cannot prevent this incredible force of nature, but we do have the power to minimize the loss of life and property through cutting-edge forecasts and warnings and strong regional coordination and cooperation."
[ad_2]

Source link