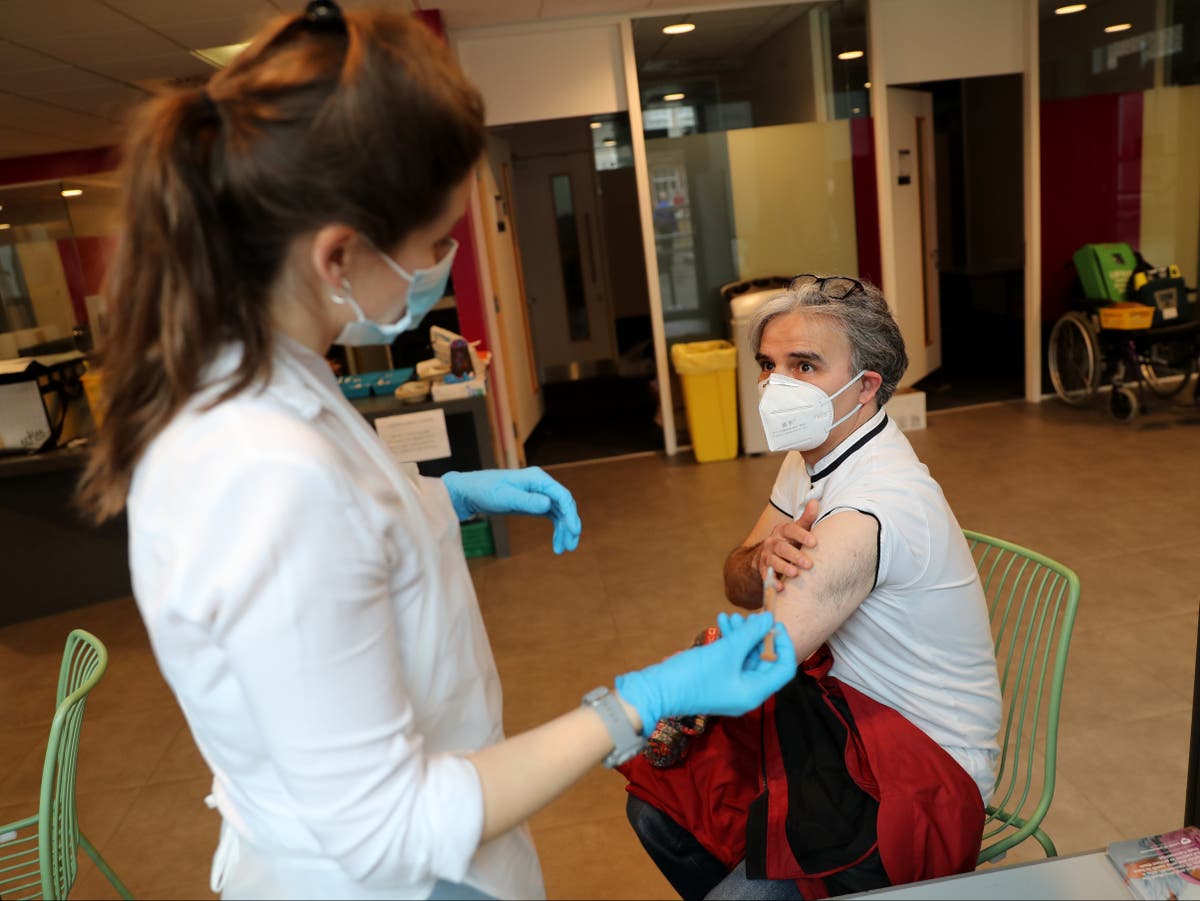 [ad_1]

GPs have warned that some patients in England are rejecting the AstraZeneca vaccine or simply not turning up for appointments, after a number of European countries suspended use of the jab over safety concerns.
Doctors are worried that the recent high-profile blood clot reports – which have driven much of western Europe to pause their rollouts of the jab – are fuelling an uptick in vaccine hesitancy within the UK, with appointment 'no-show' rates reaching up to 50 per cent at some vaccine sites.
Some patients have now started to reject the AstraZeneca vaccine, instead requesting a first dose of the Pfizer jab, GPs say. Others have been inundated with calls from people concerned about the reported blood clots.
Germany, France, Spain and Italy – along with many other countries – are investigating the vaccine after 37 people who received a first dose, out of some 17 million recipients in Europe, later went on to experience a "thromboembolic event".
AstraZeneca said the incidence of such conditions is much lower than would be expected to occur naturally in a general population of this size and is similar to that of other licensed Covid-19 vaccines.
The European Medicines Agency and the UK's Medicines & Healthcare products Regulatory Agency (MHRA) have said no causal link has been established between the vaccine and the clots. The EMA is further reviewing this and will issue a recommendation for its use on Thursday.
But the fallout is now beginning to be felt within the UK, GPs have said.
"Lots of patients are very cautious," Simon Hodes, a doctor at Bridgewater Surgeries in Watford, told The Independent. "We've had quite a few not turning up for their appointments or having lots of questions and concerns about it."
He added that the "vast majority" of patients were happy to proceed with the vaccine once they'd reviewed the "full details behind the headlines or after a discussion with a member of the vaccinating team".
Another GP in Harrow said anxiety surrounding the AstraZeneca jab has become a "real problem".
"We have definitely seen this – big time," they said. "We had 20 per cent either no-show or decline yesterday as they didn't want AstraZeneca. And loads of phone calls for people only wanting Pfizer's and declining AstraZeneca."
The GP added that their clinic has "hardly any Pfizer supplies left", with the last remaining stock "being reserved for second doses".
In North Yorkshire, one vaccination site reported that 50 per cent of patients booked in for an appointment on Wednesday had failed to turn up.
From Newcastle to Kent, other GPs who have spoken with The Independent have reported similar experiences, saying that patients are now asking more questions about the AstraZeneca vaccine and showing a reluctance to acceptance it.
"Initially most people wanted the AstraZeneca one because they thought 'British' may be better," one doctor said. "Now I'm just explaining that, one, there is no choice when you arrive, and two, the teams have no choice or knowledge of what they are receiving until close to the date of use, often only two to three days before."
The Royal College of GPs (RCGP) said its members were continuing to reassure patients over the safety of the AstraZeneca jab, and urged people to keep coming forward when invited to receive a jab.
"The public should be reassured that whilst these new vaccines were developed and approved at speed, no corners were cut and patient safety has been, and remains, paramount," said Professor Martin Marshall, chair of the RCGP.


UK news in pictures
Show all 50
"The MHRA has been unable to confirm that the reports of blood clots were caused by the vaccine and is advising people to get their vaccine when asked to do so."
The RCGP said it has not received many reports of patients cancelling appointments, but had noticed an increase in enquiries regarding this issue, suggesting there are some examples of it happening.
"GPs and our teams are continuing with the vaccination effort to ensure that as many people as possible are protected, as quickly as possible," Prof Marshall added.
Dr Phil Bryan, vaccines safety lead at the MHRA, said the benefits of the vaccine in preventing Covid-19 far outweigh the risks of side effects.
"People should go and get their Covid-19 vaccine when asked to do so," he added.
[ad_2]

Source link