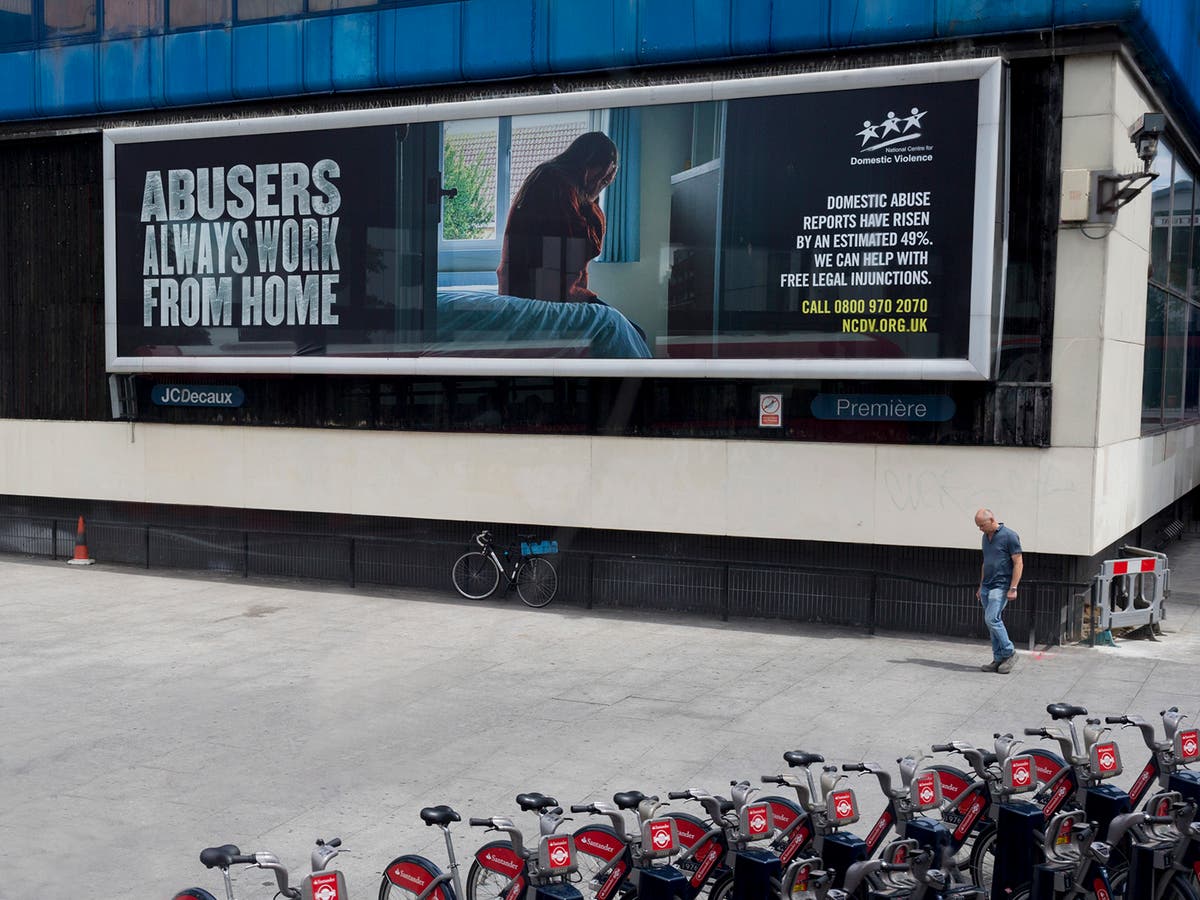 [ad_1]

Cash-strapped domestic abuse services are preparing for an "unparalleled surge" of victims fleeing violent partners coming forward when lockdown lifts, but warn there is a troubling dearth of safeguarding in place to cope with rising demands.
Data seen by The Independent shows women seeking support due to their partner subjecting them to coercive and controlling behaviour has soared by 73 per cent in the year to January.
Victim Support, who supplied the exclusive data, received almost 16,000 more referrals for domestic abuse from when the government declared a lockdown on 23 March last year to February this year than it dealt with on average before the pandemic.
The charity, which supports victims in England and Wales, found the severity of domestic abuse cases has risen during the coronavirus emergency – with the service receiving 7 per cent more referrals for violence with injury than had levels stayed at average.
Charlotte Kneer, chief executive of Reigate and Banstead Women's Aid refuge in Surrey, told The Independent: "Since the first lockdown began we have been warning that as soon as lockdown lifts we will see an unparalleled surge in demand.
"We have seen that pattern over time when lockdowns are lifted. The pandemic has been going on for almost a year exactly. Despite repeated calls to the government to provide funding to support these victims, those calls have been left unanswered."
Ms Kneer, a domestic abuse survivor whose violent partner was jailed for seven years in 2011, added: "The government has had proof that there is a rise every time lockdown is lifted. The data speaks for itself."
Victim Support says women make up the overwhelming majority of domestic abuse victims they support, noting an average of 50 women a week came forward to seek support for domestic abuse compared to an average of 30 prior to the Covid crisis – a rise of 67 per cent.
The charity has found referral rates for domestic abuse have been lower while lockdown measures have been in place, with cases substantially rising when the government has lifted restrictions.
Nevertheless, Victim Support warns the recent national lockdown has seen levels remain above average, and the organisation says that if levels carry on surging, services will find it difficult to cope with mounting demand.
Valerie Wise, the charity's national domestic abuse lead, said: "We anticipate a rise in the number of domestic abuse victims seeking support once lockdown restrictions are lifted.
"Over the past year, we've seen how restrictions have exacerbated abuse, heightening the pre-existing controlling behaviours of abusive partners while also narrowing the opportunities for victims to seek and access support."
In May, it emerged calls to the UK's national domestic abuse helpline had risen by 66 per cent and visits to its website soared by 950 per cent since the nation locked down.
Farah Nazeer, chief executive of leading domestic abuse charity Women's Aid, said: "Although the government has delivered emergency funding during Covid-19, the long-term future of women's refuge services is precarious.
"The £165m that the government has announced for domestic abuse support services in 2021-22 falls over £200m short of the £393m that Women's Aid estimates is needed for specialist women's domestic abuse support services.
"This shortfall will continue to mean that specialist services – particularly those for black and minoritised women, disabled women and LGBT+ survivors – have to turn survivors away. There are real fears about the impact of the end of lockdown on this life-saving sector.
"When restrictions are finally eased, it is highly likely that separations will increase, and perpetrators will start to feel that they are losing control and so will exert further control over the survivor."
A report released by MPs last April revealed domestic abuse killings in the first 21 days of the first lockdown were double the average.
Lisa King, of Refuge, the UK's largest provider of shelters for domestic abuse victims, called for a "long-term, sustainable funding package which enables frontline services to step away from the funding cliff-edge they so often find themselves on".
Anyone who requires help or support can contact the National Domestic Abuse Helpline which is open 24/7 365 days per year on 0808 2000 247 or via their website nationaldahelpline.org.uk/
[ad_2]

Source link