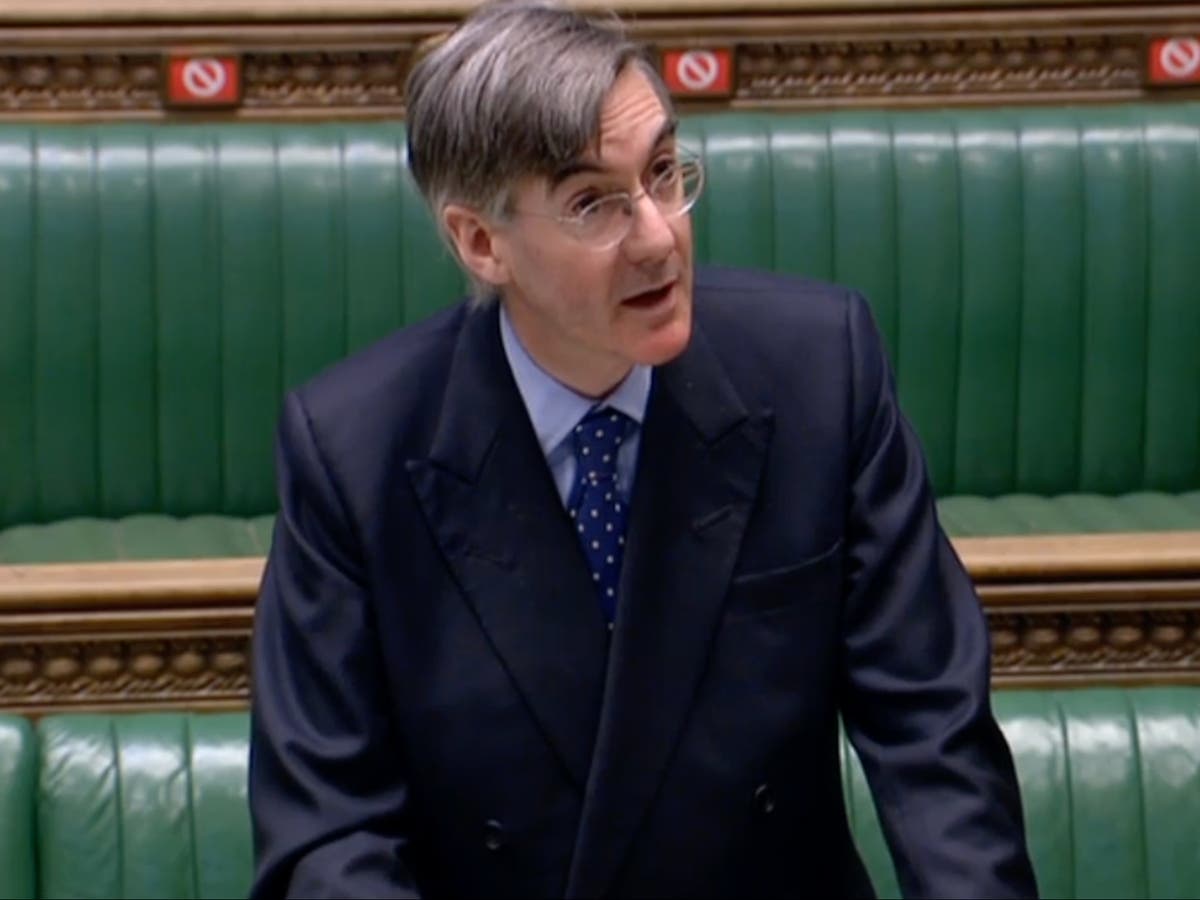 [ad_1]

Jacob Rees-Mogg has refused to apologise after being accused of using parliamentary privilege to "smear a journalist" during a row over leaked remarks made by the foreign secretary.
A video call, published earlier this week by HuffPost UK's deputy political editor, Arj Singh, suggested Dominic Raab said in a meeting that the UK should strike trade deals with nations that do not meet European standards on human rights.
But Commons leader Mr Rees-Mogg argued the comments had been "shockingly distorted by low-quality journalism".
He told MPs: "It's a very cheap level of journalism, it's not a proper way to behave and he was absolutely clear that there are behaviours that mean you can't trade with people, and he said that if only people had bothered not to clip the recording unfairly, improperly and broadly dishonestly.
"And I think we should look at that type of poor-quality online journalism. It is not the sort of thing that would happen in The Times".
Mr Singh, who wrote the article, responded to the accusations by posting the audio clip of Mr Raab to his Twitter page and instructing his followers to "judge for yourself".
"Jacob Rees-Mogg has misled parliament by accusing HuffPost UK of using a 'cheat' to 'edit' the recording – this is not true, we did not edit any recording passed to us and quoted it in full," he wrote on Twitter.
He also pointed to The Times' front page story on Wednesday, which included details of the leaked video and referenced the HuffPost article.
Mr Singh's boss, HuffPost UK editor-in-chief Jess Brammar, tweeted: "To use parliamentary privilege to smear a journalist – knowing you can't be sued for defamation because you are saying it in Parliament – is extremely troubling.
"We stand by Arj and his journalism. Produce your evidence, Jacob Rees-Mogg, or retract and set the record straight."
Later on in the proceedings, shadow Commons leader Valerie Vaz raised a point of order and urged her Tory counterpart to either "repeat [the claim] outside" or "withdraw it and apologise now".
"He may have inadvertently misled the House when he used words like 'cheat' and 'edit' the recording … I've had this from the journalist in question and the HuffPost: 'We did not edit any recording passed to us and quoted it in full'," Ms Vaz said.
"If the Leader is not prepared to repeat it outside then he must withdraw it and apologise now, otherwise he's casting aspersions on the integrity of a journalist."
Mr Rees-Mogg responded by reading out a statement by the Foreign Office, released shortly after the HuffPost article went live, which claimed the audio clip had been "deliberately and selectively clipped to distort" Mr Raab's remarks.
The statement goes on: "We regret that this audio has been deliberately and selectively clipped to distort the foreign secretary's comments. As he made crystal clear in his full answer, the UK always stands up for and speaks out on human rights.
"In his full answer, in an internal meeting, he highlighted examples where the UK has applied Magnitsky sanctions and raised issues at the UN regardless of trade interests, and that this was a responsible, targeted and carefully calibrated approach to bilateral relations."
Mr Rees-Mogg subsequently told those in the Commons that if "the journalist didn't clip it himself, he ought to have known it was clipped".
"He is either a knave or a fool," the Tory MP added.
Asked later whether No 10 endorsed the comments made by Mr Rees-Mogg, the prime minister's press secretary, Allegra Stratton, said: "The foreign secretary's quotes were selectively clipped."
She added that Mr Johnson "would encourage all journalists, when running quotes, to make sure that quote fully reflects the audio and the view that the individual is trying to get across".
It is the second time in a matter of weeks that a senior Conservative MP has taken aim at a HuffPost journalist.
Equalities minister Kemi Badenoch was criticised last month for accusing Nadine White, a former HuffPost employee who is now The Independent's race correspondent, of "creepy and bizarre" behaviour after she sent a standard request for comment to a government press office, enquiring why the minister had not appeared in a video about the Covid vaccine.
The Cabinet Office later dismissed a complaint against Ms Badenoch, arguing the incident took place on a "personal" Twitter account.
The Independent has contacted Mr Rees-Mogg and Downing Street for comment.


[ad_2]

Source link