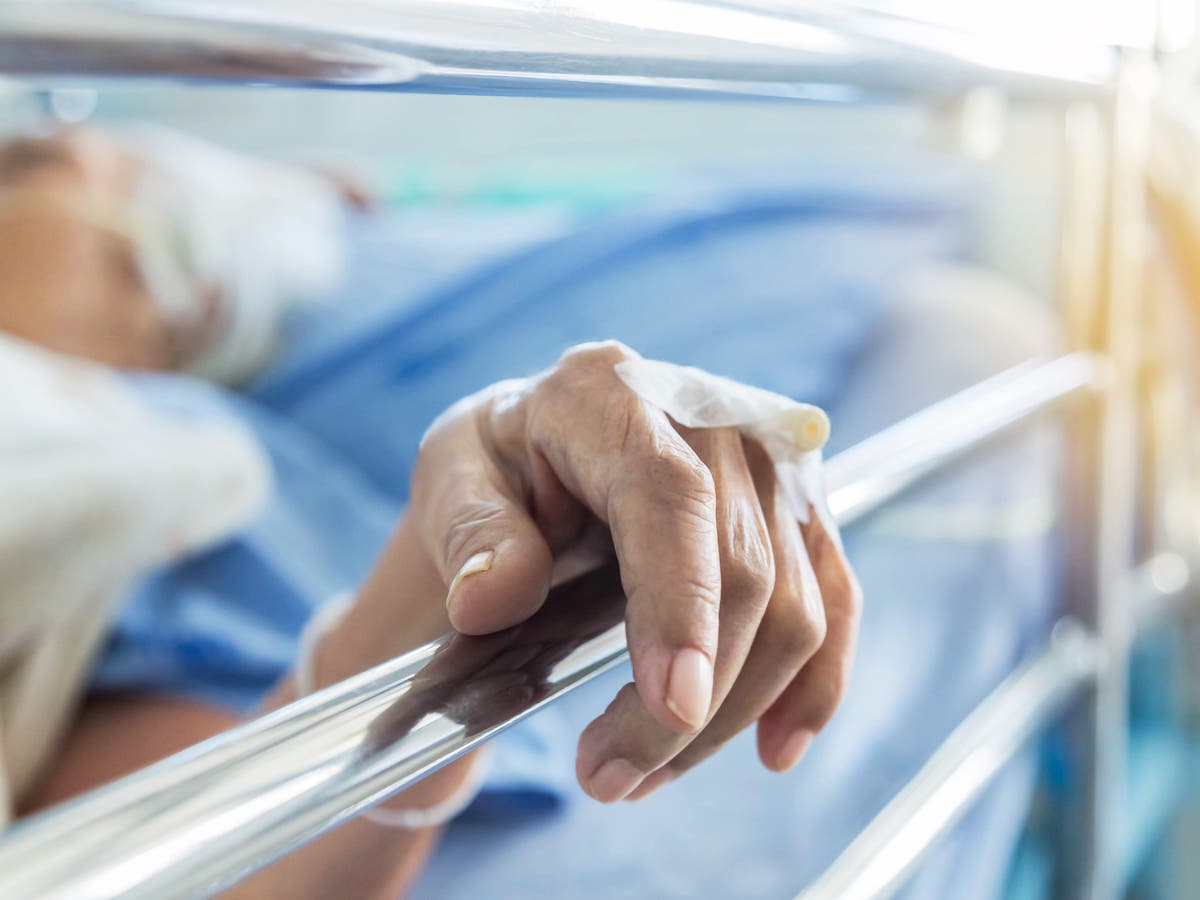 [ad_1]

Hundreds of elderly patients have been subjected to unlawful 'do not resuscitate' decisions that included blanket orders on care home residents, a watchdog has found.
In a review of the use of the controversial notices during the pandemic, the Care Quality Commission said it had uncovered evidence of patents not being involved in discussions and in some cases even being denied treatment.
Care home providers told the watchdog there were a total of 508 do not attempt cardiopulmonary resuscitation (DNACPR) decisions that had been put in place after 17 March last year without any discussion with the patient or their family. The CQC said a third, 180, of these orders were still in place in December.
It said this raised "serious concerns that individuals' human rights – to be involved in DNACPR decisions about themselves or their families – were potentially being breached in more than 500 cases."
There were also fears over widespread "blanket" do not resuscitate decisions being made on entire care homes and groups of disabled patients.
The CQC said it heard evidence from "people, their families and carers that there had been blanket DNACPR decisions in place". It was told by 119 care home providers that people in their care had been "subject to blanket DNACPR decisions" since March last year.
More than 20 patients said they didn't know they were subject to an DNACPR while 150 relatives told the regulator they were unaware a decision had been made.
The CQC found the number of DNACPRs on patients in care homes increased by almost 10,000 after the start of the pandemic.
Rosie Benneyworth, chief inspector, said: "What we have found through our review is a worrying picture of poor involvement, poor record keeping, and a lack of oversight and scrutiny of the decisions being made. Without these, we cannot be assured that decisions were, and are, being made on an individual basis, and in line with the person's wishes and human rights."
The Department of Health and Social Care asked the CQC to carry out a review last year after repeated concerns over the use of blanket do not resuscitate decisions being placed on elderly patients and those with learning disabilities.
A DNACPR decision does not require consent and is a medical decision not to try and use chest compressions in the event someone's heart stops. By law clinicians must consult with either the patient or their family. Failure to do so is a breach of human rights.
A DNACPR must only be made after the individual patient is considered. Blanket decisions or those made because someone has a learning disability are discriminatory and unlawful.
The CQC looked at the experiences of more than 750 people, including 2,000 care providers, and examined more than 160 clinical records.
One patient told the regulator: "I only found out about the DNACPR when they were discharged from hospital; no-one had mentioned it to me before nor to the person concerned. It was a tremendous shock."
Another added: "The first we knew about it was a letter from the hospital after my father had been discharged. No conversation was had with us or my father."
The regulator said it was worried that some inappropriate DNACPRs were still in force and that this could also lead to delays in treatment. Out of 166 records, only 32 DNACPRs were had a planned review date.
Around half of the 613 members of the public it surveyed said they or someone they cared for had either had delays or been denied treatment because of a DNACPR.
The Care Quality Commission has called for ministers to set up a new group to tackle the "worrying variation" in people's experiences. It acknowledged the "unprecedented pressure" on the system during the pandemic and said there were examples of good practice.
Rosie Benneyworth, chief inspector of primary medical services and integrated care at the CQC, said: "It is vital we get this right and ensure better end-of-life care as a whole health and social care system, with health and social care providers, local government and the voluntary sector working together.
"Covid-19 has brought this to the fore but these are not new issues."
Age UK said the approach to advance care planning needed a "complete overhaul", with strengthened support for professionals and families with concerns.
It was also calling for a review so that any "hasty, ill-informed decisions" could be removed from older people's records.
Charity director Caroline Abrahams said: "The treatment we would like or not if we become desperately ill or if our heart stops beating is one of the most important decisions any of us will ever make, so it's extremely disturbing that this report effectively stands up the notion that some older people's rights to choose were ridden roughshod over during the pandemic.
"It is doubly concerning that the CQC says these problems were not unique to the pandemic but were happening to a degree before it even arrived."
Dan Scorer, head of policy at the learning disability charity Mencap, said: "CQC's important review into use of DNACPRs during the pandemic highlights the urgent need for better staff training and support to ensure the right of people with a learning disability, and their families, to be involved in decisions about care and treatment is upheld.
"It is unacceptable that assumptions are made about people's quality of life or their wishes in relation to treatment. They deserve and have a right to so much better."
An NHS England spokesman said: "The NHS has repeatedly instructed local clinicians and services that the blanket DNACPR decisions would be unacceptable – including on three separate occasions in less than a month at the start of the pandemic, and again last week – and that access to treatment and care for people should be and is made on an individual basis in consultation with family and carers."
[ad_2]

Source link