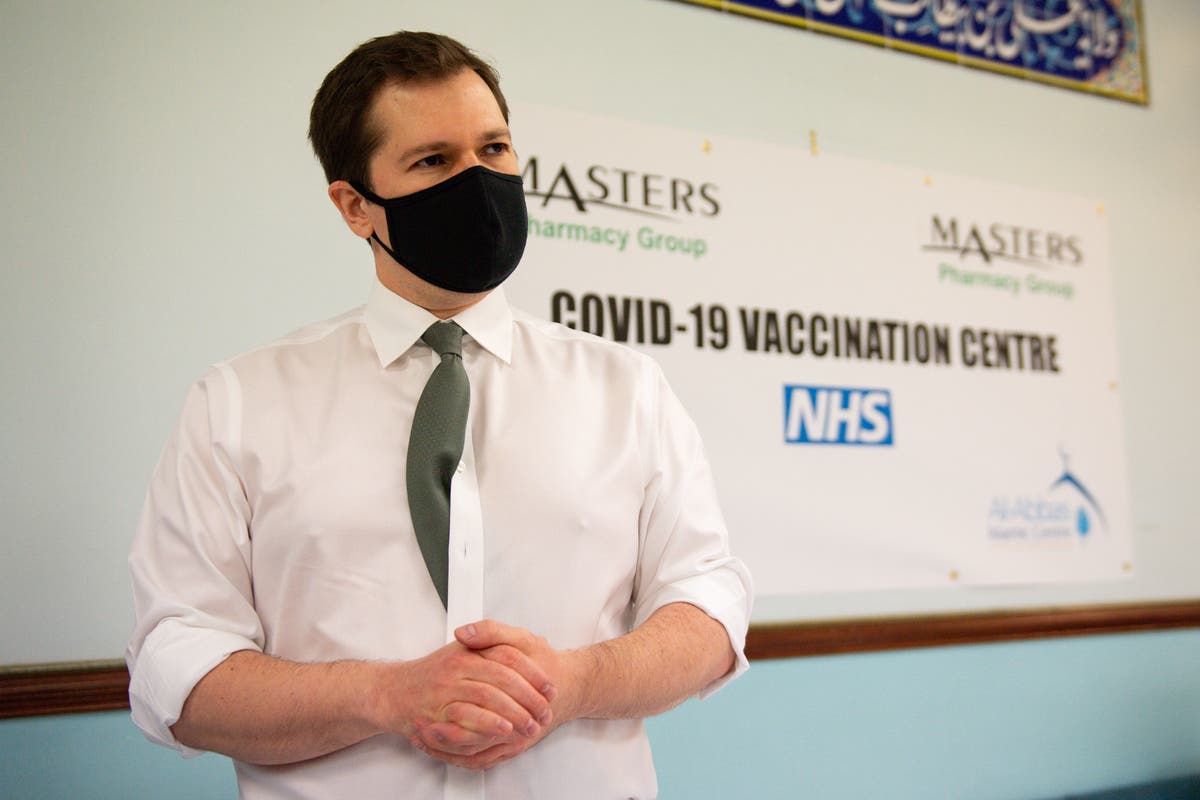 [ad_1]

Robert Jenrick has insisted "fundamental" government targets on rolling out vaccines to the population will still be met, after NHS bosses revealed a "significant" reduction in supply over the coming month.
The cabinet minister said there was "every reason to believe" supply will increase again in May, June and July but refused to be drawn on the source of disruption to Britain's vaccine programme, including suggestions of a four-week delay to an Indian shipment.
Vaccinations for people in their 50s will still go ahead, as well as administering second doses to those who have already had a jab, while people aged under 49 must wait before being allowed to book appointments.
Mr Jenrick said ministers had learnt of problems "in the last few days", but refused to be drawn on suggestions the issue was down to a four-week delay from the Serum Institute in India, telling BBC Radio 4's Today programme: "It's not that there's any one factory that is responsible for this or any one country.
"There are multiple manufacturers around the world who are experiencing supply issues at the moment. It would not be right for me to pin blame on any one manufacturer, factory or country — that is not the case, the manufacturers are working incredibly hard."
Quizzed on when under 50's would receive a first dose of a Covid vaccine, he added: "Well, there will some delay, but not in meeting our target.
"Remember the target was to deliver vaccines, the first jab, to everyone in 1-9 by the middle of April and to get every adult in the country to have their first jab by the end of July and we are very much on course. We're confident we'll be able to meet both of those fundamental targets."
In a separate interview, professor Adam Finn, a member of the Joint Committee on Vaccination and Immunisation (JCVI), added that "vaccines are are definitely tricky when it comes to supply".He added: "Historically we've always tried in the UK to have more than one supplier of more than one vaccine, whenever possible, because this does come up from time to time.
"And I think even more so than at the present time, because these vaccines are new technology, and manufacturing them at scale is quite tricky."
The NHS letter said that during the period of disruption, invitations to under-50s for jabs will "only be permissible in exceptional circumstances", unless they fall into a priority group as health or care workers or sufferers from specific health conditions.
But the reason for the slowdown remained unclear, with an AstraZeneca spokesperson saying on Wednesday evening: "Our UK domestic supply chain is not experiencing any disruption and there is no impact on our delivery schedule."
Pfizer said deliveries "remain on track" for the first quarter of its 40 million dose agreement with the UK, with a "steady supply of vaccines" delivered to the nation.
[ad_2]

Source link