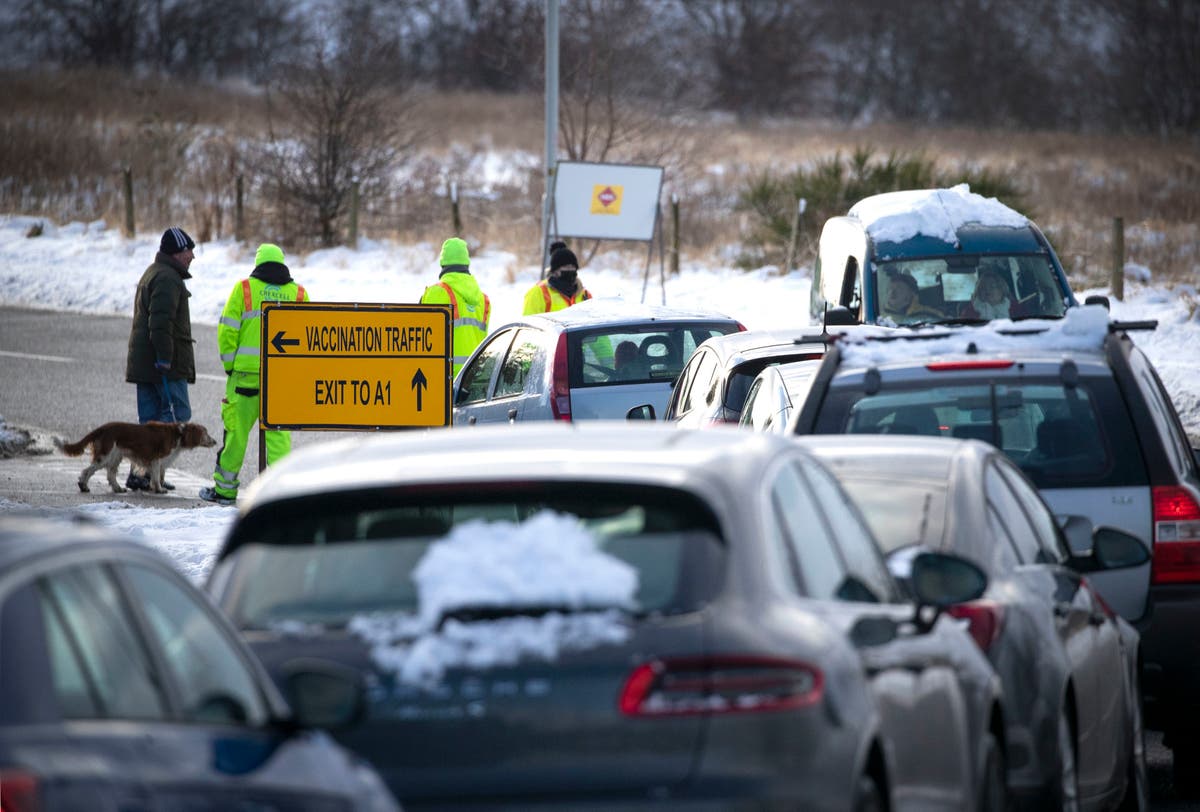 [ad_1]

Some NHS vaccination centres in Scotland have had no patients for a number of days after an apparent glitch in sending out appointment letters.
NHS Lothian on Friday last week said there was a delay to appointment letters, which Edinburgh Southern MSP Daniel Johnson told the Scottish Parliament had led to some vaccination centres having "literally no patients" on Monday and Tuesday.
First Minister Nicola Sturgeon told MSPs the Scottish government is investigating and said the issue could be down to the Royal Mail, as reported by The Scotsman.
The appointment problem is only thought to be be affecting some vaccination centres in the Lothians.
Mr Johnson said: "It became clear that there had been a major problem with the issuing of the blue letters, and that people between ages 60 to 65 in the Lothians had not been receiving their appointments.
"This resulted in the health board making pleas on social media for people to call and find out if they had an appointment".
Ms Sturgeon sought to reassure the 60 to 65 age group that they would get a vaccination and said that the Scottish government is trying to resolve of the issue.
She said: "We have been investigating it over the past few days, trying to work out, where the issue lies, whether it's with National Services Scotland administering the centralised system, or with Royal Mail.
"There is, we believe, the possibility that it is a Royal Mail issue, because other letters have been arriving, but we are still trying to bottom that out and resolve that".
Conservative MSP Mike Briggs said on his Twitter account today that he raised the missing vaccine issue with Ms Sturgeon last week and there were now "real concerns that Lothian is behind Scotland in the vaccine programme."
A spokesperson for the government told Edinburgh Live: "The Scottish Government is investigating with NHS National Services Scotland and Royal Mail to understand why there have been delays to appointment letters being received by people aged 60-64 in the NHS Lothian region.
"We would like to apologise to anyone who has missed their appointment as a result and for the inconvenience this may have caused them. We have been clear with the board that we expect anyone who has been affected by this issue to be rebooked swiftly.
"We are also working with the national vaccination helpline so that people within the NHS Lothian area can get through to speak to someone to help them get their vaccination, if they were affected by this delay."
Royal Mail spokesman told The Independent: "Royal Mail understands the vital importance of getting these vaccination appointment letters to people safely and on time. We are working hard to prioritise this mail.
"Our healthcare partners in Scotland have already moved towards using blue envelopes to help us identify these letters in the delivery process more easily.
"We are now working with our partners – including the Scottish Government – to understand what happened in this instance. We understand that new appointments will be arranged shortly for any impacted residents."
The Scottish Government and NHS Lothian have been contacted by The Independent for additional comment.
[ad_2]

Source link