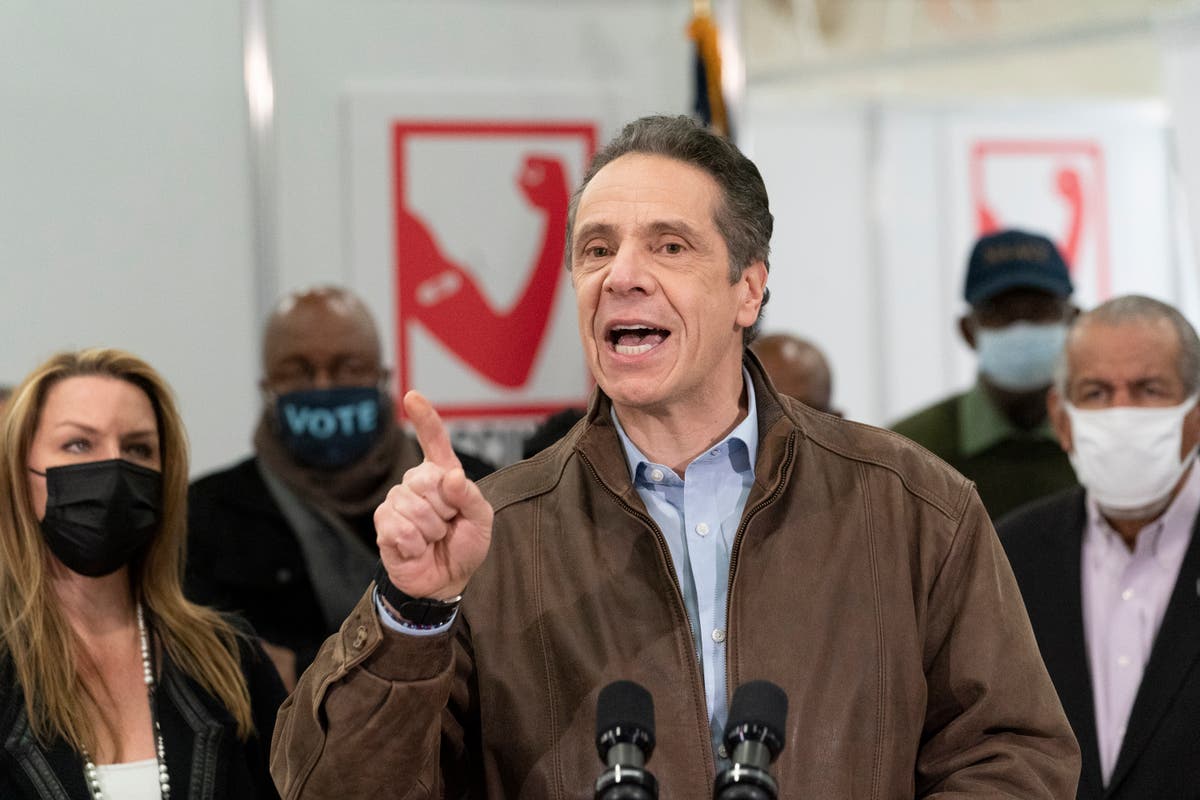 [ad_1]

New York Governor Andrew Cuomo has received the Johnson & Johnson Covid-19 vaccine in an effort to promote confidence among residents for receiving their own jab amid the pandemic.
On Wednesday, Mr Cuomo held an event at Mount Neboh Baptist Church in Harlem, New York – a church that will operate as a pop-up vaccination site for New York City.
Receiving the single-dose Johnson & Johnson vaccine was Mr Cuomo's way of promoting the latest jab to New Yorkers so they'll receive any option available to them when they're eligible for a dose.
"Today I'm going to take the vaccine," Mr Cuomo said during the event. "And I'm going to take the Johnson & Johnson vaccine because I want to make the point 'take whatever vaccine you can take.' They all work, they are all safe, don't try to pick one over the other."
The governor also decided to get vaccinated in Mount Neboh Baptist Church because it serves Black residents in New York City and has lost over one dozen members due to Covid-19. Although he's an essential government worker and could've received a vaccine weeks ago, Mr Cuomo said he held off until other minority population groups had access to the vaccine.
"Communities that suffered most should be first on the vaccine line," the governor said.
In New York City, 53 per cent of the population are white but 56 per cent of those who have received a Covid-19 vaccine are white. In comparison, the city population is 27 per cent Black, but only 19 per cent of those vaccinated were Black, Mr Cuomo said.
Johnson & Johnson revealed its Covid-19 vaccine was 72 per cent effective at preventing moderate-to-severe disease when tested on United States residents. Efficacy fell to 66 per cent when the vaccine was tested worldwide.
This compared to the Pfizer and Moderna vaccines, which clinical trials have shown were at least 94 per cent effective against Covid-19.
The vaccination event comes as Mr Cuomo faces several allegations of sexual harassment and misconduct from women. Mr Cuomo has denied the allegations but said he would "fully cooperate" with the independent investigation that was launched by New York Attorney General Letitia James.
Now it appeared that the governor was attempting to move coverage away from the allegations by focusing on work that previously earned him accolades from the public: addressing the Covid-19 pandemic in New York.
"He's focused on the budget, he is focused on getting vaccines into arms and he is focused on continuing to reopen the economy and rebuild following this health and economic crisis," an aide to Mr Cuomo told CNN. "Those are his focuses, and he is working every day to advance the ball on those things."
Mr Cuomo did not address the current controversy he faces when attending the vaccination event on Wednesday.
But former US Representative Charlie Rangel of New York, who was in attendance, spoke about the need for the governor to receive "due process" before the public forms an opinion on if he should still lead the state or not.
"Due process and hearing is basically what we believe in in this country," Mr Rangel said.
"Back off until you've got facts, and at the same time thank the governor for what you have done, what you are doing and what you will do," he added.
[ad_2]

Source link