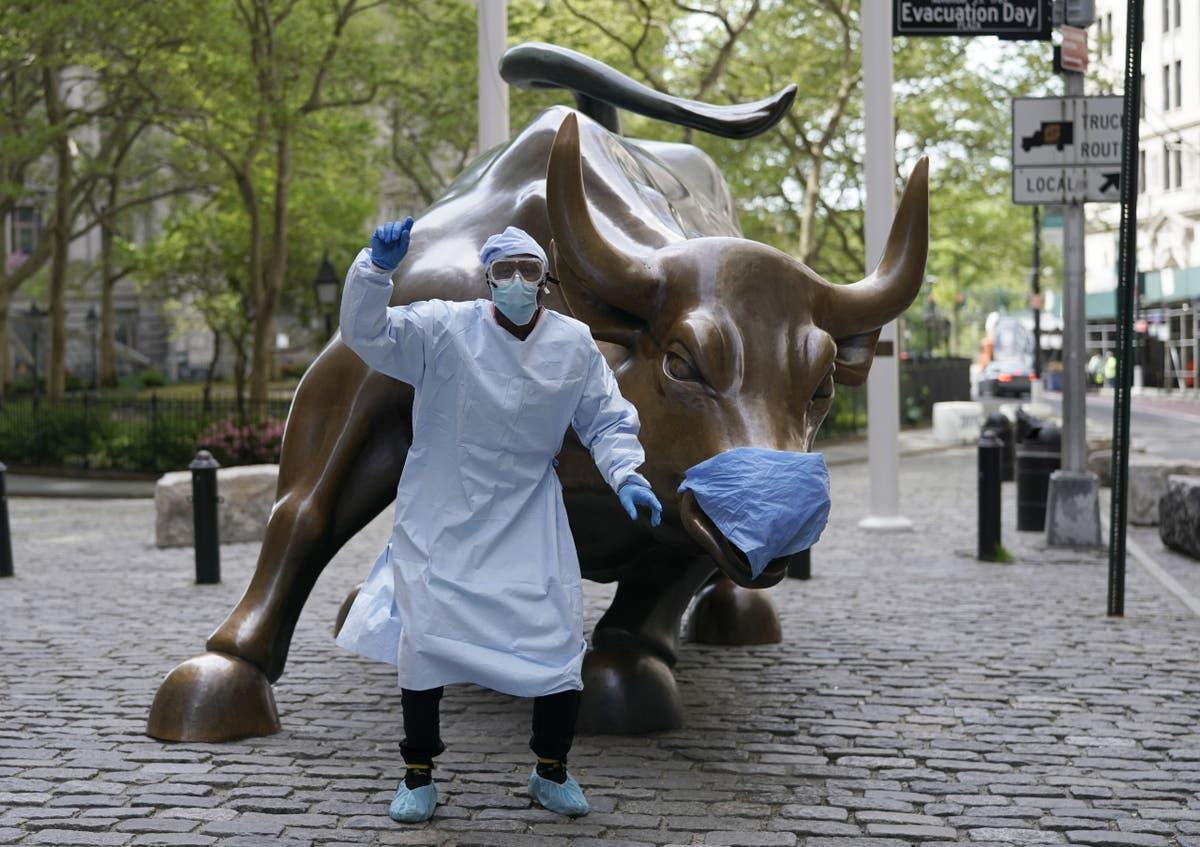 [ad_1]

The Dow Jones Industrial Average is aiming for an eighth straight trading day of gains, a year to the day that it suffered its biggest points fall ever.
On 16 March last year, the Dow closed down 2,997 points in a day that saw three circuit breaker pauses in trading as the market plummeted in reaction to the realities of the Covid-19 pandemic.
By percentage, the only bigger fall on Wall Street was 19 October 1987, known as Black Monday, when the Dow plunged 22.61 per cent compared to the 12.93 per cent drop in 2020.
The S&P 500 and Nasdaq also both fell 12 per cent, their third and worst respective percentage drops ever, and both of their worst points drops.
The subsequent seismic shift in the global economy caused by the pandemic is reflected in today's markets — healthcare and technology stocks now account for 42 per cent of global equity capitalisation, up from 30 per cent.
Government economic intervention and a shift in investor focus saw markets rebound to exceed pre-pandemic levels, even as the virus continues to impact the real economy.
US unemployment remains extremely high, but measures from the American Rescue Plan including extended benefits and stimulus payments to the majority of Americans will provide some relief to Main Street, as Wall Street sees stocks hold up.
Optimism over the $1.9 trillion fiscal stimulus package and increasingly good news on vaccinations have aligned with airlines reporting the beginning of a return of leisure travel, bolstering confidence that an economic recovery in the US is underway.
The Dow and S&P closed trading on Monday at new record highs and both are on a streak of daily gains.
Tuesday saw a much more muted opening, with the Dow down from Monday's close, but still hovering tantalisingly shy of 33,000.
At 11am in New York it stood at 32,829, down about 150 points. The S&P 500 was slightly up at 3,978, and the Dow was similarly in positive territory at 13,617.
Fears about inflation, an overheating economy, and a jump-forward in interest rates have increased scrutiny on the Federal Reserve March meeting, where policymakers are likely to raise economic forecasts and repeat their pledge to remain accommodative for the foreseeable future.
In a note to clients on Monday, economists at investment bank Goldman Sachs said the Biden administration could oversee a post-pandemic economic boom with growth rates of eight per cent and unemployment falling to below four per cent — levels not seen since the Reagan administration.
[ad_2]

Source link