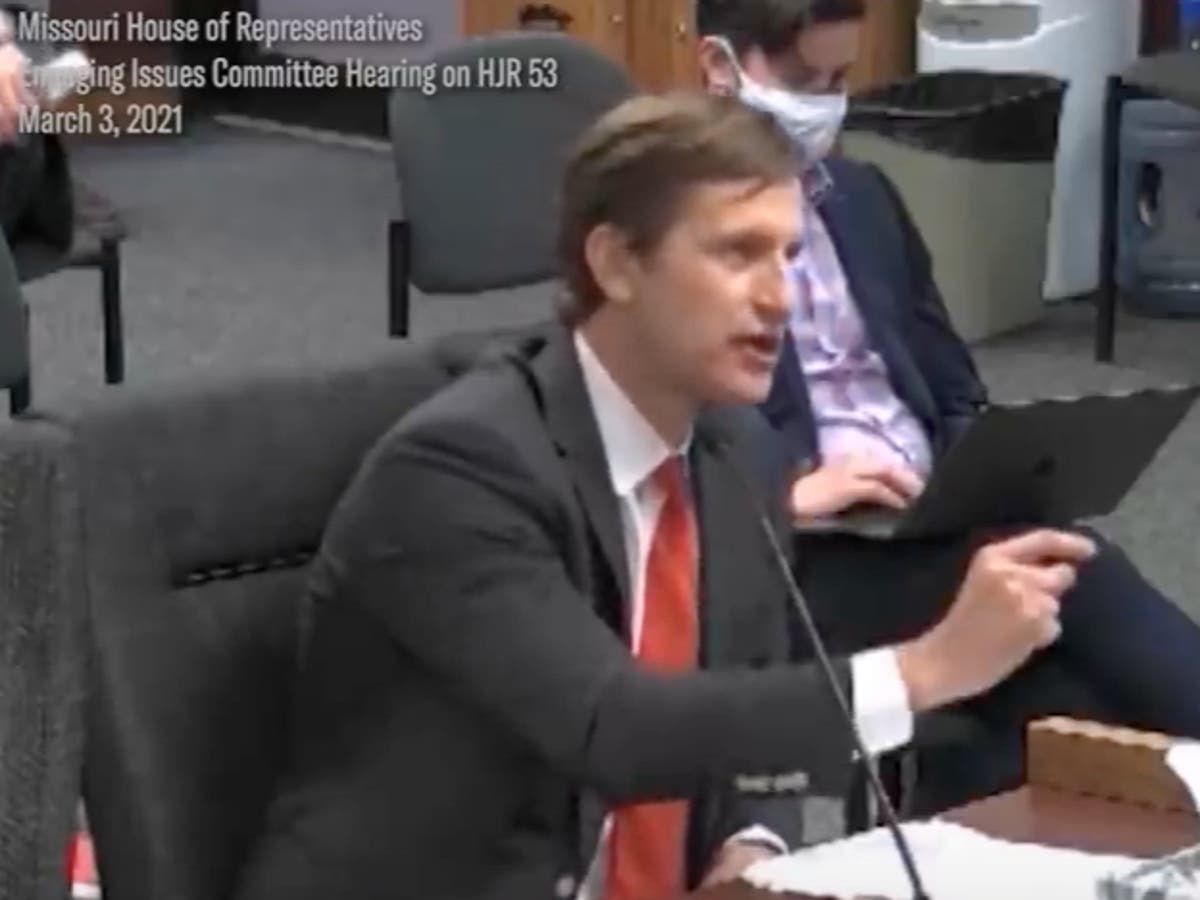 [ad_1]

A father's emotional plea to state officials in Missouri to not ban trans girls from school sports has gone viral.
Brandon Boulware testified before the Missouri House of Representatives as the body considers Joint Resolution 53, an anti-trans bill similar to that signed into law in Mississippi last week that would ban trans girls and women from participating in school sports.
At the start of his testimony, Mr Boulware identified himself as a lifelong Missourian, a business lawyer, a Christian, and the son of a Methodist minister.
He said he is a husband the father of four kids — two boys, two girls, "including a wonderful and beautiful transgender daughter".
Mr Boulware said that when transgender issues are raised most people say that they do not understand and that he believed that some of the state legislators probably felt the same way.
"For years, I didn't get it," he said.
"For years, I would not let my daughter wear girl clothes. I did not let her play with girl toys. I forced my daughter to wear boy clothes, get short haircuts and play on boy sports teams," he told lawmakers.
Mr Boulware said that he did these things to protect her and her siblings from being teased but admits he wanted to "avoid those inevitable questions as to why my child did not look and act like a boy."
"My child was miserable, I cannot overstate that," he continued, adding he had a child who did not smile. He said they continued in this way against the advice of teachers and therapists.
Recalling the say he came to realise that his daughter was equating being good with being someone else, Mr Boulware said: "I was teaching her to deny who she is."
"On that day, my wife and I stopped silencing our child's spirit," he said.
She had "a total transformation" when he and his wife stopped forcing her to present as male, Mr Boulware testified.
"I now have a confident, a smiling, a happy daughter."
He asked lawmakers to understand that if the bill becomes law it will have real effects on real people and his daughter will no longer be able to play on the girls' volleyball team, or dance squad, or tennis team.
"Please don't take that away from my daughter or the countless others like her who are out there," the emotional father pleaded. "Let them have their childhoods. Let them be who they are."
Mr Boulware revealed that the day he testified — 3 March — was also his daughter's birthday and she did not know he was appearing before lawmakers to argue for her rights.
Footage of his testimony before the Missouri House of Representatives has been viewed more than 3.7 million times solely on the Twitter account of the American Civil Liberties Union.
Miami Heat NBA champion Dwayne Wade reposted the video to his Instagram account, writing: "I vote AGAINST this legislation! I don't know Brandon Boulware at all but I do know we have something real in common. Here's the one thing we can't do 'SILENCE OUR CHILD'S SPIRIT'."
He continued: "Thank you for using your platform and sharing your family's story! 'Our kids are more than bedrooms, bathrooms and locker rooms'."
Mississippi and South Dakota have passed laws banning transgender youths from participating in sports alongside their peers.
Governor Tate Reeves of Mississippi signed his state's bill into law last week. A similar piece of legislation is likely to be enacted by Governor Kristi Noem of South Dakota.
More than 20 states are proposing restrictions either on athletics or gender-confirming health care for transgender minors this year.
[ad_2]

Source link