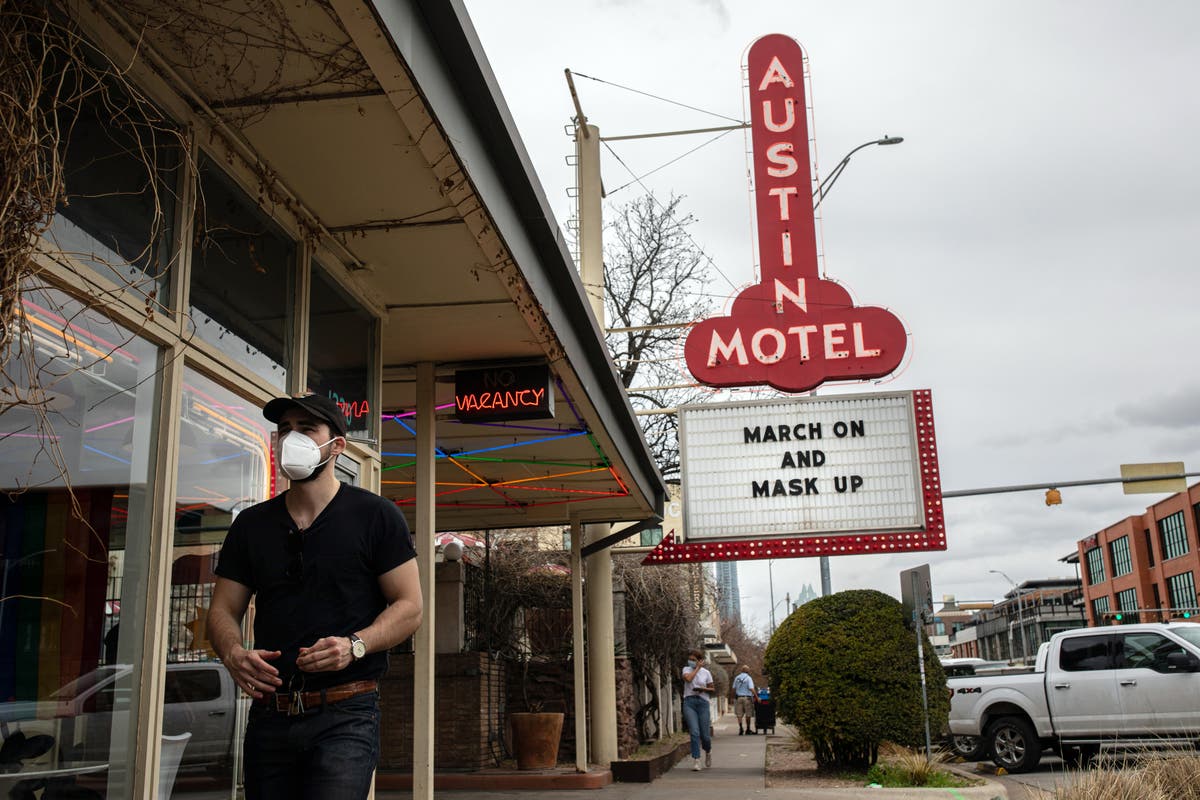 [ad_1]

Austin's mayor has celebrated a court ruling that will allow his city to continue its mask mandate for at least two more weeks, as something that will help "keep more people alive and safe".
Earlier this month, the governor of Texas, Greg Abbott sparked widespread controversy when he lifted a rule imposed last summer that demanded people wear masks.
"It's time to reopen Texas 100 per cent," said Mr Abbott, a Republican, who is seeking a third term as governor. "Everybody who wants to work should have that opportunity. Every business that wants to be open, should be open."
The decision was highly contentious; scientists across the nation said Mr Abbott was opening up too soon, President Joe Biden described it as "neanderthal thinking", and Mr Adler said the governor had broken a promise to electors to be guided by science, not party politics.
Last Friday, a court refused to give the state of Texas an emergency injunction, after the city of Austin and Travis county refused to comply with the dropping of the mandate. While the court could rule in favour of Mr Abbott and his attorney general, Ken Paxton, when it next sits, the result is that for now Austin can continue its demand people continue to wear masks for the next two weeks at least.
"[This ruling] is really important," Mr Adler told The Independent in an interview.
"Every day we're able to keep the messaging consistent in our community and unambiguous, that masking is important, that it is effective, that we're not out of the woods with the virus….Every day we can keep that messaging front and centre, the better we are."
Asked if he considered it a matter of life and death, he said: "We have a better chance of keeping more people safe and alive, and opening up more businesses and schools, the lower we can keep positivity in the community."
Austin is often described as blue bubble in a sea of red. In truth, because of shifting demographics, several parts of Texas, particularly in the suburbs of cities such as Houston, are becoming more purple, and more competitive for Democrats.
Yet, Austin, the state's capital, which has a population of a little under one million, is probably more progressive than most parts of the vast state. It is famous for its arts and live music, festivals such as South by Southwest, and more recently as a new hub for technology.
With the spring break holiday underway, and with the potential for thousands of young people to descend on the city, there was a determination among the mayor's administration to keep the masks in place, and stop the holiday becoming a super-spreader event for the disease.
Mr Adler, 64, a human rights lawyer was elected mayor in 2014, and reelected in 2018. He has been outspoken in his criticism of Mr Abbott, claiming the governor's decision to drop the mask mandate was a political calculation, not one based on science.
The rule was imposed in July 2020, as Texas and others states reeled from the virus, but even then there were many Republican critics of the move.
Austin Mayor rebukes Texas Gov. Abbot's decision to end the mask mandate
"I don't think there's a scientific reason. The doctors and the data, seem to be pretty unanimous that if we're being guided by the science, that we would keep the mask mandate in place," said Mr Adler. "I think he is being driven by his party's politics."
He added: "In this country, unfortunately, beginning with the president last spring, masking became a partisan issue. I think the governor has had some issues with the Republican base associated with some of the actions he's taken to follow the science and the data.
"At this point you'll see many of the Republican governors around the country walking away from science."
Texas is the nation's second largest state in terms of its population, after California, and carries the second highest number of electoral college votes. In November 2020, Donald Trump won the state 52-47, but in 2016 he had defeated Hillary Clinton there by a whopping 52-43.
Mr Abbott, 63, has said he is seeking a third term as governor, and there is talk he may also be considering a White House run in 2024. Mr Adler is not the only commentator to have suggested this may at the driving his thinking.
And critics have said the potential backlash could be enormous.
According to a report based on data provided by the Center for Disease Control, of the 50 US states, and the District of Columbia, Texas ranks 47 for the the percentage of its population that has been fully vaccinated – just 9.7 per cent.
"It just presents undue risk, which is unfortunate," Mr Adler said of Mr Abbott's decision. "You know, things are getting so much better. We're trying to avoid another surge. We're coming up to the spring break holiday, which begins…It just increases the risk that we we face."
If people in other cities in Texas were not wearing masks when they entered bars and restaurants, was there not a danger of a second surge soon making its way to Austin, regardless of its own mandate?
"While it would certainly be preferred if everyone in the entire state of Texas was masking, or for that matter, everyone in the United States was masking, it is still better for us to be mastering here in Austin than not," he said.
"But certainly, yes, it would be better the broader the universe of people that was following the science and the data and the recommendations of the CDC."
Mr Adler said Austin was vaccinating people as quickly as it could obtain the shots. While there was some vaccine hesitancy in the city, he believed it was a lot less than in other parts of the state, and the nation.
"In Austin, we're getting into people's arms all the vaccine that's being made available to us. We could get a lot more into people's arms if we could get an increased supply in the state of Texas," he said.
"I understand we're lagging the other states in terms of percentage of the population that's received both vaccines. So as a state, I wish we were doing better. You know, we wish we had more supply here."
[ad_2]

Source link