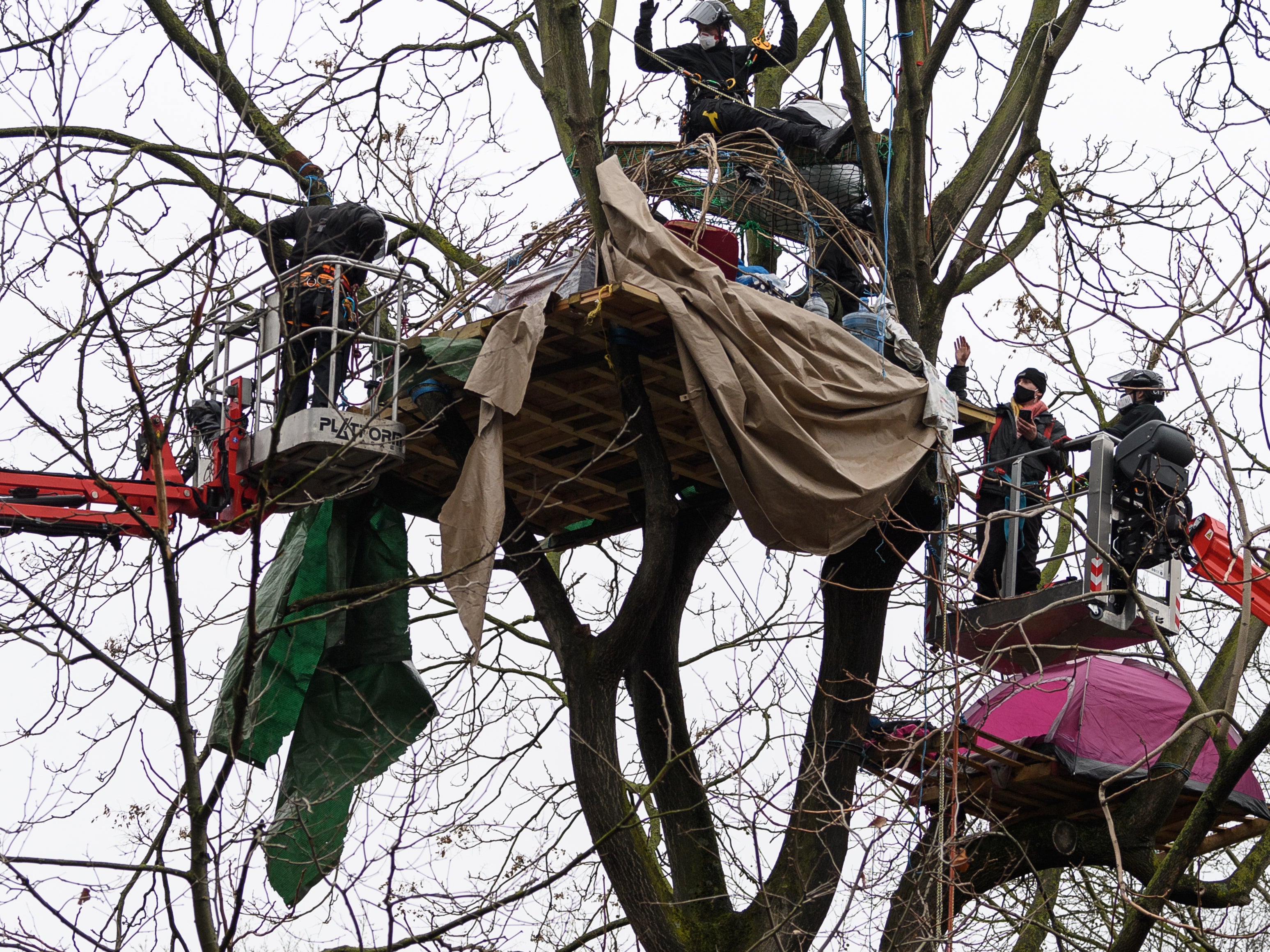 [ad_1]

As under and above ground HS2 protests rage on, bailiffs in cherry pickers moved into a central London park this morning to remove campaigners living in trees while police made several arrests.
Two activists protesting against the controversial rail development were taken down from a wooden platform attached to a large tree in Euston Square Gardens at around 9.30am on Thursday, before being handed over to officers.
Fellow HS2 Rebellion supporters, who remained on the ground, chanted an array of slogans including the popular: "HS2, shame on you."
Later on, at around 11am, at least three men at the Euston site were handcuffed for apparently breaching coronavirus regulations – with one seen shouting at officers as he was dragged away to a nearby police van.
It comes after six others were arrested in the same makeshift camp yesterday, including one man who attempted to evade bailiffs by escaping on an 80ft-high zip wire.
The man, who has since been named as 20-year-old Martin Andryjankczyk, from Erdington, Birmingham, moved from tree to tree to avoid guards trying to apprehend him.
He was eventually caught and handed to police officers, who, he said, "arrested me, took me to Holloway police station and de-arrested me".
"My body was numb because of the adrenaline. I tried wiggling myself out but it didn't work. I almost kicked one in the face," Mr Andryjankczyk told reporters after being released.
Camden Police took to Twitter on Wednesday afternoon to announce that six arrests "had been made at the site of a protest in Euston Square Gardens today".
"Four men & a woman are now in custody. One man was later de-arrested," the force said, presumably referring to Mr Mr Andryjankczyk.
"Officers remain at the scene to prevent potential breaches of the peace and to uphold Covid legislation," it added.
The Independent has contacted Metropolitan Police for comment, but is yet to receive a response.
HS2 Rebellion, the group leading the charge against the railway's construction, has said it believes Euston Square Gardens – a green space outside Euston station – will be built over with a temporary taxi rank before being sold to developers as part of the plans. Hence the occupation.
A Tree Protection Camp was set up in the area back in September, with some members of HS2 Rebellion moving there permanently to protest against the £106bn scheme.
"I have been living here for the last four months. I don't want the park going," activist Mr Andryjankczyk said, with construction work due to begin this month and continue until December.
Enforcement agents from HS2's private contractor, the National Eviction Team, began removing people from the Euston camp shortly before 5am on Wednesday morning.
As the situation stands, activists remain in trees dotted around Euston Square Gardens while at least four others are currently living in the 100ft network of tunnels underneath the park – revealed yesterday to have been dug by HS2 Rebellion.
Dr Larch Maxey, 48, one of those currently underground, told the Mirror more than 30 people, including himself, helped dig and shore up the tunnel.
He said they chose to dig a tunnel because they are "easier to defend" than trees, a claim which the multiple arrests and removals seems to verify.
Dr Maxey, who is believed to be guarding a "trap door" at the downshaft, said he would agree to come out of the tunnel if authorities pledge to hold a "people's assembly" on the future of HS2.
He also warned bailiffs against trying to storm the tunnel, which many believe is the next step, saying it was "easy to defend" because it is so confined.
The High Court Enforcement group, which the National Eviction Team is a subsidiary of, has said the activists' inexperience puts them at "significant risk", and that protesters were in danger of potentially "intercepting nearby gas and water pipes, leading to risks of suffocation, flooding and drowning".
However Dr Maxey refuted these warnings, telling reporters he and the others had purposely chosen a spot which was "unlikely" to have services underneath, in a bid to avoid hitting any pipes.
[ad_2]

Source link