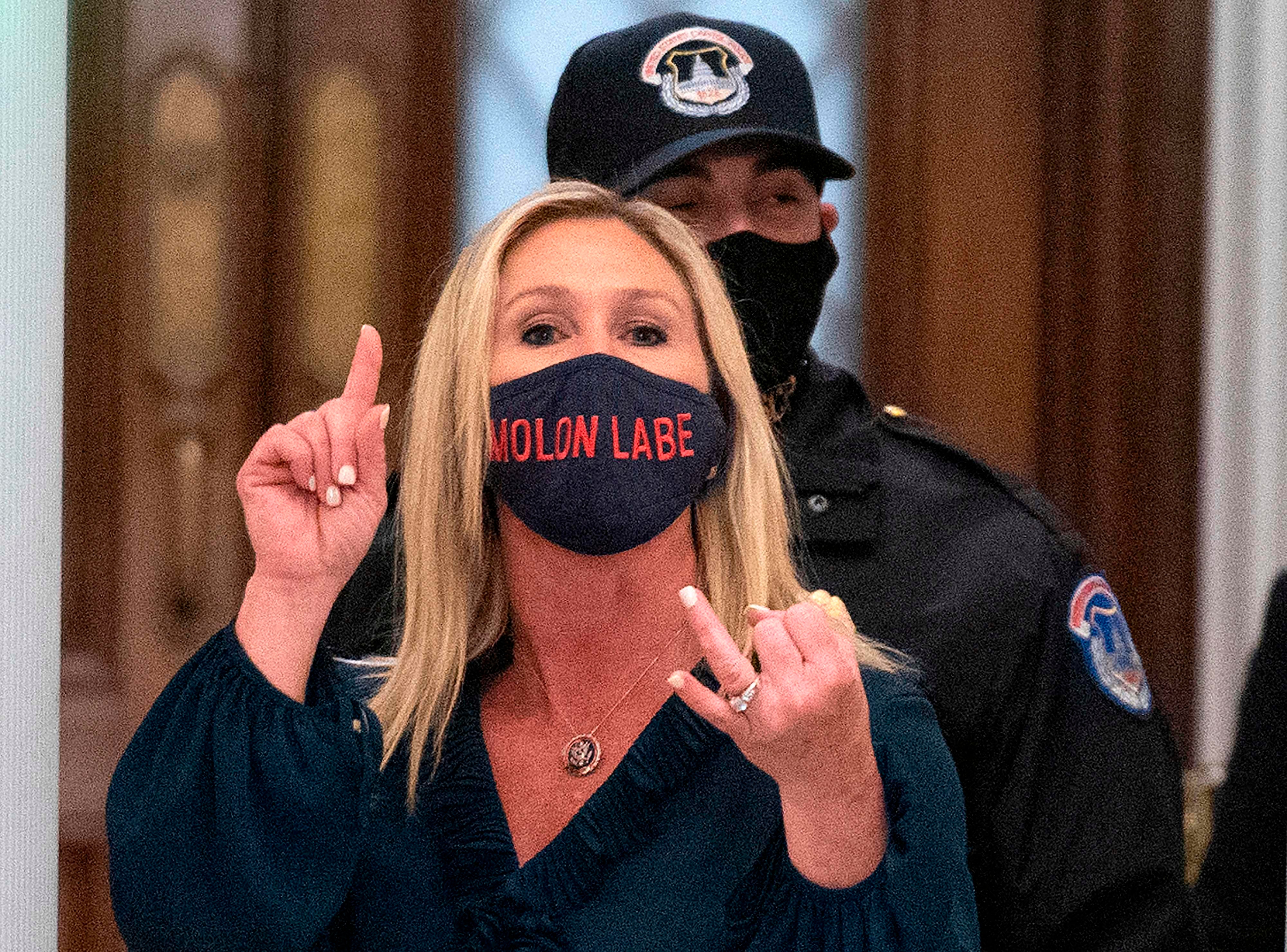 [ad_1]

California congressman Jimmy Gomez moved on Wednesday to expel the hard-right representative Marjorie Taylor Greene from Congress, after a number of past violent comments she allegedly endorsed on social media about Democratic officials came to light.
"As if it weren't enough to amplify conspiracy theories that the September 11 attacks were an inside job and the mass shooting at Marjory Stoneman Douglas High School was staged, a string of recent media reports has now confirmed that Congresswoman Marjorie Taylor Greene had previously supported social media posts calling for political violence against the Speaker of the House, members of Congress, and former President Barack Obama,"  Mr Gomez, who represents parts of Los Angeles, said in a news release.
"Such advocacy for extremism and sedition not only demands her immediate expulsion from Congress, but it also merits strong and clear condemnation from all of her Republican colleagues," he added.
On Tuesday, CNN reported that before the Republican from Georgia took office, Ms Greene had appeared to have liked comments on social media about a "bullet to the head" for House Speaker Nancy Pelosi, and said the "stage is being set" to hang Barack Obama and Hillary Clinton. It is also claimed she liked a post about executing "deep state" FBI agents.
Former secretary of state Hillary Clinton endorsed calls to remove Ms Greene on Wednesday.
"This woman should be on a watch list," Ms Clinton wrote on Twitter. "Not in Congress."
Ms Greene said in statement that "Fake News CNN is writing yet another hit piece on me" and didn't specifically apologise for the posts.
"Over the years, I've had teams of people manage my pages. Many posts have been liked. Many posts have been shared. Some did not represent my views," she wrote. "I will never back down to the enemy of the American people and neither should you."
Ms Greene only began her term in Congress this year, but has already developed a reputation for supporting outrageous conspiracy theories like QAnon and making racist comments. On Wednesday, footage emerged of the Georgia rep walking through the Capitol before she got elected, claiming falsely that Democrats Ilhan Omar and Rashida Tlaib, two of the only Muslims in Congress, were illegitimate because they swore their oaths of office on the Quran rather than a Bible.
"These comments are deeply disturbing, and Leader McCarthy plans to have a conversation with the Congresswoman about them," Mark Bednar, a spokesperson for House Minority Leader Kevin McCarthy, told Axios.
"I've consistently condemned the use of violent rhetoric in politics on both sides, and this is no exception," House GOP Whip Steve Scalise told CNN. "There is no place for comments like that in our political discourse."


[ad_2]

Source link