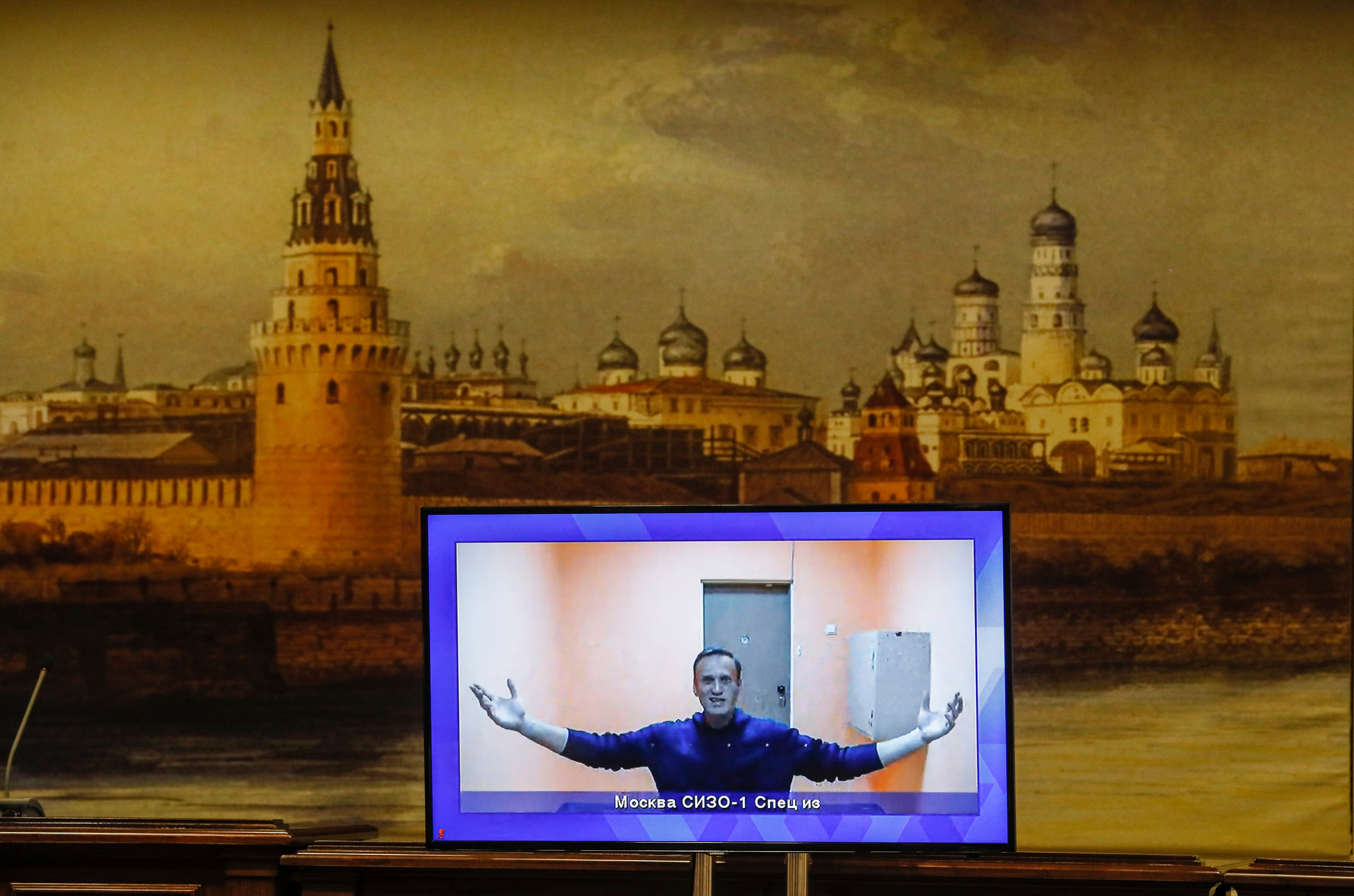 [ad_1]

Jailed Putin critic Alexei Navalny used a video-link court appearance on Thursday to rally supporters, as the Kremlin stepped-up a campaign of reprisals against his staff and family members.
The appeal into his pre-trial detention ended predictably in rejection, but the hearing allowed the opposition leader to decry what he described as "demonstrative lawlessness" being used against him.
"What is happening in these courtrooms is an attempt to scare people demonstratively," he said. "But you can't scare the tens of millions of people who have been robbed by this regime."
Mr Navalny was given a 30 day pre-trial jail term in an unorthodox court session held inside a police station ten days ago. The pre-trial hearing was rushed through the day after he was detained by border guards on his return to Russia for the first time since being poisoned.
Mr Navalny stands accused of breaking parole terms while recovering from in Germany — a charge made even more bizarre given that the parole relates to a sentence since overturned by the European Court of Human Rights.
The state prison service is pushing for his 3.5 year suspended sentence to be converted to real jail time.
Mr Navalny made heavy reference to the questionable legal process in a defiant statement laced with irony.
"Why doesn't the judge just put on a gown and take a hammer onto the Moscow metro, go up to people and say 'jail him, jail her," he said. "There seems to be this remarkable ability of arriving at any place and putting anyone on trial."
Mr Navalny, whom the Kremlin still refuses to call by name, concluded with words for supporters. "They are the last barrier stopping our country from sliding into complete degradation," he said.
The appeal judge needed five minutes of deliberations before returning with an unchanged verdict.
"Navalny, is everything clear?," he asked.
"It was clear to me before the session started, thanks," the politician answered.
Within an hour of the decision, authorities had resumed raids at the homes of Navalny associates. The intimidation campaign followed on from at least 18 raids overnight, including at the family home of Alexei Navalny, where his wife lives.  By Thursday morning, Mr Navalny's brother Oleg, his close aide Lyubov Sobol, associate Anastasiya Vasilyeva, and the Pussy riot member Maria Alyokhina had all been jailed for 48 hours.
Amnesty International has criticised the arrests, saying they had been calibrated to repress dissent.
"It is a cowardly attempt to prevent further planned peaceful protests against the prosecution of prisoner of conscience Aleksei Navalny," a statement read.
New protests are planned in towns and cities across Russia this coming Sunday.
[ad_2]

Source link