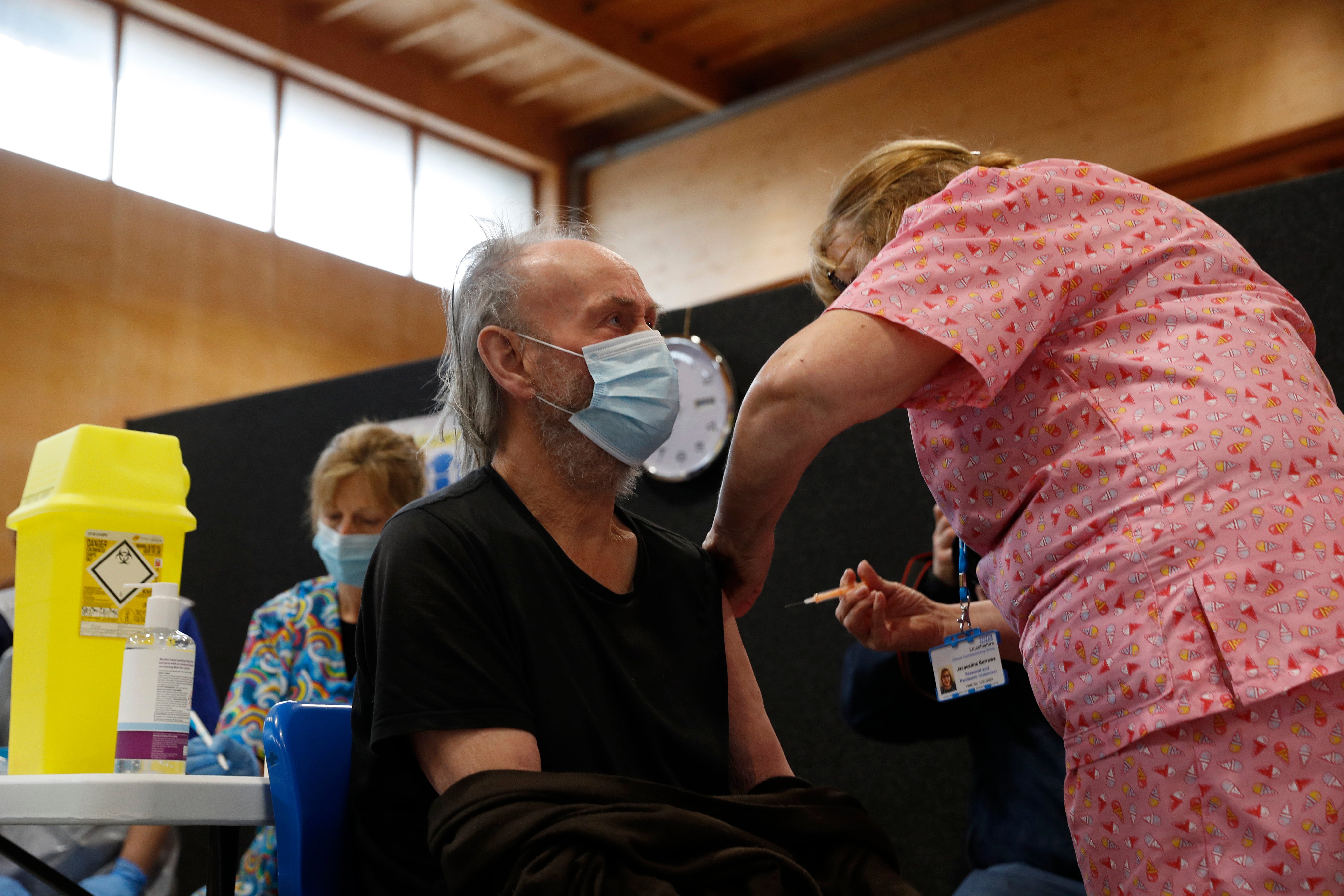 White people in the top vaccine priority groups were more than twice as likely to have received the jab as black people in the early stages of England's vaccination programme, new NHS data has revealed.
Of the 476,375 patients aged 80 and over who received a Covid-19 vaccine between 8 December and 13 January, 42.5 per were white. In contrast, just 20.5 per cent were black – the lowest rate among England's ethnic minority groups.
Between 27 and 29.5 per cent of vaccinated patients were people of mixed, other and south Asian ethnicities, said the analysis, which has yet to be peer-reviewed.
The researchers said the trends reflect previous coverage rates for past vaccine rollouts, and are consistent with survey data on intention to accept the Covid-19 jab.
Dr Ben Goldacre, a senior clinical research fellow at the University of Oxford's Nuffield Department of Primary Care Health Sciences, said the analysis provided "rapid, early insights from the earliest phases of the vaccination programme".
"Coverage for many of the different subgroups is likely to change over time," he added.
The data was drawn from OpenSAFELY, a secure analytics platform created by scientists at the University of Oxford and elsewhere to deliver rapid results on the Covid-19 crisis. It has access to more than 24 million patients' pseudonymised primary care NHS records.
The study also highlighted different vaccination coverage by postcode deprivation within the over 80s group.
Just under 45 per cent of vaccinated patients were from the least deprived parts of England, while 37.9 per cent lived in the most deprived regions of the country.
For pre-existing medical conditions, patients were equally likely, or more likely, to have received a vaccine.
However, there were some exceptions, the analysis showed, with lower coverage rates recorded among those over 80s with severe mental illness (30.3 per cent), dementia (30.9 per cent) and learning disabilities (28.1 per cent).
Dr Goldacre said the variation in coverage between different demographic subgroups "will have many complex drivers".
"In our view this data should be interpreted cautiously," he said. "It may reflect peoples preferences ('vaccine hesitancy'), features of the service, or both."
The researchers acknowledge there may be "some limitations" to their analysis.
"Our population, though extremely large, may not be fully representative: there is some geographic clustering in choice of electronic health record system," they write.
Labour MP Marsha de Cordova, the shadow women and equalities minister, said that the data provided "yet more evidence that black, Asian and ethnic minority people are being hit hard by this virus and of the government's abject failure to protect them."
"We must vaccinate Britain, and to do that we need a plan to ensure that no one from black, Asian and ethnic minority communities is left behind," she told The Independent.


UK news in pictures
Show all 50
"The government must record and publish regular ethnicity data showing the progress of the vaccine rollout, and produce a comprehensive engagement strategy which reaches every community and addresses the impacts of structural racism."
Vaccine hesitancy among minority groups has repeatedly been flagged as a cause for concern by health experts and doctors.
Earlier this month, the UK Household Longitudinal Study showed that up to 72 per cent of people from black groups said they were unlikely or very unlikely to be vaccinated. Among Pakistani and Bangladeshi groups this figure was 42 per cent. Eastern European groups were also less willing.
A separate report published by the government's Scientific Advisory Group for Emergencies (Sage) said that historical issues of unethical healthcare research, and structural and institutional racism and discrimination, were key reasons for lower levels of trust in the vaccination programme.
On Monday, the government said that it would give £23 million to local councils and other groups in England to encourage vaccines among those most at risk from the virus, including minority groups, by trying to combat misinformation and to build trust in the authorities.
"I am conscious some Londoners are hesitant to receive the Covid vaccine because they are from communities which have, in the past, been let down by institutions," said Sadiq Khan, mayor of London. "But these vaccines are safe and effective, and I urge everyone who is invited to receive one to do so."
NHS England has meanwhile agreed to introduce the routine collection of ethnicity when people receive a covid-19 vaccine.
At present, Pinnacle, the system being used by GPs and mass vaccination sites to record jabs, does not include reporting of race and ethnicity.
Separately, the NHS Race and Health Observatory, which examines health inequalities among BAME communities, has called on the Joint Committee on Vaccines and Immunisation to evaluate its priority recommendations for black and minority ethnic people.
"Despite the high death rate and being most at risk, black and minority ethnic groups are not a distinct priority group selected for Covid-19 vaccinations," said Dr Habib Naqvi, director of the group.
"Given the devastating, disproportiate record of Covid deaths of black and minority ethnic people, as patients, NHS employees, social care, hospitality and transport workers, it is essential we see action on this recommendation and furthermore, accurate, live ethnicity data on vaccination uptake being recorded and published immediately.
"Whilst acknowledging NHS England is now taking up recording data comprehensively for all populations, efforts should be made to draw insights from the data so that we can better meet the needs of our diverse communities."
As of 26 January, 7.1 million people in the UK had received a first vaccine dose, including almost four in five of over 80s.